Whitsunday Bullet Tour Information
This Whitsundays Day Trip is one of only a few that offer scuba diving as an optional extra. Whitsunday Bullet visits Hill Inlet lookout and the south end of Whitehaven Beach. You will also get to go snorkeling in the coral filled bays and the opportunity to try scuba diving ( must be pre booked) . This is a brand new boat that was completed in January 2017. The vessel was purpose built for speed and comfort, with a top speed of 25 knots you can be assured of getting to your destination as quickly as possible.
Check your dates of travel with our live availability checker and booking platform. Once you have purchased your Whitsundays Holiday you will be emailed your tickets with everything you need to know .
 Whitsunday Bullet Tour Details
Departure and Return
This Tour Departs Abell Point Marina, Airlie Beach, Every Day at 9:00am. and returns the same day at 4.30pm
Guest and Crew Numbers
Whitsunday Bullet takes 42 guests and has 3 crew
Locations Visited
Whitehaven Beach including the famous Hill Inlet Lookout on the Northern End. Snorkel locations can include Luncheon Bay, Caves Cove, Blue Pearl Bay plus plenty of other Awesome destinations
Included in the price
Courtsy pick up, Lunch , Snorkel Equipment, Wetsuits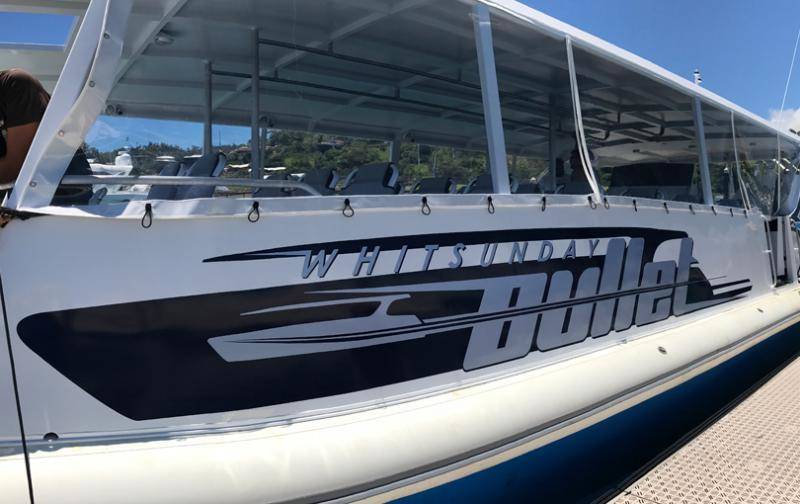 Whitehaven Beach
Bullet Whitsundays Tour visits Whitehaven Beach for around 2 hours. During this time you embark on a bush-walk from Tongue Point (northern end of Whitehaven) this walk takes around 15 minutes, once at the top you will experience Whitehaven Beach above on the viewing platform . This breathtaking view from here lets you see all 7 km of the beach as well as the world famous swirling sands that form the inlet
Snorkeling The Reef
During your  day tour you will get the opportunity to snorkel the coral filled bays on the coastal fringes of the islands. Here you can see turtles, Maori rasse, bat fish, parrot fish , clown fish (nemo) plus plenty more! in most bays the coral starts close to shore  and is easily accessible by the small tender boats. For the non confident swimmers there are noodles and flotation devices available for safety.
Scuba Diving
Diving is available as an optional paid extra during your day tour. If you wish to dive you must call and pre book the dives at least 24 hours before departure.
The qualified dive instrutors will take you for and awesome dive around the reefs of the Whitsundays.
Scuba diving is subject to any relavant  medical conditions . Certified divers must bring their dive license .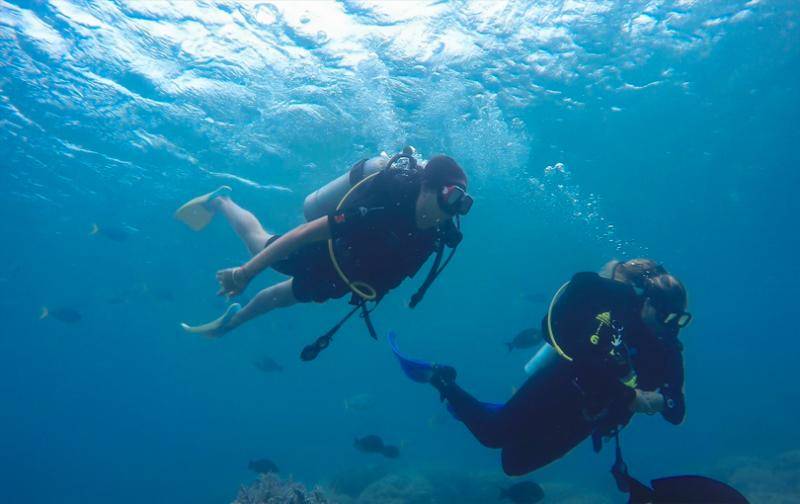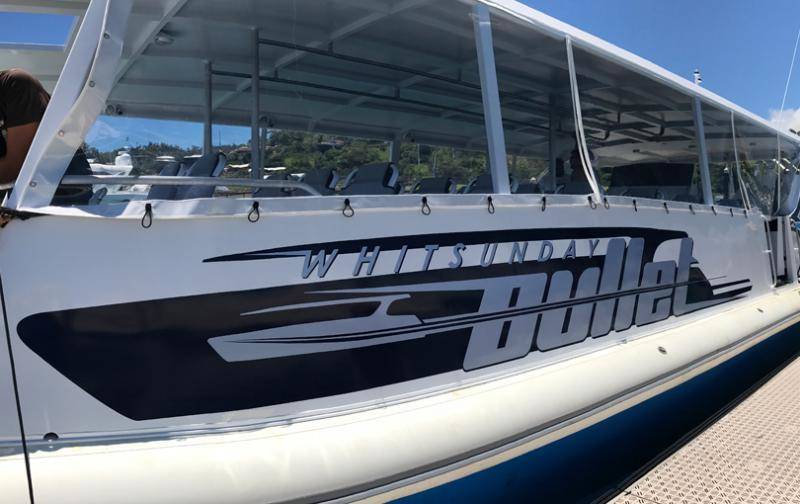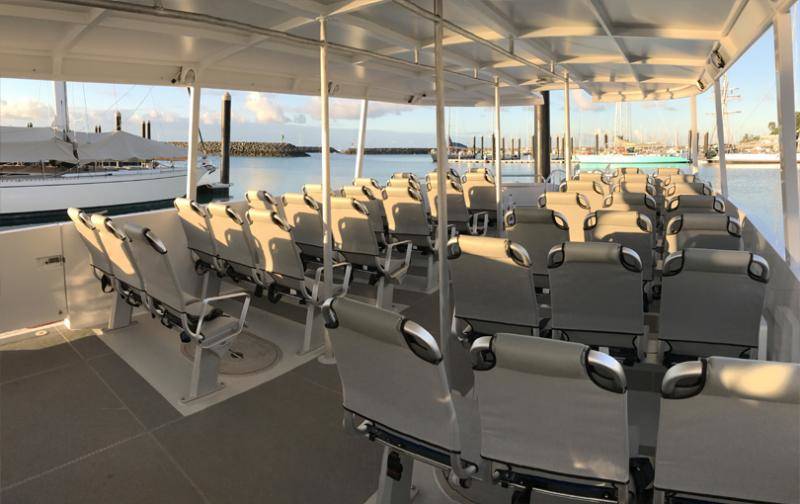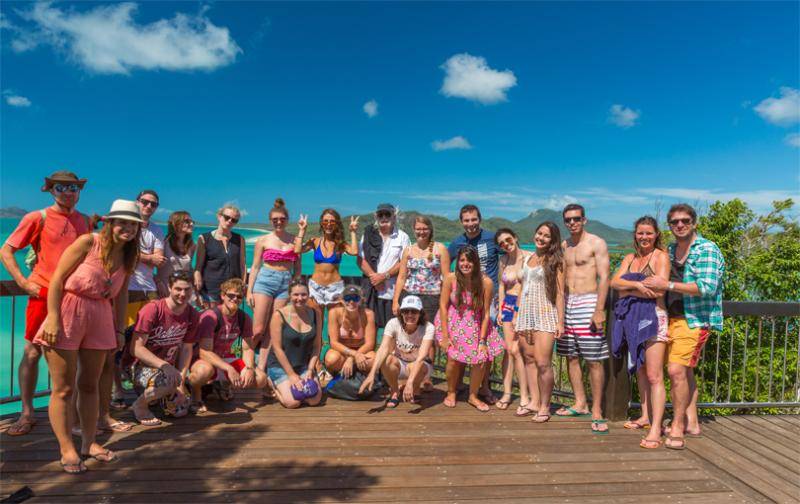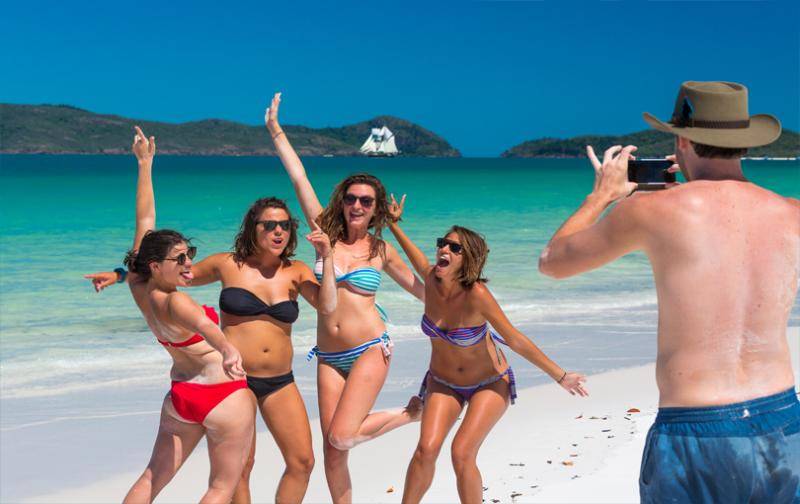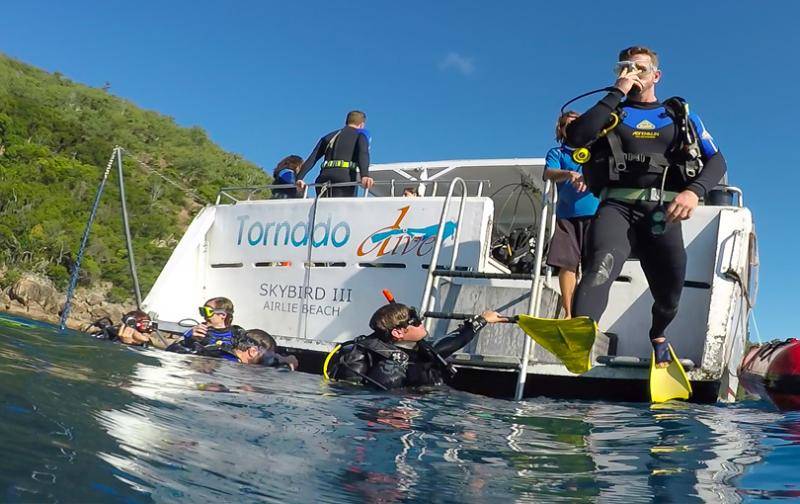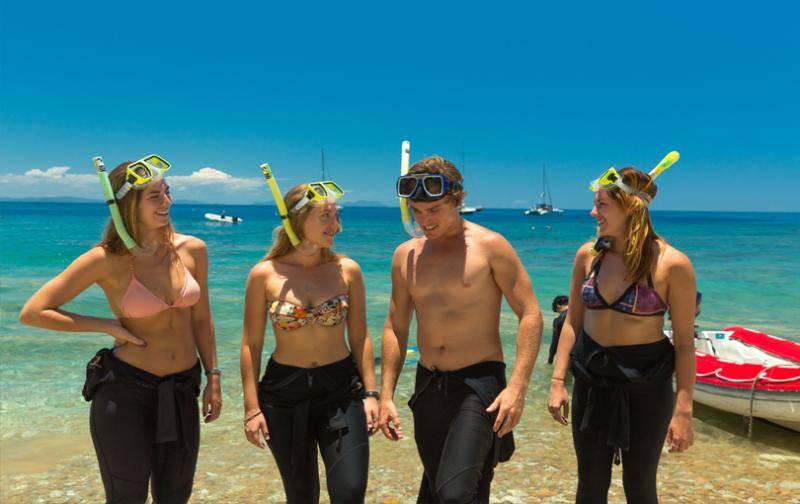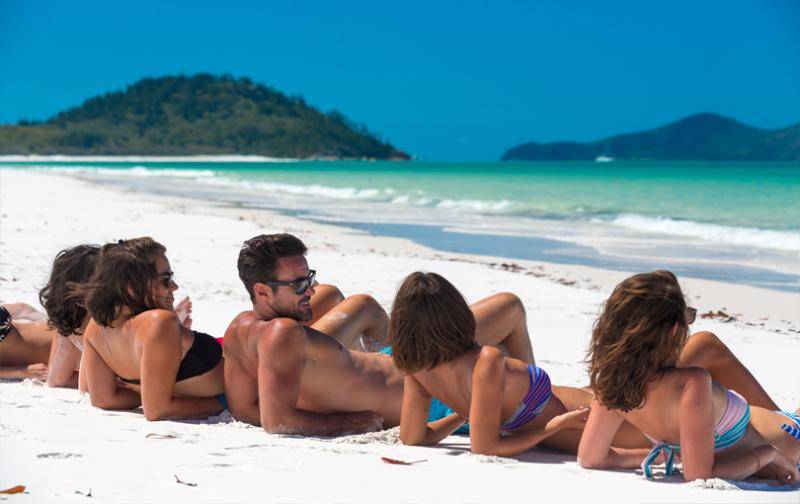 Pre-Departure Information For Bullet Whitsundays Day Trip
Departure Days:
7 days a week
Departure Time
: 9:00am
Meeting Time
8.40am
Main Departure Address: Abel Point Marina, south end near Barcalona Cafe
Additional pick up locations and times: Pick up times can be organised at time of booking,
or at check in day prior to tour
Tour returns at: 4:30pm
Extras
What to Pack: Guests should pack in a small soft day pack. Please bring a beach towel, sunscreen,
swimmers, hat and sunglasses.
Guests can BYO Alcohol. (please note, no glass/bottles and no drinking alcohol before snorkelling or
scuba diving)
Guests can purchase cans of soft drink, iced coffee, bottled water.
Eftpos facilities are available or cash to pay for on-board purchases.
Scuba Diving: MUST BE PRE BOOKED
Day tour plus 1 dive (introductory or certified) Adult : $268.00 AUD | Child : $178.00 AUD
Guests who wish to Scuba Dive will be required to complete a Medical and Health Risk Assessment
Questionnaire.
Courtesy Bus Transfers: We will provide a bus transfer, this can be organised at time of booking
or selected online during check in. If your pick up is outside of our pick up time range, own transfers
to the marina will need to be organised. Tours depart from Abell Point Marina (South End) and
guests should meet our crew near Barcelona Cafe, by 8:40am.
Tours depart from Abell Point Marina (South End) Airlie Beach.
CAR PARK: For guests who wish to drive to the marina, pay and display Car Parking is available ($8
for the day, pay with gold coins or credit card)
Whitsunday Bullet Terms and Conditions
Cancellation Policy for Individual Travellers
WE RECOMMEND GUESTS HAVE TRAVEL INSURANCE
Cancellations from 30 to 60 days of departure will result in loss of 25% of ticket price.
14 to 30 Days before departure, loss of 50% of ticket price.
14 days to departure will result in forfeit of full trip fees.
Where full payment has been made, and we can re sell the space on the departure, we will refund ticket price less 20% (not including commissions or bank fees).
Whitsunday Bullet cannot guarantee refund of the travel agent deposit component.
POSTPONEMENT/TRANSFER of a trip by an individual, will be allowed 14 days prior to departure, so long as we have capacity on the alternative date. An Admin Fee ($40) may be applied to postponements or transfers.  Postponements under 14 days before departure will be given due consideration based on the merit of the circumstances causing the postponement, such as a medical emergency. In all cases the best advise for a customer is to hold applicable travel insurance and the final discretion remains with Whitsunday Bullet.
Please advise guests that the sooner they speak to us in regard to possible delays the easier it is to find suitable options for our guests.
TRAVEL INSURANCE Whitsunday Bullet strongly recommends that all guests have travel insurance to:
Cover valuable items, eg. Cameras, Luggage
To protect against unforseen cancellations or late arrival into Airlie Beach for any reason which subsequently leads to missing the scheduled departure time
Cover medical conditions that may occur during carriage, and the associated extra costs of accessing medical care around the islands, including emergency air evacuation
Cover against an emergency where you need to return home urgently, eg. a family member becomes very ill.
For peace of mind guests should understand the fine details of the cover included for the Travel Insurance to ensure that it covers the above.
LIABILITY Guests should note that boating can be a dangerous activity and while our crew will make every effort to ensure guest safety, we cannot be accountable for actions of guests that are beyond our control. Guests will be required to complete a pre departure questionnaire, and sign a travel agreement during the check-in process.  Whitsunday Bullet has the applicable Shipowners insurance to cover public liability for our guests and staff. A Copy of the certificate will be forwarded if required.
GUEST BEHAVIOUR The Operator has the right to refuse boarding of guests who arrive intoxicated or who are under the influence of illegal substances.  While on Tour, Guests must abide by instructions from the Crew.  Guests must also abide by the Law and public nuisance, harassment, or anti-social behaviour will not be tolerated.  Guests who refuse to follow instructions and jeopardise the safety and security of Crew, Guests, Themselves or the Vessel may be restrained and / or removed from the tour.  All associated costs of removal will be borne by the guest and no refund of ticket monies will be provided.
ENGLISH LANGUAGE COMPREHENSION Because this tours operates with 2 to 4 crew,  it is very important that the guests have basic English understanding. Guests will spend time snorkelling and swimming and it is critical for their safety that they follow the instructions from the crew, while they are participating in the activities.  If customers cannot understand English, it is important that a companion travelling can speak english and translate for the non english speaking guest. We do have snorkelling summaries in other languages, which are provided for guests to read. If guests have any concerns at all, please contact us.
ITINERARIES AND WEATHER Whitsunday Bullet reserves the right to alter the tour or the itinerary of any of it's tours and organise alternative carriers to those advertised if necessary.  We will always consider the comfort and safety of guests and staff and as a result, some of the Whitsunday Icons may not be visited if the wind, visibility or tidal conditions are not suitable.  If it is raining, our tours still operate, as the guests can still experience the Whitsundays, including swimming and bush walking.
MINIMUM GUEST NUMBERS – Were we do not meet the minimum number of guests to operate a service, it may therefore be necessary to cancel a scheduled departure and to offer an alternative TOUR of similar or higher standard, or alternatively full refund for that tour. Where a tour of lesser standard is arranged, any difference in the ticket prices will be refunded.
OPEN DATED VOUCHERS –  Vouchers are valid for 12 months from Issue Date.
Please advise guests travelling on Open Dated Vouchers to book 14 days in advance.  The earlier guests book their tour, the better chance they have of getting the date they request.  Guests should email bookings@explorewhitsundays.com or ph: 07 4946 4999 with their booking travel date request.  Guests will need to quote their booking reference number at time of making the request.
GUESTS CHECK-IN BEFORE BOARDING – A Web Check-in service is available, Whitsunday Bullet day tour guests may use the web check-in and then go direct to the marina after web check-in.
If guests want to come to our office, TO CHECK IN, we are located at;
Shop 1, 4 Airlie Esplanade Airlie Beach 4802
and open from 7.30am to 7.00pm daily.
Other 1 Day Whitsundays Tours
Airlie Beach Great Barrier Reef Tour This Airlie Beach Great Barrier Reef Day Tour is proudly bought to you by the Explore Group. There is one thing everyone should do while on holiday in North Queensland, and that's visiting the Great Barrier Reef. Snorkelling is...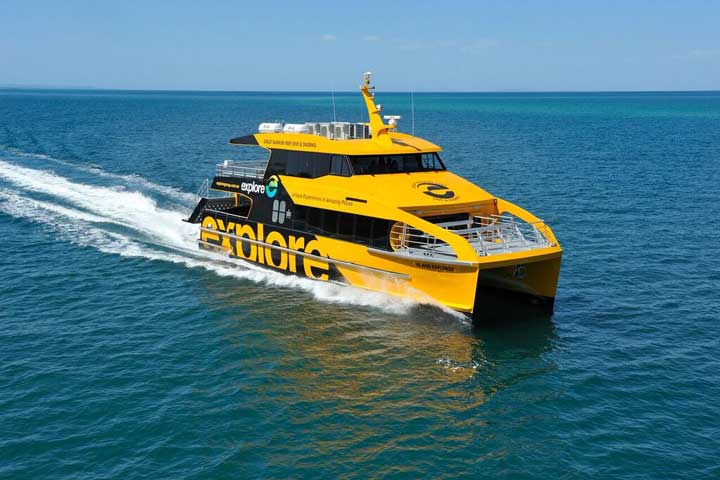 If you have any Questions about the Whitsundays Tour please feel free to contact us between 8am to 7pm daily
Local Whitsundays Advice - We have the Answers You Need