Quick Information For This Tour
Product – Ocean Rafting Tours Of The Whitsunday Islands
Price – From $191
Tours – Ocean rafting have 2 different tours, "Northern Exposure" and "SouthernLights" (see below for the details)
Price Includes –  snorkel equipment 
Extras – Lunch is not included in the ticket price. If you want lunch, you can order it through the booking form for $20, paid directly to the boat company.
Location – Coral Sea Marina, Airlie Beach QLD 4802
Type Of Boat – Fast Power Boat
Tip for this tour
Their exclusive access to the stunning and iconic Hill Inlet beach (inside the inlet) sets these Ocean Rafting Tours apart. This is the only company with a permit to access this location.
Are you ready for an unforgettable adventure in the Whitsunday Islands? Look no further than Ocean Rafting's Whitehaven Beach tours, where you'll embark on a thrilling journey filled with pristine reef snorkelling and a guided walk to the breathtaking Hill Inlet Lookout.
Ocean Rafting offers two Whitehaven Beach tours: the Northern Exposure and the Southern Lights. The Northern Exposure tour provides extra snorkelling time, while the Southern Lights tour offers more beach time. The choice is yours, and both promise unforgettable moments.
Don't miss out on this opportunity to experience the ride of your life with Ocean Rafting. Their fleet of eight vessels, designed initially as rescue crafts, are equipped with 700hp engines, ensuring a thrilling and safe journey. Small group sizes mean you can savour the tropical paradise away from the crowds. 
Tour Offered By Ocean Rafting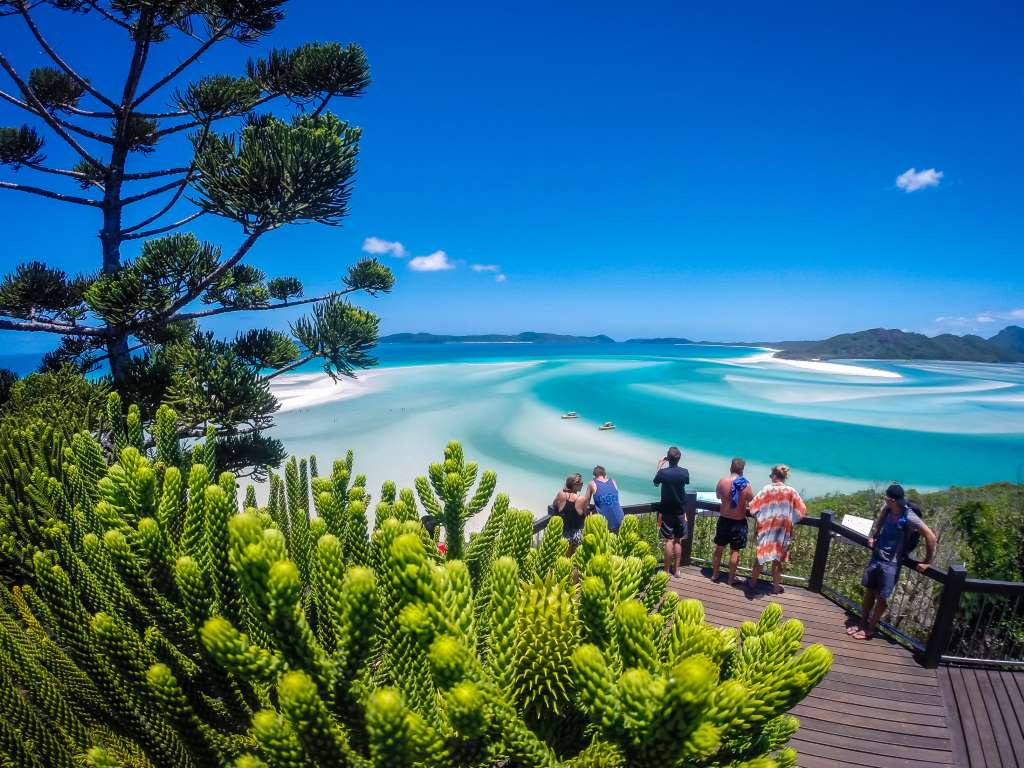 Northern Exposure (most popular)
Check-in at 8am for 8:45am departure.
Returns 3:30pm
This tour visits – 
Hill Inlet Lookout (with special access to the beach)
Whitehaven Beach
Two snorkel locations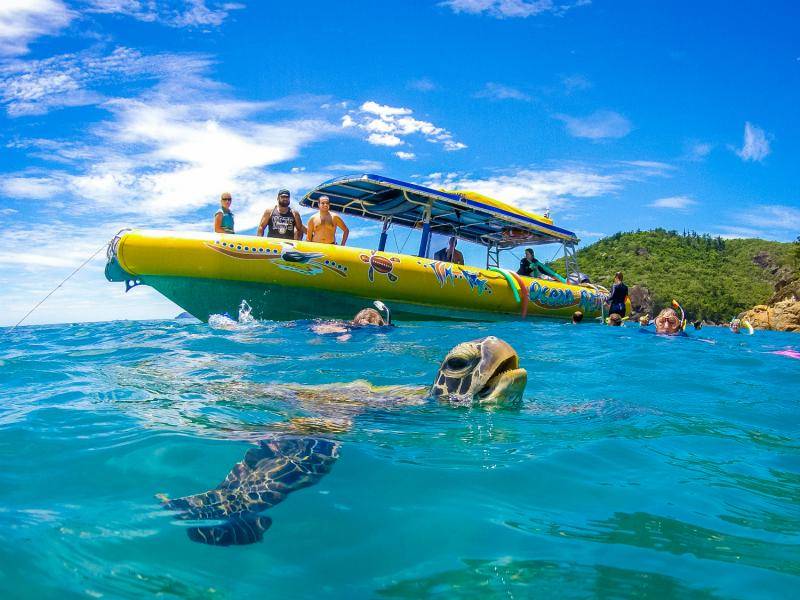 Southern Lights
Check-in at 9am for 10am departure.
Returns at 4:30pm
This tour visits
Hill Inlet Lookout (with special access to the beach)
South Whitehaven Beach
South Whitehaven Lookout
One snorkel location 
Whats Included In The Ticket Price?
Visit to Whitehaven Beach, Hill Inlet and guided National Park walks

Inner fringing coral reef snorkelling Reef and island naturalist talks by our Master Reef Guides,Eco Host and Marine Biologist

Courtesy bus transfers

Snorkel Eqipment (Mask and Snorkel)
Whats NOT Included In The Ticket Price?
Tropical lunch (AUD$20) payable direct. Please add in booking notes if you would like to add.
Hire sunsuits/wetsuits – $8pp to hire on check in (Students with ID, Senior & Children FREE)
Assorted Alcoholic and NON Alcoholic Drinks and snacks (available to purchase – Cash or Credit Card)
Prescription Mask hire Available – $15 pp on check in
A QLD public holiday surcharge of $20 per adult, $10 per child and $50 per family (2ad,2ch)
Are These Tours Suitable For You?
Ocean Rafting boats are suitable for most ages from 6 months upwards (weather permitting). If the winds and swell are forecast high for the day you travel with young children, don't hesitate to contact the company directly at (07) 4946 6848.
Tours are unsuitable for guests with pre-existing back, neck or hip injuries or who are heavily pregnant (weather dependent). 
Tour Video
Refund Policy
Ocean Rafting Tours Cancellation Policy allows cancellations up to 24 hours in advance for a full refund.
Refunds require a 24-hours or more notice from the scheduled meeting time of your booked tour.
Changes to dates or refunds within 24 hours can't be accepted.
Bad weather leads to rescheduling or a refund.
Terms and Conditions Of Travel
Ocean Rafting may use photographs of our clients in promotional material, including but not limited to social media, however if you do not consent please advise Ocean Rafting.
Liability: Clients should note that adventure travel involves risk. Whilst we make every effort to safeguard our clients, we cannot be held responsible for personal injury or loss due to the actions of the clients which are beyond our control. Tours are not suitable for guests with pre-existing back, neck or hip injuries or who are pregnant (weather dependant) or heavily pregnant. Minimum age 6 months. A signed release will be required from all participants on departure. We recommend you take out travel insurance.
Fitness and Health: Although good health and a positive attitude are essential, you do not need any prior experience to partake in an Ocean Rafting adventure.
Cancellations/Refund Policy: Your booking includes a 5% non-refundable booking fee for all cancellations. Cancellations after 7pm the night before departure no refund. Please Note: On occasion, in the interest of guest safety, we may have to cancel tours due to unfavourable weather conditions. In this unlikely event, you will be offered travel on another suitable day or issued a refund, minus 5% booking fee of your fare price.
Ocean Rafting Reviews On Google