ZigZag Whitsundays Day Tour
Email
bookings@zigzagwhitsundays.com.au
Operator Website
www.zigzagwhitsundays.com.au
ZigZag Whitsundays Full-Day Tour
1 Day Tour – Dynamic Pricing From $135
ZigZag Whitsundays is a fun day tour on a very comfortable riding boat. With more destinations, this is a day trip like no other. This tour is perfect for guests that want a scenic day on the water that will not blow the budget!
Tour Highlights
Most comfortable day boat in the Whitsundays
Visit Whitehaven beach
Visit The New South Whitehaven Beach Lookout
The Best Snorkel locations in coral-filled bays
Buffet lunch on Whitehaven Beach
Includes lunch, snacks snorkel equipment, wetsuit
Comfortable padded seats
30 guests, 3 crew – the ultimate Whitsundays day tour
Is This Tour Suitable For You?
This Tour is suitable for all guests from age 5 up.  This boat is a very comfortable ride and in 2020 the addition of high back padded seats means they have taken the guest comfort and date to the next level. However, If you are over 20 weeks pregnant or have back/neck injury's its tour is not for you.
Tour Departure
Departs: 8:30am – Everyday
Returns: 4:00pm –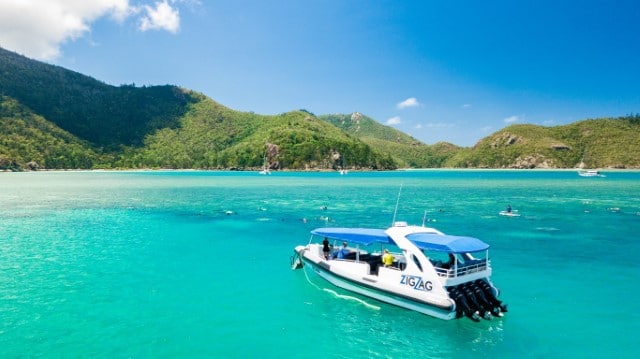 Tour Information For ZigZag Whitsundays
Guest and Crew Numbers – 
ZigZag Whitsundays take 30 guests and 3 crew
Locations Visited
Whitehaven Beach South End, New Lookout Platform at South Whitehaven,  The Best Snorkel locations.
Included in the price
Morning Tea, Lunch, Afternoon Tea, Mask Snorkel Fins, Wetsuits
ZigZag is the only boat in the Whitsundays with dynamic pricing, with prices starting at $125 for people who book early, this is the most affordable day tour in the market, You will also get the best snorkel locations and 2 hours on Whitehaven Beach. All this in one day makes it a more desired day on Whitsundays market.
This Whitsundays Day Tour Features
Whitehaven Beach
ZigZag Whitsundays Tour visits Whitehaven Beach for around 90 minutes. During this time you will have the crew will serve lunch on the beach and after you will have plenty of time to explore and swim. at this breathtaking location. There are games to play on the beach or explore the bushland which has local goanna's. Take a walk and explore the 98% pure silica sand dunes and take a refreshing dip in the crystal clear waters.
Lookout at South Whitehaven Beach
ZigZag Whitsundays no visits the brand new lookout platform at the South end of Whitehaven Beach. This 970-meter walk and lookout platform were opened in July 2019. Here you will see the entire length of Whitehaven Beach plus 120-degree views of the Whitsunday Islands. This is a view like no other in the Whitsundays and ZigZag is proud to be one of the few tours that visit this Instagram inspiring location.
Snorkelling 
During your 1 day tour, you will get an opportunity to snorkel the coral-filled bays on the coastal fringes of the islands. Here you can see turtles, Maori wrasse, batfish, parrot fish, clown fish (Nemo) plus plenty more! in most bays, the coral starts close to shore and is easily accessible by the front stairs on the boat. For the non-confident swimmers, there are noodles and flotation devices available for safety.
Important Tour Information  
MEETING TIME/PLACE ON MORNING OF DEPARTURE
If you are walking – (15 min walk time) you need to be at Abell Point Marina Roundabout (North End Meeting Point under the Umbrellas see map above) @ 8.00am .
If you are driving – there is car parking at Abell Point Marina for $8 for the day, paid at machines by coins or card on the day. Then walk down to the Roundabout (North End Meeting Point under the Umbrellas see map above) @ 8.00am
Google Maps App link for the meeting point is https://goo.gl/maps/dbyjbJntHDL2
YOUR ITINERARY:
ZigZag does not have set itineraries, as we are dependent on weather & tidal conditions. When you board the boat, the crew will sit down with you and go through information specific to the vessel as well as where you may be going that day.
IMPORTANT!
ZigZag is an open vessel you can get wet whilst we are travelling, please be prepared for this.
No large backpacks or suitcases are allowed on ZigZag, if you wish to bring a bag bring a small day pack There is NO bag storage on the boat. if you bring a bag it will be with you or under your seat for the tour
WHAT TO BRING:
In a small soft bag (if needed), we suggest that you bring the following –
Light Clothing / Warm clothing in cooler months (May – September) Swimsuit
Hat
Sunscreen (30+ highly recommended)
Beach Towel
Sunglasses
Morning Tea and lunch is included. However, If you think the fresh air might make you extra hungry, you may want to bring crisps, chocolates etc
WHAT NOT TO BRING:
Glass bottles Passport, Travel Documents
ZigZag is not responsible for any property you take on board the vessel. We strongly encourage you to take
waterproof cameras (or waterproof protected cameras) rather than expensive digital cameras. Your electrical equipment will be ruined if it comes in contact with seawater.
WEATHER:
Welcome to the tropics! Although our winters are unbeatable in terms of weather, our summers can be hot and wet. November -March can be extremely hot and humid, Unless you are accustomed to living in this climate, you
may find it slightly uncomfortable, Please be prepared for this.
TRAVEL SICKNESS:
If you are not quite sure whether or not you may suffer from Travel Sickness please make sure that you are prepared. As our trained crew will assist as much as possible in making you comfortable but they are not allowed to provide you with any medication to help with the problem. Medication can be purchased at the Night Owl in Airlie Beach or any pharmacy. ZigZag is a fast boast and most people do not suffer sea sickness whilst travelling with us
SNORKELLING GEAR:
Masks and snorkels are all included in the price of your trip and will be distributed on board.
LYCRA SUITS & WETSUITS:
Wearing a Lycra stinger suit will prevent UV exposure and significantly reduce your risk to marine stingers. ZigZag requires that all passengers wear a full length stinger suit or wetsuit if you wish to swim and or snorkel from our boat
You will be fitted for your Suit onboard the boat. These are included in the price you paid.
B&N Operations Pty Ltd ABN 14 617 437 751 t/as ZigZag Whitsundays operates the vessels known as ZigZag, The following terms and conditions apply to travel by you on ZigZag  .
All prices are shown in Australian dollars and are inclusive of GST. Prices are valid from 1st April 2017.
All ZigZag departures and itineraries are subject to weather and may be changed or cancelled a B&N Operations discretion. ZigZag reserves the right to substitute vessels without notice at any time and for any reason.
ZigZag reserves the right to cancel any trip, or reduce trip duration, in any circumstances, including those which pose a safety risk to you, the vessel or crew, such as severe weather, including cyclones.
If ZigZag  is cancelled by the owner prior to or on the scheduled departure date, you will be refunded within 7 days.
If your trip duration is reduced during the trip due to Unforeseen Circumstances, you may be offered a future trip on ZigZag  at no cost to you, depending on the amount of time by which your original trip on ZigZag was reduced and, subject to availability. You acknowledge that "Unforseen Circumstances" includes but is not limited to the following; inclement weather, issues pertaining to ZigZag  and any medical emergency, such as injury to guests or crew.
You acknowledge that if you cancel your travel on ZigZag  less than 24 hours before the departure date, this will result in the forfeiture by you of the full trip price.
If you request a transfer of a trip departure date up to at least 24 hours before the day of scheduled departure this will incur no transfer fee. No Transfers will be accepted under this 24 hr. period
We recommend you take out travel insurance
You acknowledge that travel with, and the recreational services provided by, ZigZag  (such as all in water activities and bushwalking) involve risk, including in particular a risk of being stung or bitten by jellyfish and other marine creatures or native fauna. You are advised to wear a stinger suit at all times you are in the water.
Whilst we make every effort to safeguard our passengers travelling on ZigZag , you acknowledge and agree that ZigZag  is not liable to you for personal injury, aggravation of any existing injury or condition, mental injury, contraction of any disease, loss (direct, indirect or consequential) or death (including but not limited to from jellyfish stings) resulting from the recreational services provided by ZigZag  , ZigZag hereby excludes absolutely all such liability to you.
Where the Competition and Consumer Act (CCA) consumer guarantees apply you also acknowledge and agree that the liability of ZigZag  for any breach of those consumer guarantees is excluded to the maximum extent possible under section 64A of the Australian Consumer Law and 139A of the CCA, where you are killed, injured (physically or mentally) or contract a disease, or an existing disease is aggravated, arising from your trip onZigZag Whitsundays .
Your agreement with ZigZag Whitsundays is subject to the laws of Queensland, Australia If any of these terms is unreasonable or unenforceable for any reason whatsoever, it shall be severed and the remaining terms will not be affected in any way.
More 1 Day Tours You May Like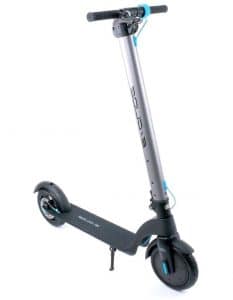 Scooter Hire Airlie Beach
+61 401 395 032 info@whitsundayadventures.net.auwww.whitsundayadventures.net.au/Have Questions ? Contact The Tour Company Directly On the Details Above Want To Book This Tour? Use The Book Now Button Below. All Bookings Are Made Directly With The Tour Operator....