Airlie Beach
is located beside the sea on the northeast coastline of Queensland Australia. The town is known as the gateway to the Whitsunday islands and for an excellent reason. Every year over a million people visits the region taking boats and planes to visit the islands, Whitehaven Beach, and the Great Barrier Reef.
The township is a small vibrant tourist town that caters to all types of holidaymaker, from backpackers to 5-star apartments in the town and surrounding region has it all. The main street is only 400 meters long and is bustling with accommodation houses, cafes, bars, gift stores and everything you would expect to find in a destination like this.
Information On Airlie Beach Whitsundays
In this guide to Airlie Beach, we will give all the information you need to make the correct holiday choices for you or your family. Whether you're a backpacker, couple or family, you will find something for you in this local guide. Check out the video at the bottom of the page to see the great sites and places in town and surrounds.
Accommodation
Like every tourist town, there is an overwhelming choice of places to stay while you are on holiday.
Families – With plenty of options to keep the kids happy there are some family-friendly options – Whitsundays On the Beach in the middle of the village, this motel is right next to the swimming lagoon beach and playground
Big 4 Adventure Whitsundays is a caravan park in Cannonvale with camping sites and cabins; this is a child haven with a massive pool, water park, mini golf and plenty of kid's activities
Couples – Coral Sea Resort has modern apartments right on the ocean front with views back over Airlie Beach. Some apartments have a private balcony with outside spa and hammock.
Peppers resort is situated within a 5-minute walk to the town centre and has stunning views out over pioneer bay and double cone island. With an onsite restaurant, pool, and spa this is a favourite place to stay.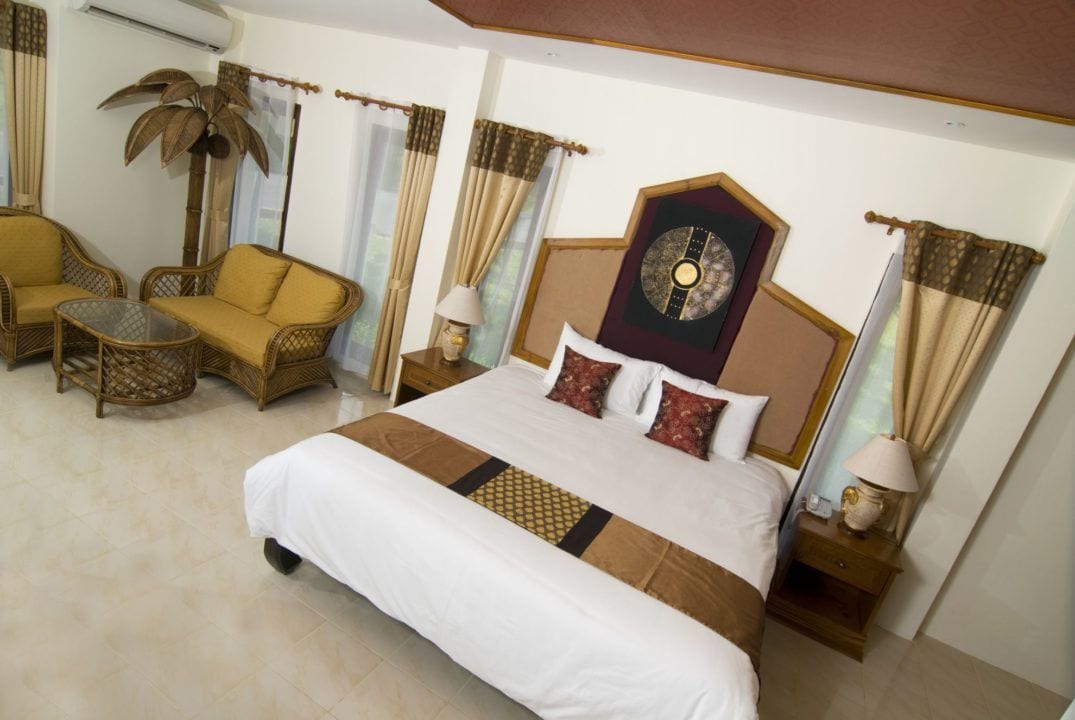 5 star – 
Heart hotel is a new complex and is situated in the middle of the main street. Pinnacles resort is an apartment complex on the hill above Airlie, it is a short 5-minute walk and has stunning 180-degree views of pioneer bay and the islands Marina Shores is located on the boardwalk at Abell Point Marina. If looking out over the water and marina is your thing this apartment complex is perfect for you.
Backpacker Hostels –
Magnums Backpackers is in the very middle of the main street, close to Woolworths and all shops it is a vibrant hub to stay. Base Backpackers is located at the northern end of the main street and is set on a large piece of land with tropical surrounds. Their private king rooms are the highest quality at a hostel we have ever seen. Backpackers by the bay is perfect if you want to be away from the hustle and bustle of the main street. Situated just 5 minutes' walk from town, this is a real Australian family owned backpackers with a relaxed vibe If your anything like us, you will want to compare a few different places to stay. It's so much easier when it's all on one trustworthy website. Wotif has the most significant range of accommodation in Airlie beach and offers the best deals, you can check all the latest pricing and sales for Airlie Beach Accommodation here at
Wotif
<script type= "text/javascript" src="https://creative.prf.hn/creative/camref:1100lqbj/creativeref:110l1938"></script>
<script type="text/javascript" src="https://creative.prf.hn/creative/camref:1100lqbj/creativeref:1011l7745"></script>
Marinas And Ports In The Region
Airlie Beach has two main ports at Abell Point Marina and Port of Airlie; these two harbours cater to dozens of day trips as well as over 30 sailing vessels that provide overnight sail and snorkel charters. Abell Point Marina is at the Northern end of Airlie Beach and is the main harbour to the town. 90% of all day and overnight tours depart from here. The complex has been upgraded in recent years and has a small town feel of its own. There is plenty of berthing for private boats and makes a great stopover as people sail up the coast. There are an array of shops, car parking and boardwalks plus there is a twin lane boat ramp for private boat use. This marina is a great way to spend a few hours having a coffee and watching the charter boats coming and going. Especially impressive is the large fleet of ex-racing yachts ( some up to 24 meters) that come in and depart daily between 10 am and 2 pm.
Port of Airlie- located at the southern end of Airlie Beach this is a smaller marina hosting a lot of private boats. In the last year, Cruise Whitsundays has started operating its ferry service from here to the islands they also have day trips to the islands and the outer Great Barrier Reef. Shute Harbour – this used to be the regions main port but over the last ten years has seen a steady decline in vessels. In March 2017 the harbour was extensively damaged due to cyclone Debbie and is currently under repair. Shute is a natural harbour and is an excellent haven for private boats wanting to be out of the weather and swell. Located around 15 minutes' drive from the town centre, it's well worth going for a drive while you are here
Airlie Beach Lagoon
The Airlie Beach Lagoon is right in the middle of town running parallel to the main street (Shute harbour road). Covering 4,300 square meters with 4.5 million litres of fresh self-chlorinated water this is one massive outdoor swimming pool! Surrounding the lagoon are grass-covered banks, seating and sheltered areas, BBQ areas and a manmade beach. The complex includes a toddlers wading pool, shallow areas up to 1.5 meters for kids, and a larger pool with up to 2 metres depth. For the avid swimmers there two swimming lanes that run the length of the adult's area. Lifeguards are on patrol from 9 am to 7 pm and longer in the summertime. They are located at the cross bridge that runs over the lagoon. As the Airlie Beach lagoon is built on a raised breakwater, it gives fantastic views of the islands and ensures a safe swimming area away from jellyfish all year round. Free entry to the lagoon all year round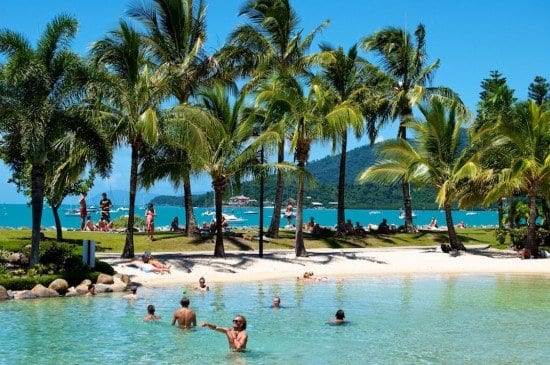 Tours And Activities
There are plenty of tours that depart from Airlie Beach, whether it's a day tour, sailing tour, overnight tour this place has it all.
Day Tours – these are the most favoured way to see the islands and Whitehaven Beach. The day tour choices include
Full day tours on Powerboats to Whitehaven Beach plus 1 or 2 snorkel locations
Full day tour Sailing to Whitehaven Beach and 1 Snorkel ( Camira )
Full day snorkelling tour
Half day ferry transfer to Whitehaven Beach
Full Day to the Great Barrier Reef.
Plane and Helicopter tours
Activities – while Airlie Beach is best known for the tours to the Whitsunday Islands. There are plenty of actions involving water and land from the mainland as well.
These include – Sky Diving – jet ski tours – crocodile tours on the Proserpine river – stand up paddle board hire, canoe hire, tuk-tuk rides, jet boat thrill rides plus plenty more. To book one of these Whitsundays Tours Departing Airlie Beach Click Here
Beaches Close By
If its sun and sand you want you have come to the right place! Airlie Beach has plenty of sand for you to play and lye out in the sun. Just remember as we are in the Great Barrier Reef marine park there is virtual no ocean swell,  meaning no waves Note – from October to May dangerous jellyfish inhabit these waters all care should be taken to wear a stinger suit when going swimming or swim in a netted enclosure The main beach is lined with coconut trees and is an excellent place for the kids to play. Boat haven beach is a manmade beach out front of Port of Airlie; this has a stinger net enclosure for swimming all year round. Cannonvale beach is a 5-minute drive and has an excellent kids playground and BBQ area. Other beaches within 30 minutes are Conway beach, Dingo Beach, Hydeaway Bay and Cape Gloucester. Check out our Whitsunday Islands information here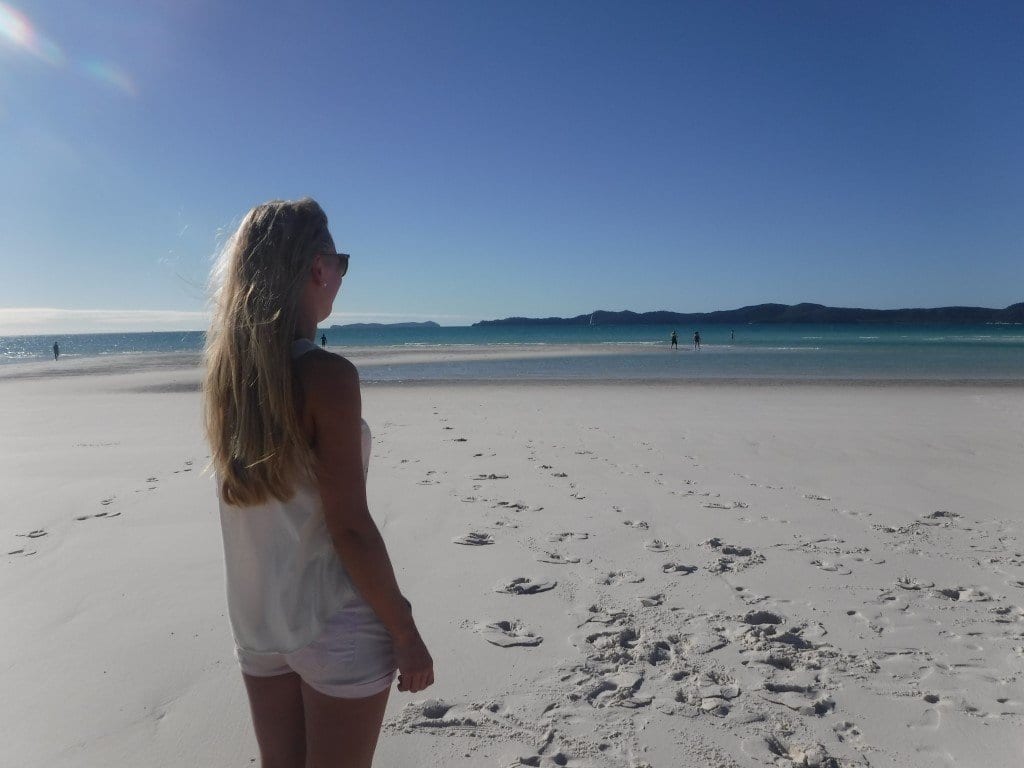 Walks in the Whitsundays Region
There are plenty of trails around the Airlie Beach region, the Whitsunday islands have some excellent walking tracks weaving through the Australian bush and rainforests, you will need a private boat to get there, but they are well worth it.
The Great walk is intended to be a 3-day walk, but it depends on your level of fitness, an avid walker will complete it in around 10 hours, there are also shorter walks that link up in certain sections of the track.
There are also a lot of short 1 to 3 hour walks around the region, a lot of these have lookouts or access beaches that are not available unless you have a watercraft
For information on all Airlie Beach walking tracks in the Conway National Park that surrounds the town see here
Kids Playgrounds
Keeping the children entertained is a must on any holiday, and Airlie has plenty of free playgrounds for the kids.
The lagoon has an excellent playground for children of all ages, and there is another one on the esplanade by the beach. Cannonvale has a great kids area at the beach, and Jubilee pocket has a large park on Jubilee pocket road. There is also a skate park at the PCYC
<iframe src="https://www.google.com/maps/embed?pb=!1m18!1m12!1m3!1d100697.45209321946!2d148.72836035330252!3d-20.29234105943372!2m3!1f0!2f0!3f0!3m2!1i1024!2i768!4f13.1!3m3!1m2!1s0x6bd9cbcaa2b3a82b%3A0x8feb426d4439a84f!2sWhitsundays+Great+Walk!5e0!3m2!1sen!2sau!4v1527031202300" width="600" height="450" frameborder="0" style="border:0" allowfullscreen></iframe>
Bars and Cafes and Restaurants
As Airlie beach is a tourist town, there are plenty of bars, cafes, and restaurants to take your choice of. The main street has one of these every 2 or 3 shops, so there are plenty of opportunities to suit all tastes and budgets. The three main Bars are Magnums, Beaches, and Base. Tope restaurants include Little Vegas, Hogs Breath, and KC'S. Cannonvale has some cafes at Centro shopping centre and Whitsundays Shopping Centre, also a dog-friendly café at Cannonvale beach called Fat Frog. If you visit during the school holidays, it pays to book your restaurant ahead as it does get busy! Also be weary with all Queensland bars and clubs there are lockout law times that apply.
Fast Food Outlets If its fast food you desire, we have the big 4 …
2 MacDonald's – one in the main street and one in Cannonvale
Burger King in Cannonvale
Subway in the main street
Dominos Pizza in the main street
On Shute Harbour Road ( main street ), there is also fish and chip shops, pizza shops, sushi and many more Super Markets- Woolworths is located in Airlie and Cannonvale Coles is in Cannonvale IGA is just 2 minutes from the main street in Jubilee Pocket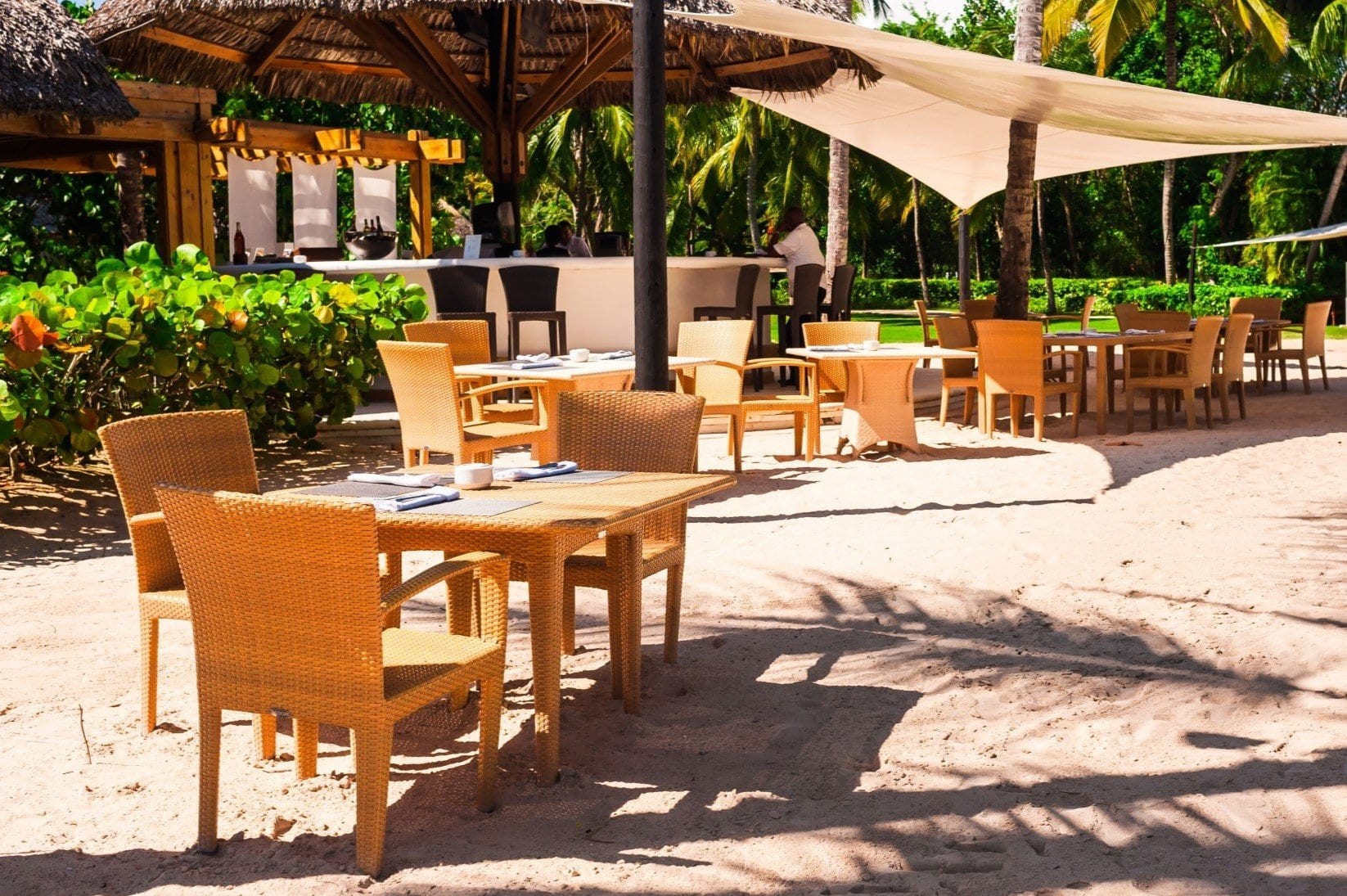 Public Transport
Airports – we have two major airports in the region and one small airfield for the scenic flights
Proserpine Airport ( Whitsundays Coast ) is located south of Proserpine, 30 minutes from Airlie beach. There are plenty of ways to get to town and return. All these options meet every flight from Virgin Blue, Jetstar and Tiger Airways. These include buses, limousine, shuttle buses and taxis.
Hamilton Island Airport has flights in and out daily, to transfer to Airlie Beach you will need to catch a Cruise Whitsundays Ferry to the port of Airlie. This takes 30 -60 minutes depending on the time of day and stops the ferry has to make along the journey.
Whitsunday Airport is a small airport between the city and Shute Harbour. Here you will find the planes and helicopters for scenic flights. Also, 1 of the skydive companies us this airfield. Busses – Whitsundays Transit runs a scheduled bus service throughout the region. Busses run every 30 minutes between Centro shopping centre in Cannonvale and Shute Harbour, stopping all along the way including Airlie and Jubilee Pocket Greyhound and Premier bus services run multiple busses a day into the Whitsundays, So if you looking at heading south or north, these are very viable cheap options. The transit centre for these busses is at Port of Airlie by Cruise Whitsundays Car Hire – companies include Avis, Europcar, and Hertz. All these companies have offices in the main street and at Proserpine Airport. Whitsundays Taxis is the only taxi operator in region, Uber is not yet here is the Whitsundays
Essential services
Hospital is located in Proserpine (20-minute drive from Airlie Beach )
Doctors – 121 Medical centre, Whitsundays Doctors Service, Whitsunday Family Practice, Cannonvale medical centre X-ray – Whitsunday Imaging located in the Cannonvale business centre Centrelink – situated in the Cannonvale business centre
The post office is located at Whitsundays Shopping centre and IGA Jubilee pocket The police station is located in Cannonvale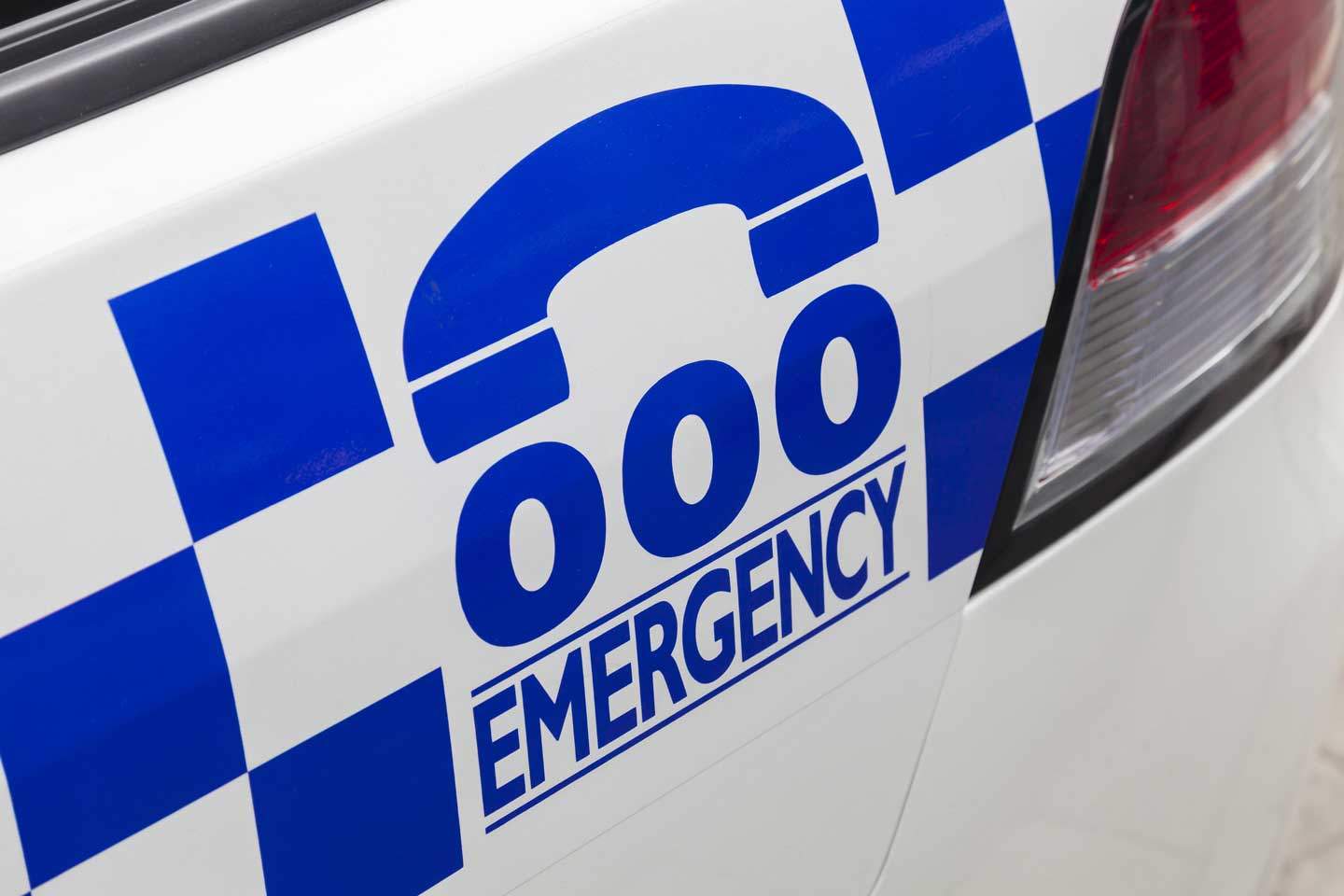 Climate / Weather
Airlie Beach is in the tropics of North Queensland, meaning the summers (November to March) are hot and humid with good chances of tropical rain downpours. Summer temperatures sit between 32 to 40 degrees Celsius. The dry season is often sunny with minimal rain and wind and is a perfect time to visit for people that do not like the heat temperatures are generally between 24 to 32.
Surrounding areas
With plenty to see and do around the Whitsundays, Airlie Beach makes the perfect base camp to explore this diverse region. If you wish to visit and Island Resort you can catch a Ferry to Hamilton Island or Day Dream Island for the day or half day. Hill Inlet Whitsundays and Whitehaven Beach are 2 of the top destinations in the  Islands when you visit make sure these are on the top of your list Day trips around the region by car, meaning you can visit Conway beach, cedar creek waterfalls, Proserpine, Dingo beach and Hideaway Bay. 45 minutes north is the seaside town of Bowen which has some stunning beaches and a waterpark for the kids. 90 minutes south is the city of Mackay and 3 hours North in Townsville. Just 10 minutes surfing google maps will have you on your way and explore the many options Airlie Beach has to offer.
<script type="text/javascript" src="https://creative.prf.hn/creative/camref:1100lqbj/creativeref:1101l7399"></script>
<script type="text/javascript" src="https://creative.prf.hn/creative/camref:1100lqbj/creativeref:1011l7745"></script>