Big Fury Whitsundays Tour Information –
A fun fast day trip visiting Hill Inlet Lookout and the south end of Whitehaven Beach. Big Fury Whitsundays is a fast comfortable way to visit the Whitsunday Islands. The boat itself has 4 engines totaling 900 horsepower, with this kind of speed there will be no seasickness. The tour departs daily and takes 36 guests and 2 crew. You will get time snorkeling coral reefs and lunch on Whitehaven Beach. Spend less time on the boat and more time at these wonderful destinations.
Big Fury Whitsundays Tour Details
Departure and Return
This Tour Departs Abell Point Marina, Airlie Beach, every day at 10:00am. and returns the same day at 5.00pm
Guest and Crew Numbers
Big Fury Whitsundays takes 35 guests and has 3 crew
Locations Visited
Whitehaven Beach including the famous Hill Inlet Lookout on the Northern End and the southern end. Snorkel locations can include Luncheon Bay, Caves Cove, Blue Pearl Bay plus plenty of other Awesome destinations
Included in the price
Lunch, Snorkel Equipment,
Stinger suits are hired at the boat for $7 extra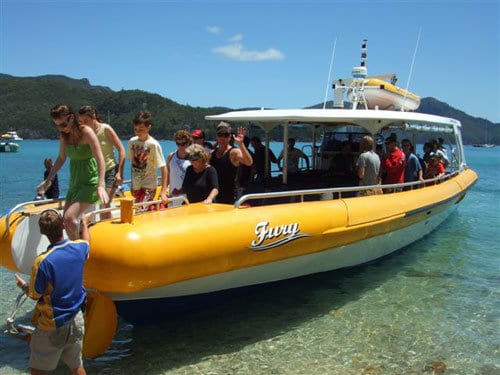 Whitehaven Beach
Big Fury Whitsundays Tour visits Whitehaven Beach for around 2 hours. During this time you embark on a bush-walk from Tongue Point (northern end of Whitehaven), this walk takes around 15 minutes, once at the top you will experience Whitehaven Beach above on the viewing platform. This breathtaking view from here lets you see all 7 km of the beach as well as the world famous swirling sands that form the inlet
Snorkeling The Reef
During your day tour, you will get the opportunity to snorkel the coral-filled bays on the coastal fringes of the islands. Here you can see turtles, Maori wrasse, batfish, parrot fish, clown fish (Nemo) plus plenty more! in most bays, the coral starts close to shore and is easily accessible by the small tender boats. For the nonconfident swimmers, there are noodles and flotation devices available for safety.
No Seasickness
This vessel is fast, and with the quick boats they skim across the top of the waves instead of rolling through them. This stops the imbalance in your ears that lead to seasickness.
Big Fury guarantees you will not get seasick,
You will have a fast fun adventure on a boat that is built to jump waves and give you the ride of your life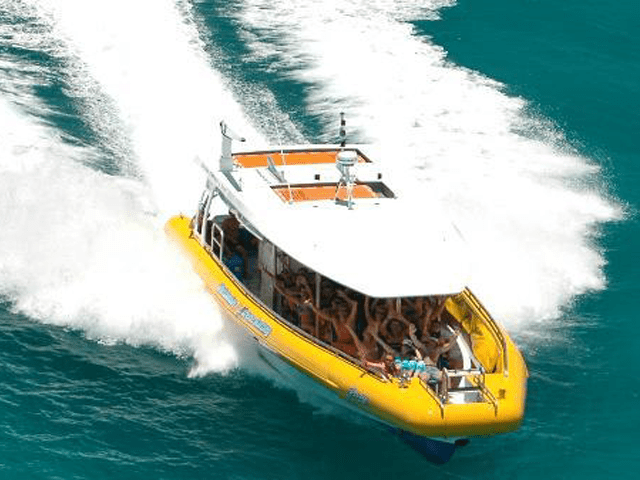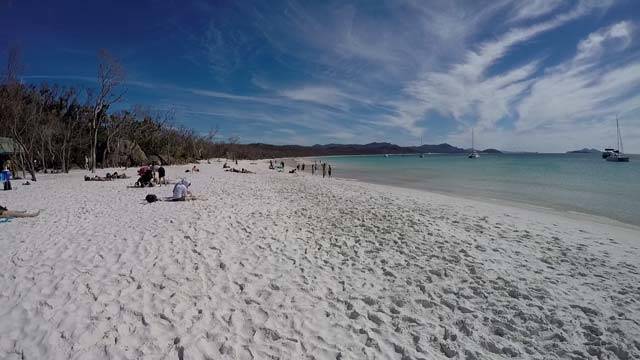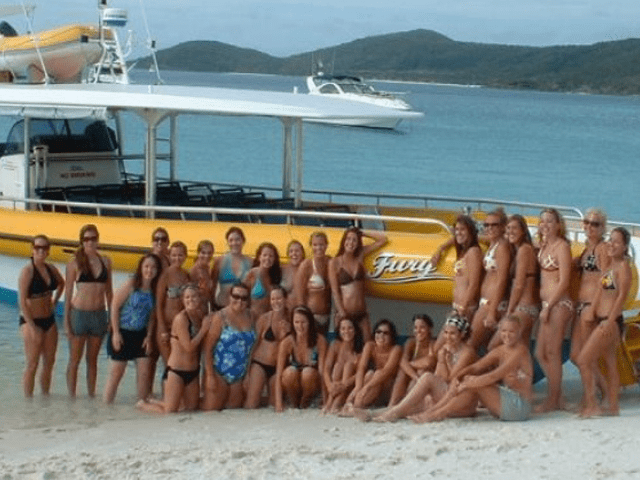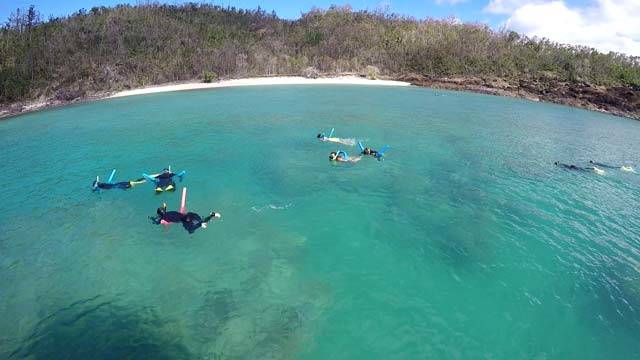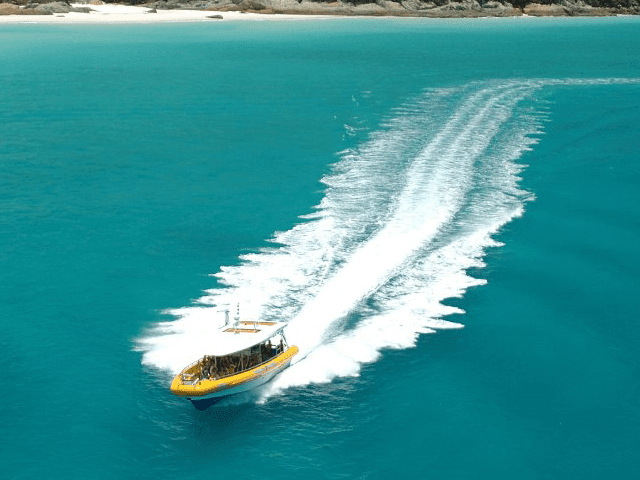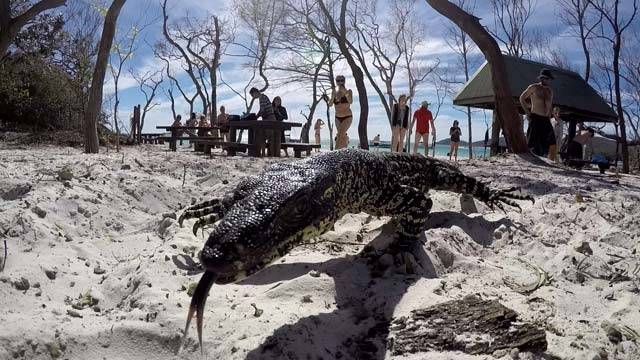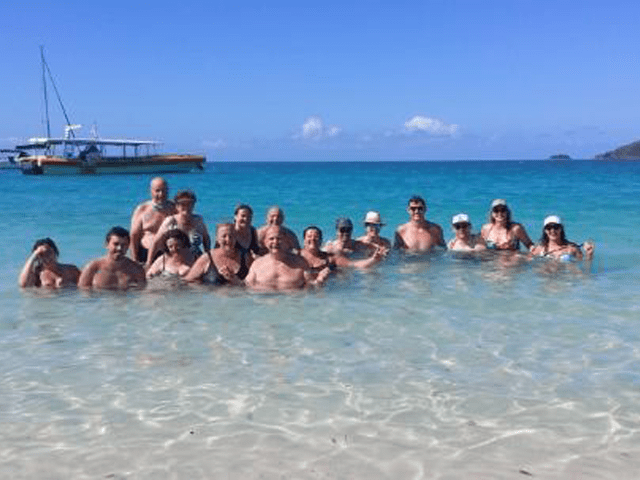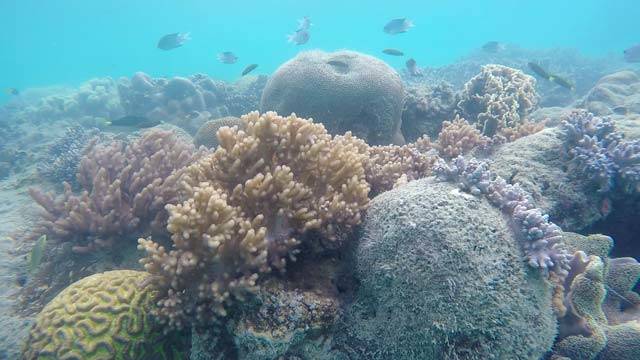 Pre-Departure Information For Big Fury Whitsundays Day Trip
All Guests Must Check in at 9:30am in the morning at Abel point marina . A pick up is available, please call at least 24 hours before departure to arrange your pick up location
YOUR BIG FURY WHITSUNDAYS ITINERARY:
,as we are dependent on weather and tidal conditions. When you board the boat, the
crew will sit down with you and go through information specific to the tour, as well as where you may be going that day
WHAT TO BRING:
A water bottle
Swimsuit
Hat
Sunscreen (30+ highly recommended)
Bath Towel and Beach Towel
Sunglasses
WHAT NOT TO BRING:
Glass bottles or Red Wine
Passport, Travel Documents
WEATHER:
Welcome to the tropics! Although our winters are unbeatable in terms of weather, our summers can be hot and wet. November –
March can be extremely hot and humid, especially downstairs on a boat. Unless you are accustomed to living in this climate, you
may find it slightly uncomfortable, especially at night when you are sleeping. Please be prepared for this
SNORKELLING GEAR:
Mask,  and snorkels are all included in the price of your trip and will be distributed on board.
LYCRA SUITS & WETSUITS:
Wearing a Lycra stinger suit will prevent UV exposure and significantly reduce your risk to marine stingers. these are available for hire for $7 before departure
. Magic Whisundays reserves the right to change routes, itineraries or vessels at any time without notice. All itineraries, activities and departures are subject to weather and may be changed or cancelled at the discretion of Magic Whitsundays and will not be refunded. It should be noted that adventure sailing, snorkelling and othet associated activities involves risk. Whilst we make every effort to safeguard clients, the owners/operators of the vessel cannot be held responsible or liable for any claim resulting from personal injury, illness, death and/or property loss or damage due arising whilst travelling with the company, participating in activities on or off the vessel or other company property. We recommend that all clients have travel insurance covering illness, injury, damage to personal belongings and tour cancellations. A cancellation fee applies to all travel. Client cancellations for our Day Cruise Big Fury made later than 6pm on the day before departure will result in complete forfeiture of the full price paid. Client cancellations for our overnight sailing cruise on Habibi made less than 21 days prior to departure will result in complete forfeiture of the full price paid, and transfer fees do apply.
Magic Whitsundays Pt Ltd (the 'Company') acts only as an agent for hotels, hostels, airlines, adventure tour companies, insurance companies, and other providers of travel and related services to the Traveller (the 'Suppliers'). As such, and while the Company makes efforts to ensure that the quality of the services rendered by the Suppliers is consistent with the descriptions provided, the pictures, photographs and descriptions included in any printed material or online do not constitute any form of representation, warranty or guarantee that all of the attributes will be as depicted.
The Customer expressly acknowledges that, in the event any service to be provided by a Supplier could become unavailable due to circumstances beyond the Company's control, the Company shall, at the Company's sole discretion and without prior notice to the Customer, be entitled to substitute services of equal or greater value without refund to the Customer, and such substitution shall be deemed to be complete compensation such that the Customer shall have no further claim against the Company.
All coupons, exchange orders, receipts, contracts and tickets (the 'Travel Documents') are issued subject to any and all tariffs, terms and conditions under which such services are provided by the Suppliers. The Customer's acceptance and use of such Travel Documents shall also evidence the Customer's consent to these conditions.
The Company, its affiliates, agents and employees assumes no responsibility and shall not be liable for any loss, damage or other claim, whether to person or property, that does not arise directly as a result of negligence of the Company its affiliates, agents or employees in facilitating the Customer's purchase of Supplier(s) services. Travel insurance is highly recommended.
If you have any Questions about the Fury Whitsundays Tour please feel free to contact us between 8am to 7pm daily
Local Whitsundays Advice - We have the Answers You Need