100% Supporting Whitsundays Operators 
Whitsundays Day Trips And Activities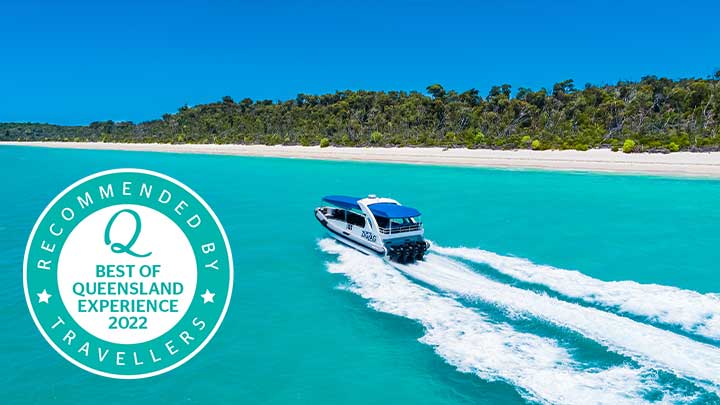 ZigZag Whitsundays Day Tour
2 Beaches – 2 Lookouts – 1 Snorkel Location
Full-Day Tour With 30 Guests 3 Crew, Visits South Whitehaven Beach, New South Whitehaven Lookout, Chalkies Beach, Haslewood Island Lookout, Snorkel location
Included – Lunch, Snacks, Snorkel Gear, Wetsuit. Fast boat, Low seasickness probability Dynamic Pricing, Family-Friendly Pricing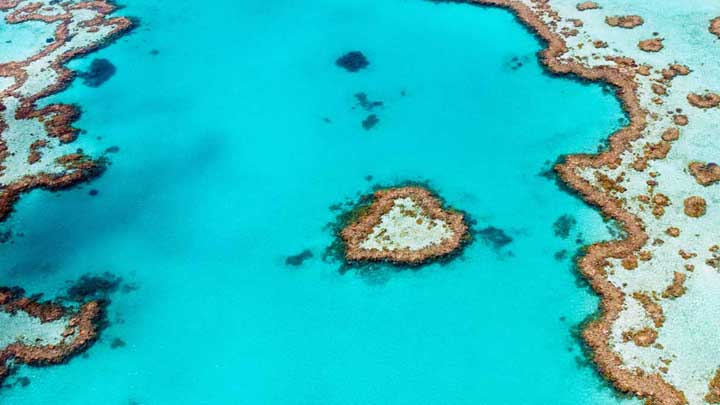 From $229 WITH PROMO CODE

WIRSF22
60 – 70 Minute Flight Time, With Small Numbers Of 5 people Max
Fly Over  The Great Barrier Reef, Famous Heart Reef, Whitehaven Beach, Hill Inlet Swirling Sands, Whitsunday Islands and Airlie Beach
Modern Comfortable Plane With Guaranteed Window Seat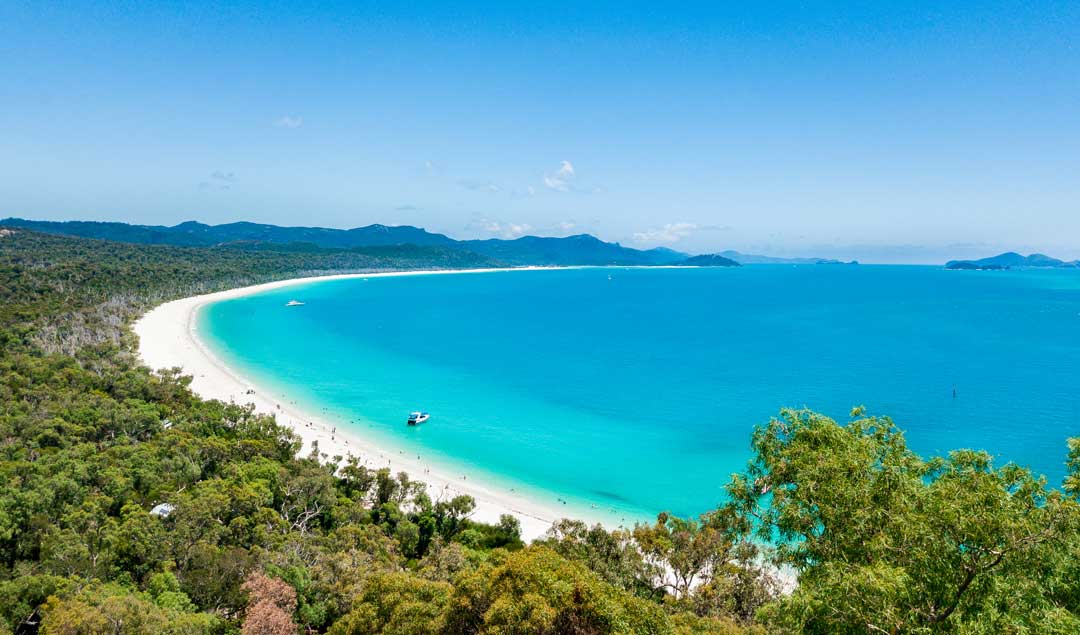 Whitsundays Sea And Sky Combo
Full-Day Tour With ZigZag Whitsundays 30 Guests 3 Crew, Visits South Whitehaven Beach, New South Whitehaven Lookout, Snorkel locations.
PLUS 
70 Minute Scenic Flight Over Heart Reef, Whitsunday Islands, Whitehaven Beach And Great Barrier Reef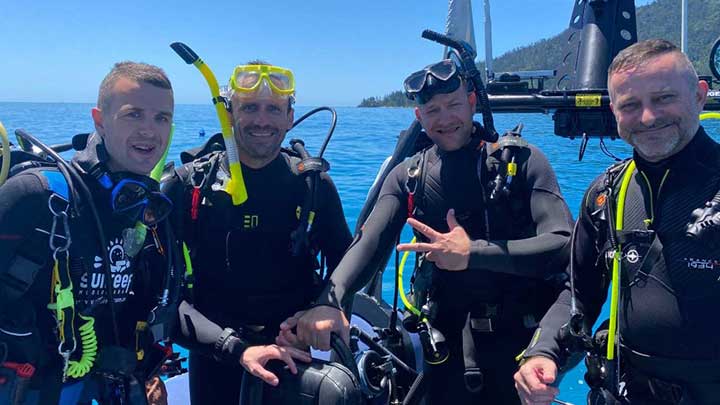 Airlie Beach Scuba Diving Day Tour
From $289 Including 2 Dives and Equipment 
Aqua 5 is a devoted diving day trip running out of the Port Of Airlie.
Their Airlie Beach Scuba diving tour provides Island diving at its greatest! Experience pleasant drift dives along the reef shelf close to Black island next to Hayman Island
Snorkelling options are available to friends or family not wishing to dive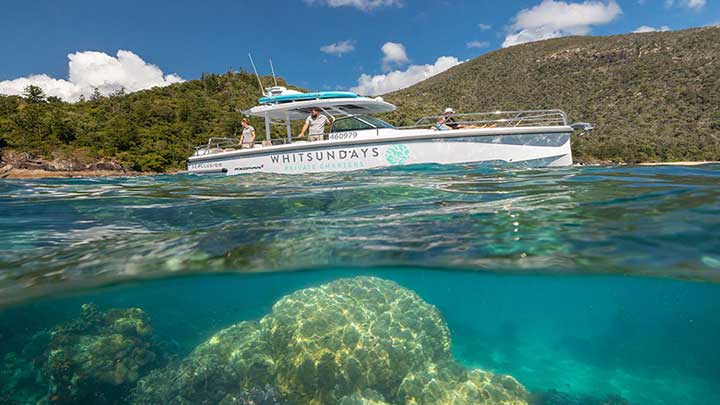 Full Or Half Day Private Charters
Whitsundays Private Charters On A Fast Luxury Boat.
Full Day Options
Half Day Options
Sunset Cruise Options
Maximum 8 Guests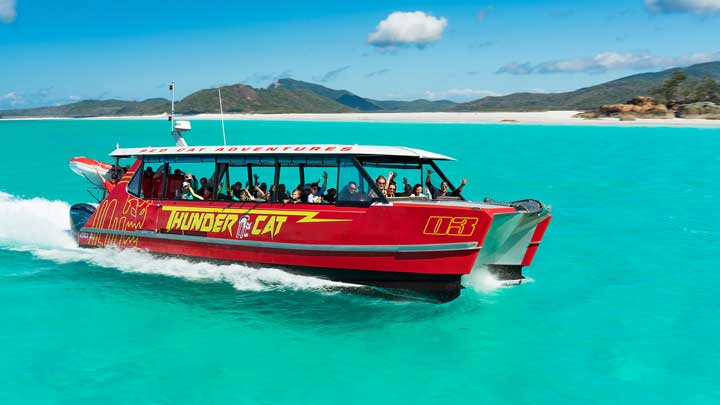 Full-Day Tour With 38 Guests 2 Crew
Visits North Whitehaven Beach, Hill Inlet Lookout, 2 Snorkel locations
Includes Lunch, Snorkel Gear, Wetsuit
Fast boat, Courtesy Pickup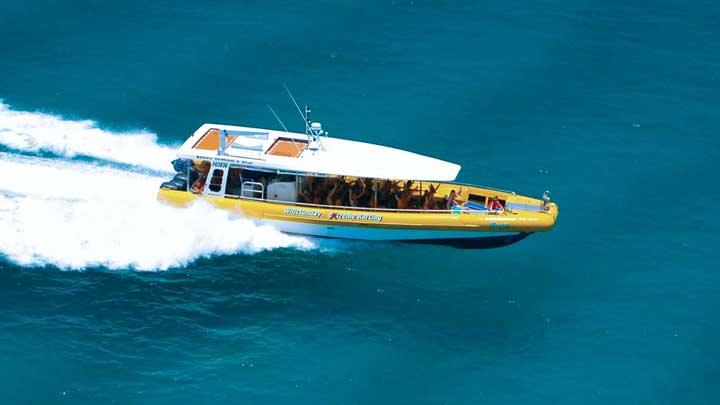 Full-Day Tour 32 Guests 2 Crew
Visits North Whitehaven Beach, Hill Inlet Lookout, Snorkel Location
Includes Snorkel Gear Included
Fast boat Low seasickness probability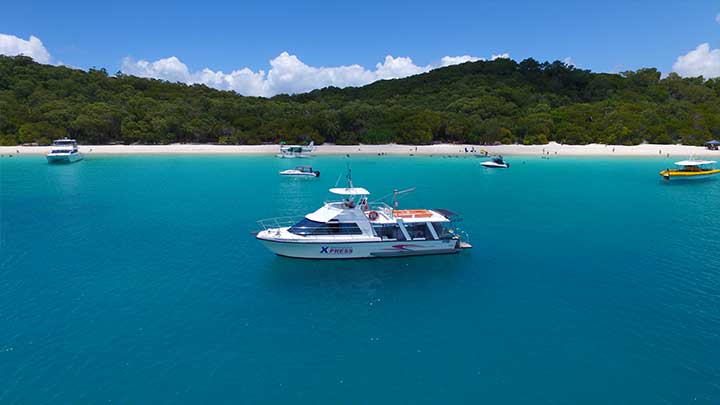 Full-Day Tour Including Hill Inlet Lookout
South End Lookout, North and South Whitehaven Beach
Beach BBQ And Guided Walk
All Ages Welcome, Courtesy Pickup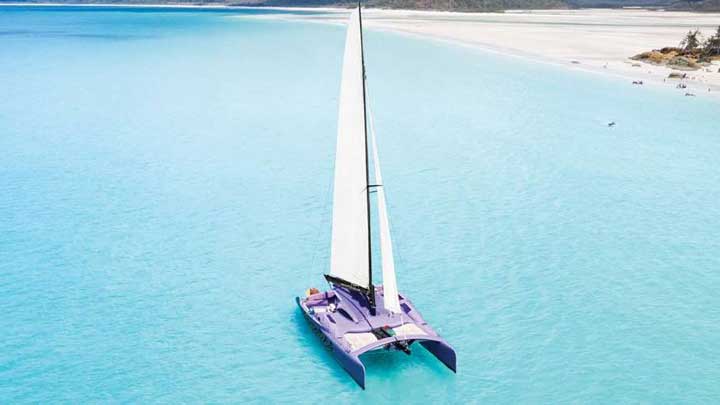 Full-Day Tour
Including Hill Inlet Lookout, and  Whitehaven Beach
1 Snorkel location
Lunch Snorkel Mask and Wetsuit Included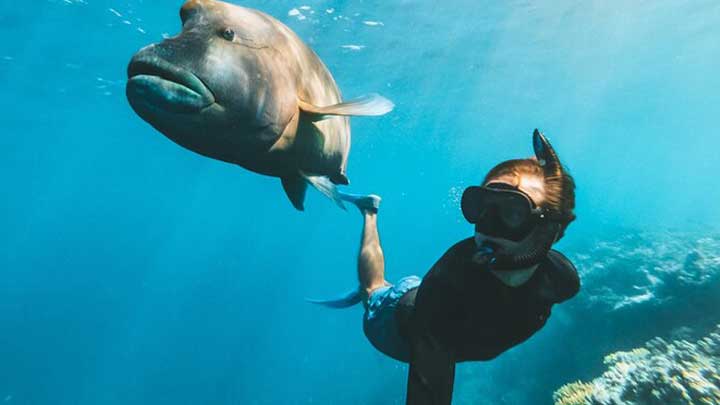 Outer Great Barrier Reef Tour
Departs From Airlie Beach, Day Dream and Hamilton Island
Ferry Transfers To Reef World
Snorkelling plus all equipment
Scuba Diving optional extra 
Buffet Lunch Included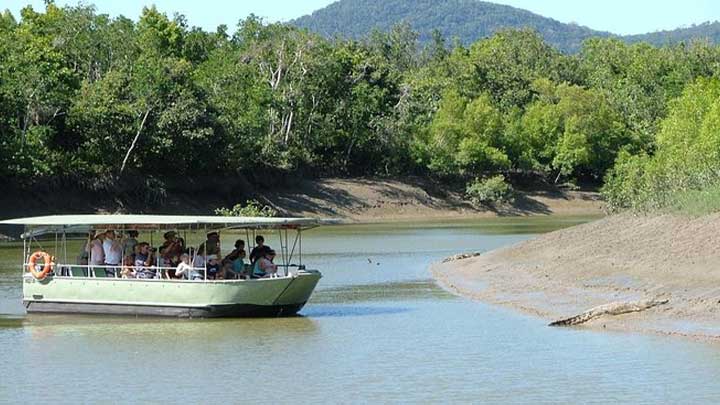 6 hour day includes
Saltwater crocodiles Proserpine River cruise plus
Open-air wagon for unique wildlife Experience traditional Australian "bush tucker", damper and billy tea plus delicious Aussie BBQ lunch
A small group of 30 guests with an Informative and friendly guide.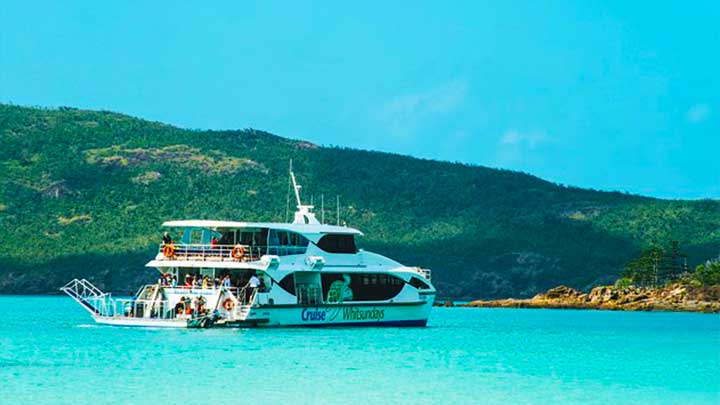 Whitehaven Beach Plus Hamilton Island
Self-guided tour of Whitehaven Beach and Hamiton Island
Cruise in style and comfort on a ferry Admire the turquoise water and white sand of Whitehaven Beach, 
Explore Hamilton Island
Free time included in Hamilton Island and Whitehaven Beach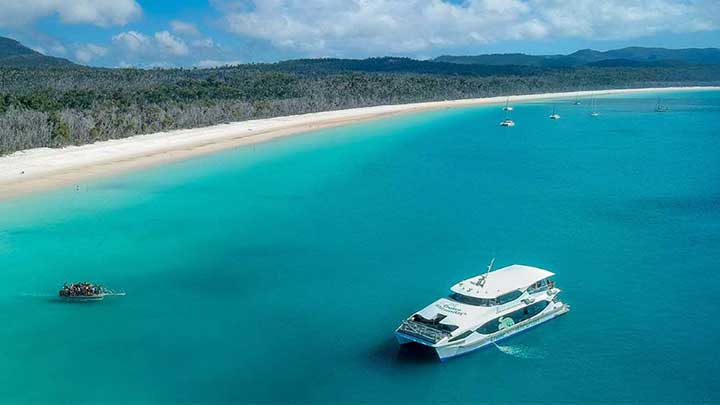 Whitehaven beach half day
Half-Day Tour To Whitehaven Beach
Scenic return cruise In A Air-conditioned Ferry
Morning and Afternoon Tour
Up to 2 hours on the beach Guided bushwalk optional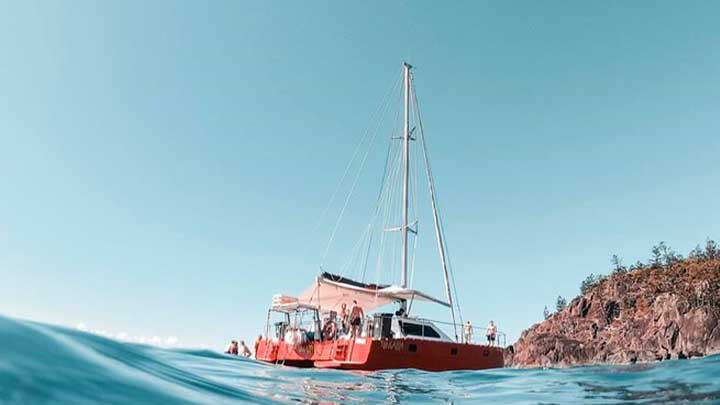 Whitsundays Snorkelling And Sailing Tour
10am to 6pm
Finish the day with a colourful sunset as you come back to Airlie Beach.
Lunch and refreshments will be provided
Snorkelling gear and stinger suits is included
A pleasant and relaxing alternative to experience the Whitsunday Islands.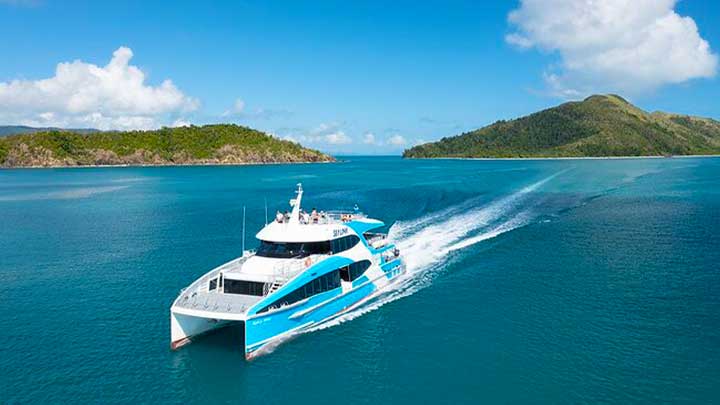 Whitehaven Beach Full-Day Tour
North Whitehaven Beach
Hill Inlet Lookout
South Whitehaven Beach
South Whitehaven Lookout 
Includes Lunch and Shuttle Transfers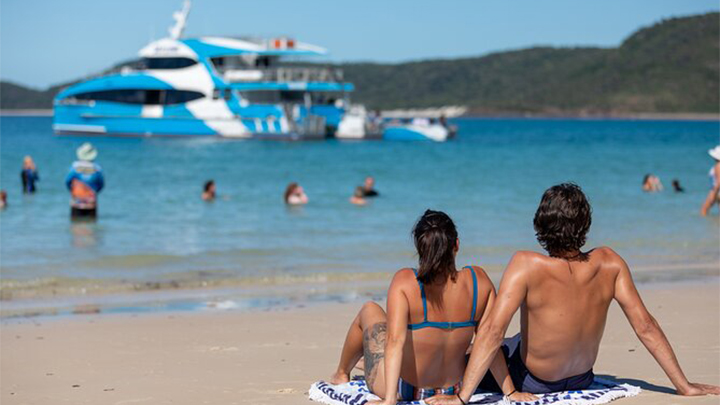 Purely Whitehaven Half-Day Tour
Whitehaven Beach
Air-conditioned Ferry
Rooftop 360° views on boat
Full bar service onboard
Complimentary bus transfers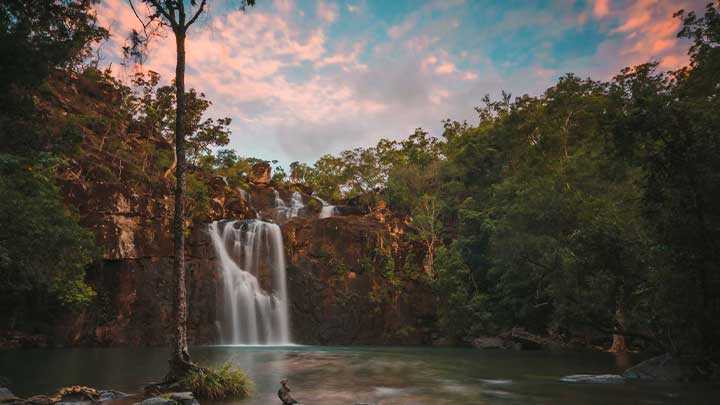 Visit Cedar Creek Waterfall
Lunch at Coral Sea Resort 
Morning Tea
10 seater bus with tour guide
Multi-Award winning Tour Operator
All-inclusive price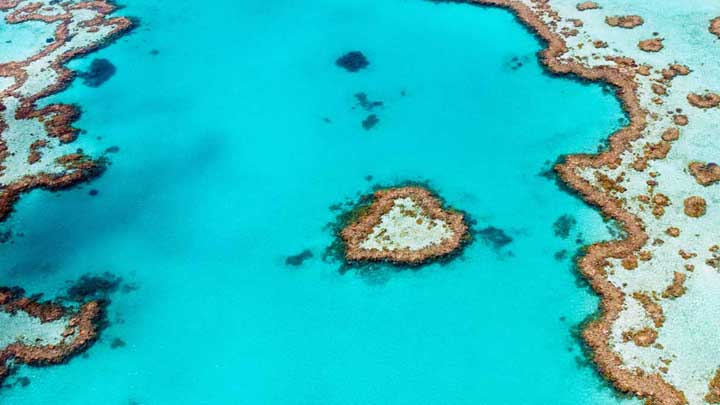 From $229 WITH PROMO CODE

WIRSF22
60 – 70 Minute Flight Time, With Small Numbers Of 5 people Max
Fly Over  The Great Barrier Reef, Famous Heart Reef, Whitehaven Beach, Hill Inlet Swirling Sands, Whitsunday Islands and Airlie Beach
Modern Comfortable Plane With Guaranteed Window Seat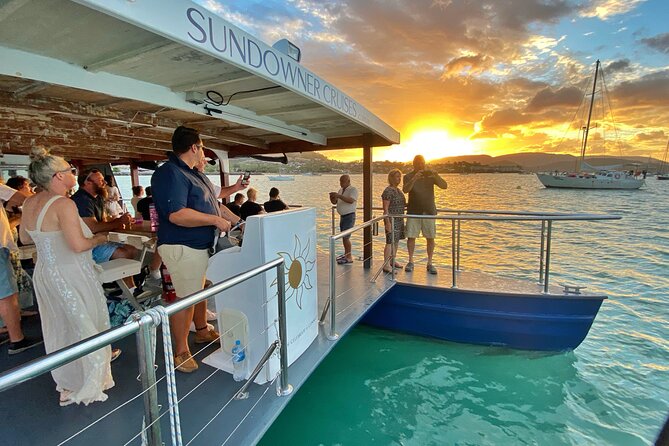 Airlie Beach Sunset Cruise
2 Hour Sunset Cruise
Fully covered, purpose built catamaran 
Onboard Bar (No BYO)
A glass of sparkling or soft drink is included in your sunset cruise ticket price. 
Pioneer Bay and  Turtle Bay.
After the sunsets, enjoy the lights of Airlie Beach at night.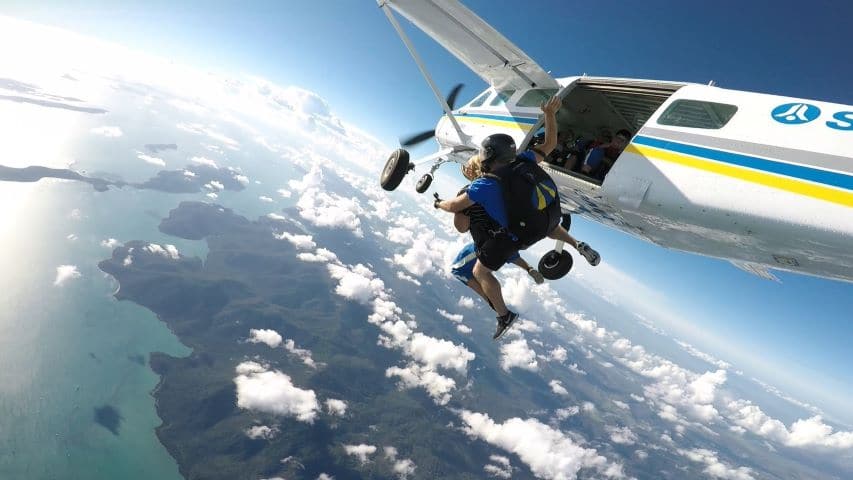 Part Day Activity, From 8500– 14000 Feet
14000 ft is a 1-minute freefall AT 220km/hr
Picture and video add-on available
The flight climbs over islands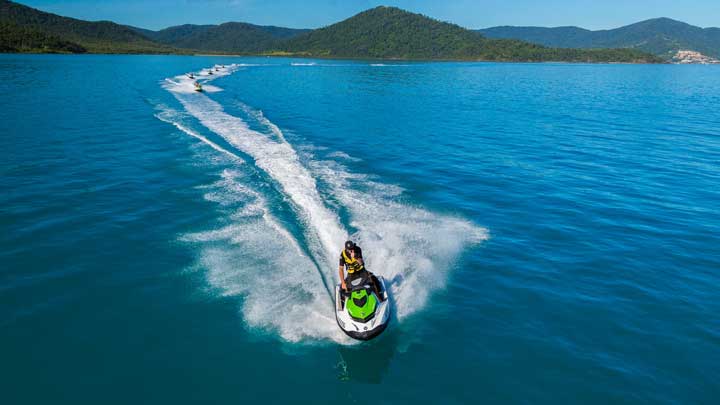 Part Day Tour 90 mins Two people per ski
Qualified guide Plus All safety equipment
Pick up and drop off
Free pictures, Power snacks and bottled water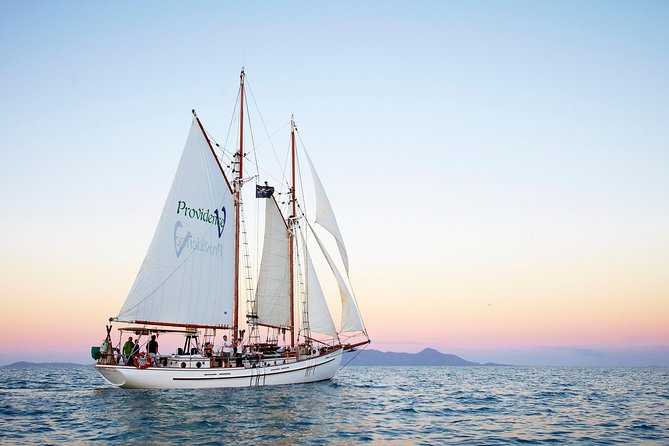 Whitsundays Sunset Cruise
2 Hour Sunset Tour
Instant Bookings
Maximum of 24 Guests
Sailing Cruise
Departs 5 pm
Glass of Champagne and some snacks included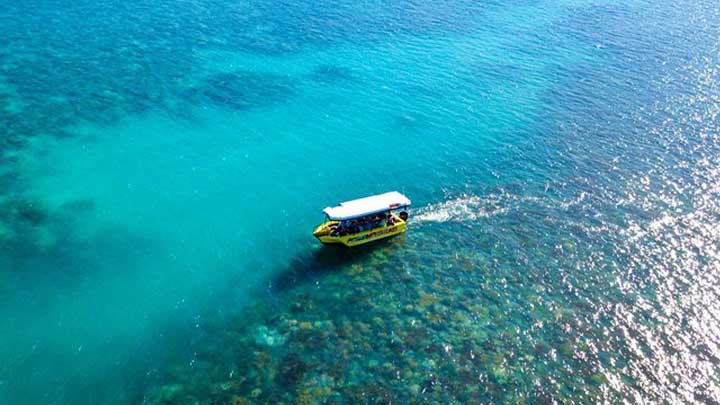 70 Minute guided Glass Bottom Boat Discovery Tour
Funny and informative commentary about the reef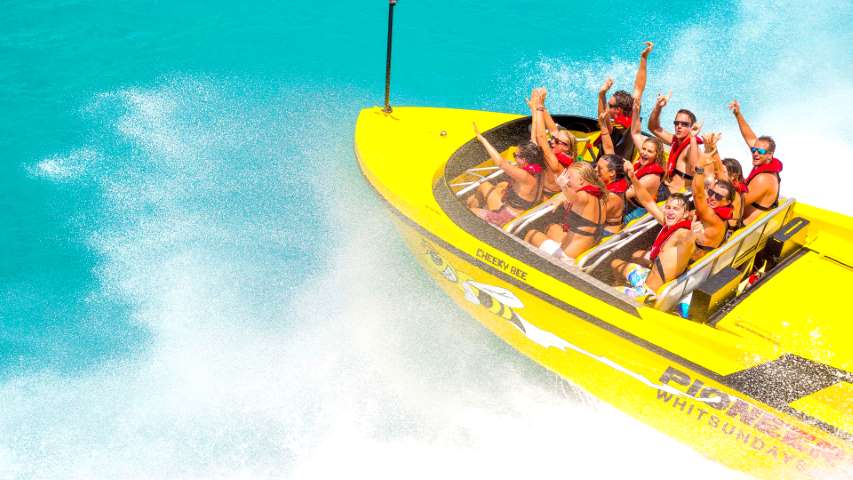 Jet Boat 30 Minute Thrill Ride
380-hp Adrenaline Ride
Perform 360s, 180s, Power stops/nosedives
Spot wildlife And See million dollar mansions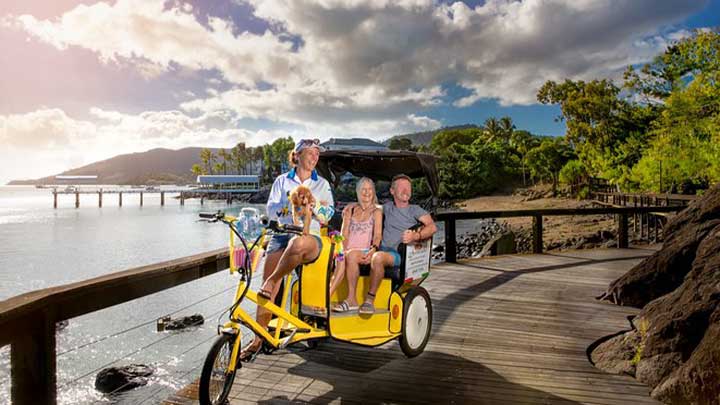 5 different Tuk Tuk Tours.
Multiple departure times each day.
An exciting and fun way to explore Airlie Beach.
Local guides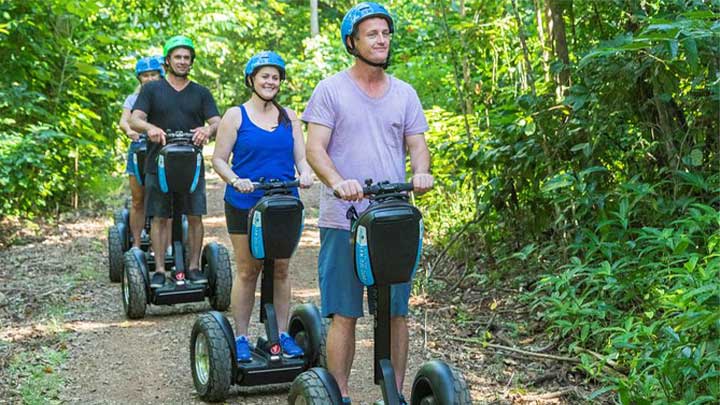 Segway Rainforest Discovery Tour
3.5 to 4 hours approx
Professional guide, Hotel pickup and drop-off, 
A small group of 7 
Conway National Park, and Whitsundays Great Walk.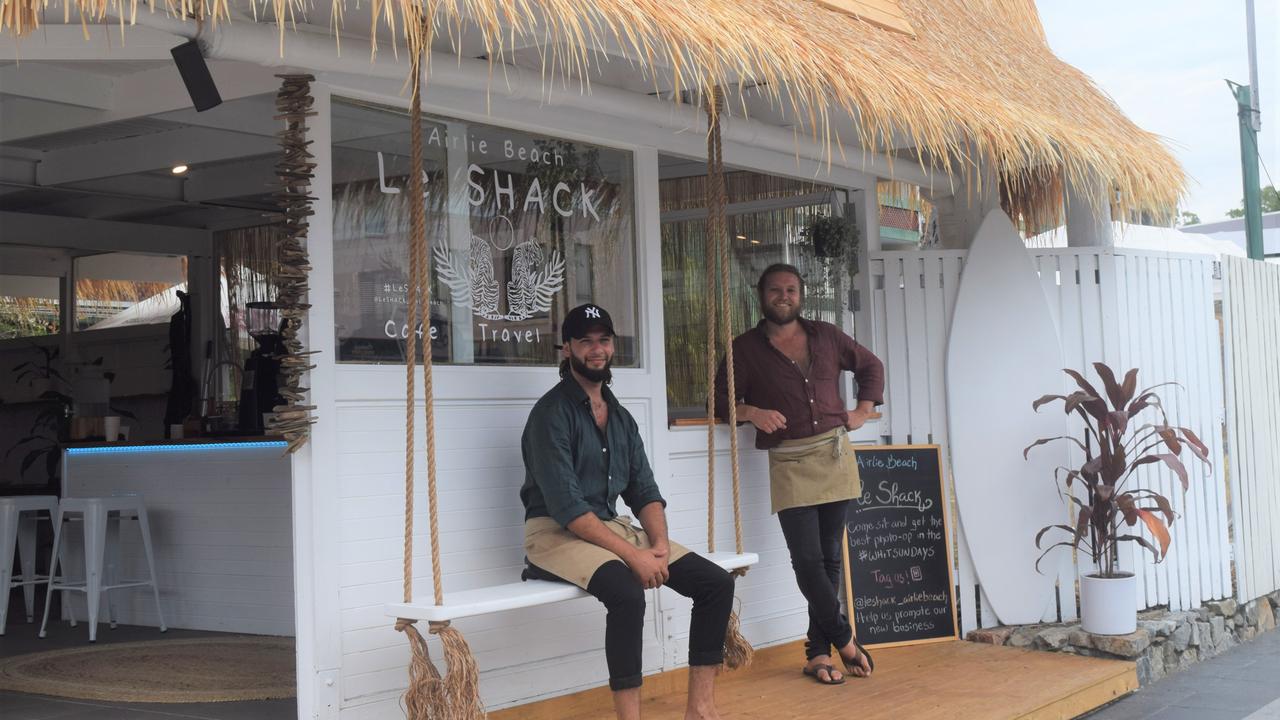 Electric Scooter Hire
Located In The Main Street
2 Hour to Multiple  Day Hire Available
Suited Adults And Children
What You Need To Know Before Purchasing Whitsundays Day Trips
Whitsunday Day Trips are the perfect way to visit the Whitsundays Islands. These day tours are mostly fast-paced boats that maximize your day on the water. Each trip is slightly different, but most tick off the two big wants for any holidaymaker, Whitehaven Beach and snorkelling the coral around the islands. When choosing your Whitsunday Day Trips, there are specific factors that you need to take into consideration.
Price Of The Tour  – Pricing is always an essential factor in choosing any tour; you want value for your money. Most trips range from $159 to $230 for an adult and $105 to $159 for a child; there are family packages available on most tours as well. There is an opportunity to pay $159 for an adult with ZigZag Whitsundays, but you will need to book one of the first 12 seats on tour.
–
What The Tour Includes – This is where some Whitsundays day tours differ from each other .some trips include lunch and a wetsuit in the price, and some have them as optional extras. All tours include a mask and snorkel. Make sure you read what the trip consists of, this way you will be prepared for the day.
–
Departure And Return Times – This is extremely important if you are flying or catching a bus on the same day as the tour. Some tours depart as early as 8 am while others leave around 10 am. Return times vary between 3.30 pm to 5.30 pm. The return times can vary by 20 minutes depending on the wind and tides that day.
–
Where Does The Trip Go – The most important answer! Well once again it varies… so let us list the most popular place a day trip from Airlie beach goes. Please note a day trip goes to around 3 locations in a day.
Our Favourite Day Tour Locations In The Whitsundays
Hill Inlet Lookout Whitehaven Beach North End at Bettys Beach
South Whitehaven Beach, including the new South Whitehaven Beach Lookout
Chalkies beach – excellent beach plus snorkel location and lookout platform
Langford spit – now has a walking track and lookout
Nara inlet – aboriginal rock drawings
Boarder island – snorkel location
Whitsunday Island – multiple snorkel locations
Hook Island – numerous snorkel locations
Hayman Island – multiple snorkel locations
One other factor is if you are worried about seasickness, if this is the case choose the fastest boat you can find. The boats like Big Fury and ZigZag Whitsundays have over 1000 horsepower. You will not get seasick in these fast boats, they ride the tops of the waves instead of rocking through them. If you need help or have any questions about Whitsunday Day Trips the contact details for all operators are on their product page