Have Questions ? Contact The Tour Company Directly On the Details Above
Want To Book This Tour? Use The Book Now Button Below.
All Bookings Are Made Directly With The Tour Operator.
This Website Takes No Commission On Products Sold. We Guarantee All Tour Operators On This Website Get 100% Of The Money You Pay.
Airlie Beach Sunset Cruise To Island Resort
This Airlie Beach Sunset Cruise is the only twilight cruise that takes you to an Island Resort! Join the ZigZag Whitsundays Team on the fastest boat in the region, and enjoy 90 minutes at Palm Bay Resort watching the sunset over the mainland with a cocktail in hand.
This cruise is only sold online making sure the tickets are affordable at only $59 per adult and $49 per child
Tour Highlights
A 30-minute boat ride each way
90 minutes at Palm Bay Resort
Light snacks included 
Dinner available to purchase from 3rd October
Comfortable, fast vessel
A small group of only 35 guests
Bathroom onboard
Suitable Tour For You?
This Tour is perfect for all ages above 5 years old 
Tour Departure
Departs: 5:00 pm – Friday, Saturday, Sunday, Monday
Returns: 7:30 pm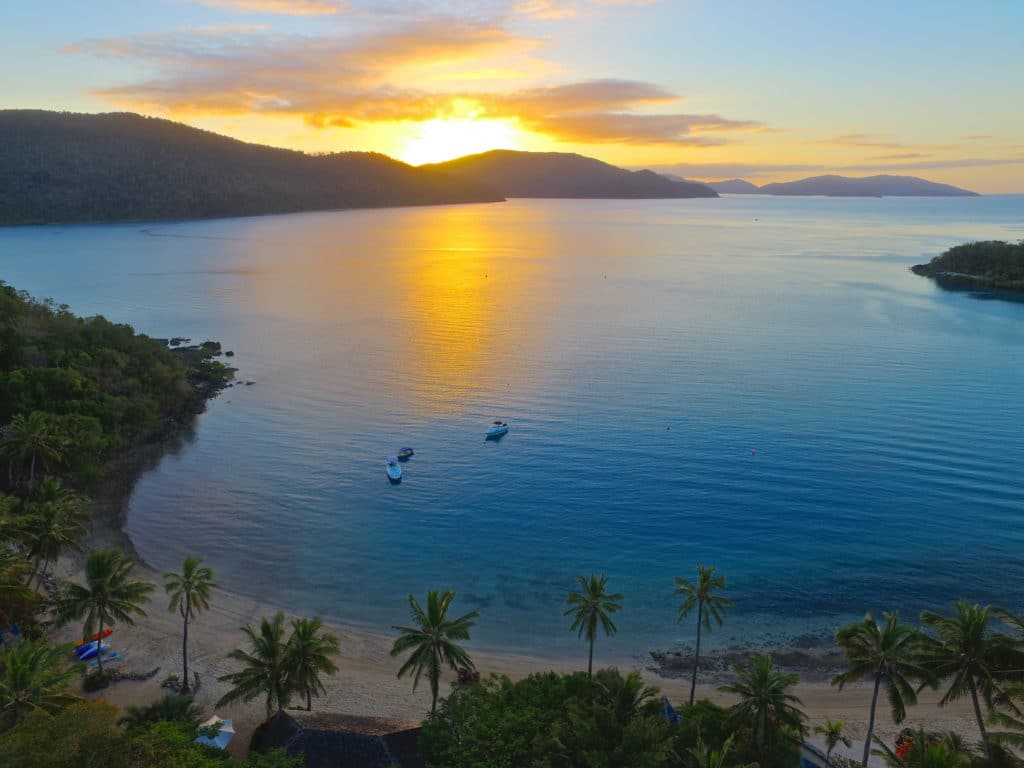 Information For This Airlie Beach Sunset Cruise
Guest and Crew Numbers – 
The tour takes 35 guests and 2 crew
Locations Visited
Palm Bay Resort Long Island
Included in the price
Light Snacks, return transfers
Optional Extras available 
Dinner at Palm Bay Resort From 3rd October
Experience the best Airlie Beach Sunset Cruise on the market today! Nothing says Whitsundays more than visiting an Island Resort.
This is the only sunset cruise visiting an island resort in the region. Palm Bay Resort on Long Island is a stunning small secluded resort which has a maximum capacity of only 68 overnight guests
This means your sunset trip on ZigZag won't take you near crowds, in fact, the opposite! and you will appreciate their tasty island cocktails from the island bar 
This Airlie Beach Sunset Cruise Features 
Smaller groups of 35 to ensure a more personalised experience.
Informative commentary en route.
The stunning Palm Bay Resort On Long Island
The fasest boat in the Whitsundays with comfrtable padded seats.

Airlie Beach Sunset Cruise Meeting Point And Times
Our Departure is from Coral Sea Marina (old Abell Point Marina) – Northern Village at the meeting point B (beside the Roundabout) This is right at the end of Shingley Drive, Coral Sea Marina, Airlie Beach QLD 4802
[Click Here for Directions](https://goo.gl/maps/rrw2Fb5D2nL2)
Schedule
4:45pm: Meeting and Check In
5:00pm: Departure
7:30pm: Return
What to Bring
– Sunscreen
– Hat
– Eftpos or Credit Card (for drinks at Palm Bay Long Island Bar)
Twilight Island Resort Cruise
Meeting Time is 4.45 pm Sharp for a 5 pm departure
Please do not be late as we do not hold the boat.
The best way to find our meeting point is to use Google Maps and type in "ZigZag Whitsundays" this points at our meeting place
**COVID -19 – PLEASE READ
If you are feeling unwell before or on the morning of travel please contact us for a full refund.
We can not take any guests who are feeling unwell or sick.
If you have been in a COVID-19 hotspot, currently including the State of Victoria and New South Wales in the last 4 weeks, you will not be able to travel on this tour. For further updates on current Hot spots around Australia please see the Queensland Government Website
We recommend you use and have installed the Government COVIDSAFE APP.
Due to the current global Covid-19 pandemic, we are required by the Queensland Government to collect additional information on all guests traveling on our tour. This information will only be shared with the relevant authorities for the purposes of contract tracing. This will be done at the meeting point.
ZigZag Whitsundays has taken all precautions for the safety and comfort of our guests and is operating under the 'Tourism and Accommodation Industry – Approved Plan' as required by the Queensland Department of Health, as well as the COVID Clean Practicing Business model.
We ask that you adhere to social distancing wherever practical and possible, and if you are ever feeling uncomfortable, please speak to one of our crew.
If you have any questions feel free to contact us on the details below.
B&N Operations Pty Ltd ABN 14 617 437 751 t/as ZigZag Whitsundays operates the vessels known as ZigZag, The following terms and conditions apply to travel by you on ZigZag Whitsundays .
All prices are shown in Australian dollars and are inclusive of GST. Prices are valid from 1st March 2020.
All  ZigZag Whitsundays departures and itineraries are subject to weather and may be changed or cancelled a ZigZag Whitsundays  discretion. ZigZag Whitsundays reserves the right to substitute vessels without notice at any time and for any reason.
ZigZag Whitsundays reserves the right to cancel any trip, or reduce trip duration, in any circumstances, including those which pose a safety risk to you, the vessel or crew, such as severe weather, including cyclones.
If ZigZag Whitsundays is cancelled by the owner prior to or on the scheduled departure date, you will be refunded within 7 days.
If your trip duration is reduced during the trip due to Unforeseen Circumstances, you may be offered a future trip on ZigZag Whitsundays, at no cost to you, depending on the amount of time by which your original trip on ZigZag Whitsundays was reduced and, subject to availability. You acknowledge that "Unforseen Circumstances" includes but is not limited to the following; inclement weather, issues pertaining to ZigZag Whitsundays and any medical emergency, such as injury to guests or crew.
You acknowledge that if you cancel your travel on ZigZag Whitsundays less than 24 hours before the departure date, this will result in the forfeiture by you of the full trip price.
If you request a transfer of a trip departure date up to at least 24 hours before the day of scheduled departure this will incur no transfer fee. No Transfers will be accepted under this 24 hr. period
We recommend you take out travel insurance
You acknowledge that travel with, and the recreational services provided by, ZigZag Whitsundays (such as all in water activities and bushwalking) involve risk, including in particular a risk of being stung or bitten by jellyfish and other marine creatures or native fauna. You are advised to wear a stinger suit at all times you are in the water.
Whilst we make every effort to safeguard our passengers travelling on ZigZag Whitsundays, you acknowledge and agree that ZigZag Whitsundays is not liable to you for personal injury, aggravation of any existing injury or condition, mental injury, contraction of any disease, loss (direct, indirect or consequential) or death (including but not limited to from jellyfish stings) resulting from the recreational services provided by ZigZag Whitsundays , ZigZag Whitsundays hereby excludes absolutely all such liability to you.
Where the Competition and Consumer Act (CCA) consumer guarantees apply you also acknowledge and agree that the liability of ZigZag Whitsundays for any breach of those consumer guarantees is excluded to the maximum extent possible under section 64A of the Australian Consumer Law and 139A of the CCA, where you are killed, injured (physically or mentally) or contract a disease, or an existing disease is aggravated, arising from your trip onZigZag Whitsundays .
Your agreement with ZigZag Whitsundays is subject to the laws of Queensland, Australia If any of these terms is unreasonable or unenforceable for any reason whatsoever, it shall be severed and the remaining terms will not be affected in any way.
ZigZag Whitsundays March 2020
More 1 Day Tours You May Like
Does You Car Need Fixed In Airlie Beach? With more Aussies travelling in their own country than ever before, Airlie Beach is seeing...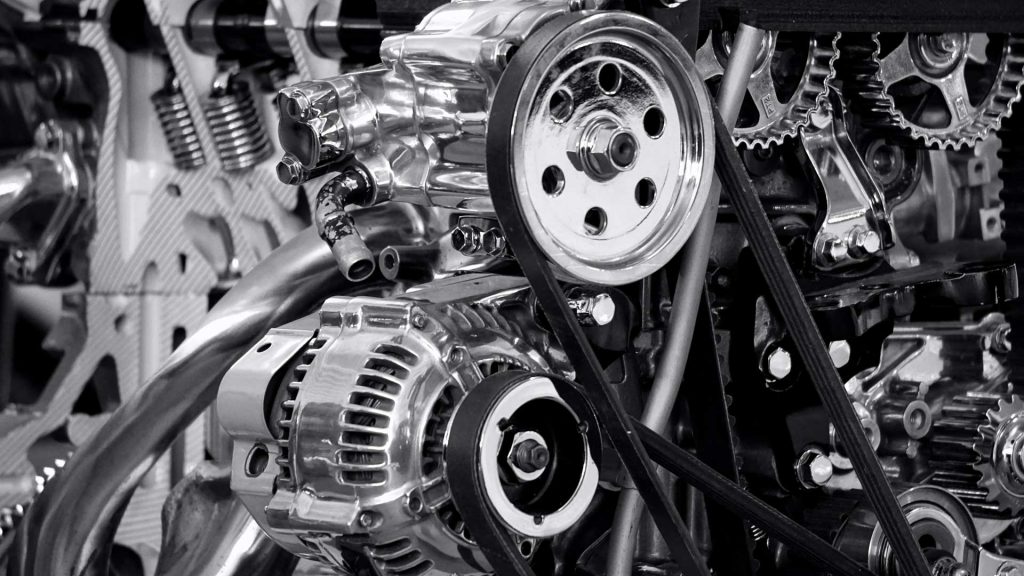 Does You Car Need Fixed In Airlie Beach? With more Aussies travelling in their own country than ever before, Airlie Beach is seeing...