Thundercat Whitsundays Tour Information
A Full Day Adventure visiting Whitehaven Beach and touring the islands
Thundercat Whitsundays
has two 300 horsepower engines making this an exciting ride. This new catamaran has been built to be extremely stable and fast so it's perfect for guests who are worried about getting seasick. The one day tour visits Hill Inlet Look Out at Whitehaven Beach, 2 beaches, and 2 snorkel locations. Thundercat is ideal for all travelers including singles, couples, groups, and families.
Check your dates of travel with our live availability checker and booking platform. Once you have purchased your Whitsundays Tour you will be emailed your tickets with everything you need to know .
Thundercat Whitsundays Tour Details
Departure and Return
This Tour Departs Abell Point Marina, Airlie Beach, Every Day at 9:00AM. and returns later that day at 5.00pm
Guest and Crew Numbers
Thundercat takes 30 guests and has 2 crew
Locations Visited
Whitehaven Beach including the famous Hill Inlet Lookout on the Northern End. Snorkel locations can include Luncheon Bay, Mantaray Bay, Langford Reef plus plenty of other Awesome destinations
Included in the price
Morning Tea,Lunch, Afternoon Tea,  Snorkel Equipment, Wetsuits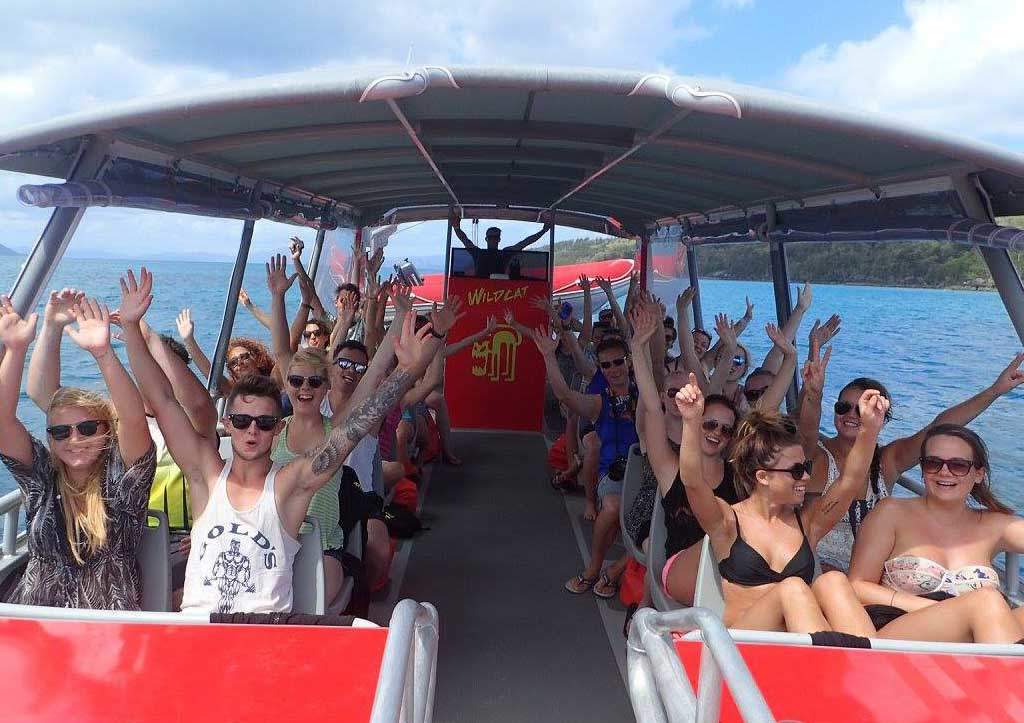 Whitehaven Beach
Thundercat Whitsundays Tour visits Whitehaven Beach for around 90 mins. During this time you embark on a bush-walk from Tongue Point (northern end of Whitehaven this walk takes around 15 minutes, once at the top you will experience Whitehaven Beach above on the viewing platform. This breathtaking view from here lets you see all 7 km of the beach as well as the world famous swirling sands that form the inlet
Snorkeling The Reef
During your day tour, you will get 2 opportunities to snorkel the coral-filled bays on the coastal fringes of the islands. Here you can see turtles, Maori wrasse, batfish, parrot fish, clown fish (Nemo) plus plenty more! in most bays, the coral starts close to shore and is easily accessible by the small tender boats. For the nonconfident swimmers, there are noodles and flotation devices available for safety.
Food on the tour
There is always great food on this tour and it includes …
Morning Tea – Home made chocolate Brownie ,
Lunch – Zucchini frittata + quiche lorraine, Cold meat and cheese platte, Fresh salad platter, Fresh pasta salad, Chinese noodle salad, Bread rolls,
Afternoon Tea -Fresh fruit Kebabs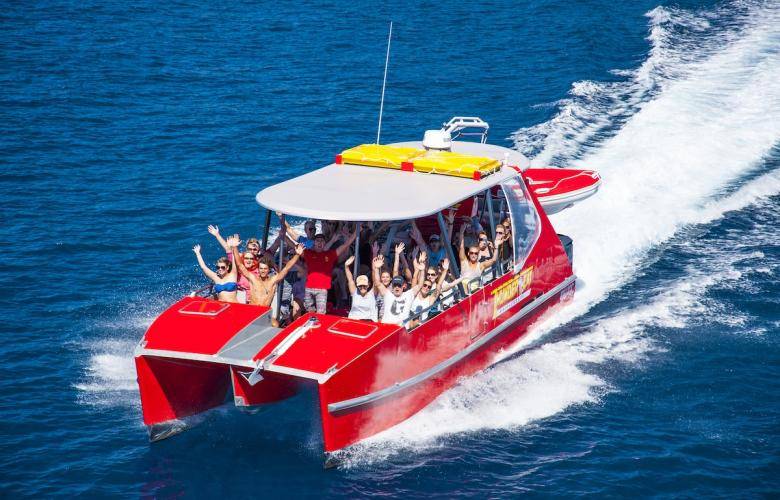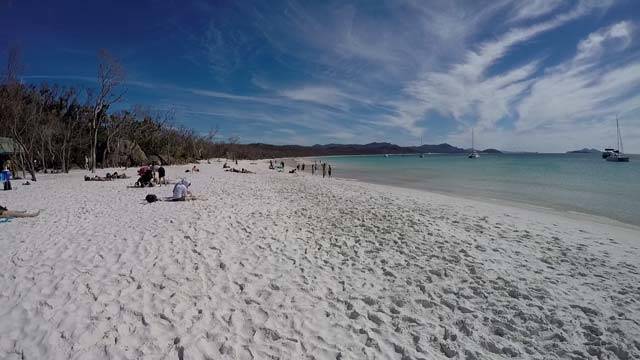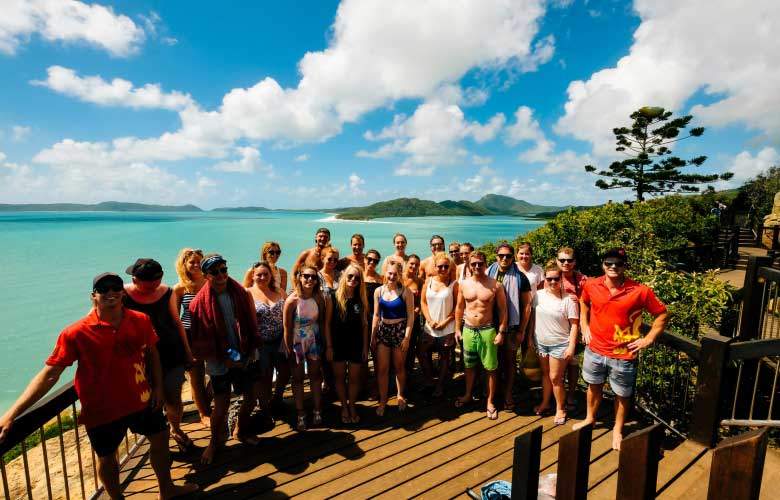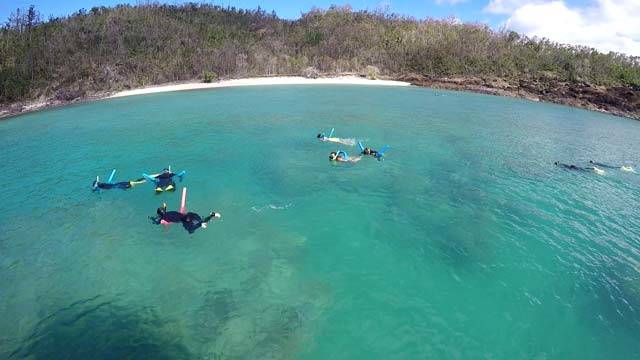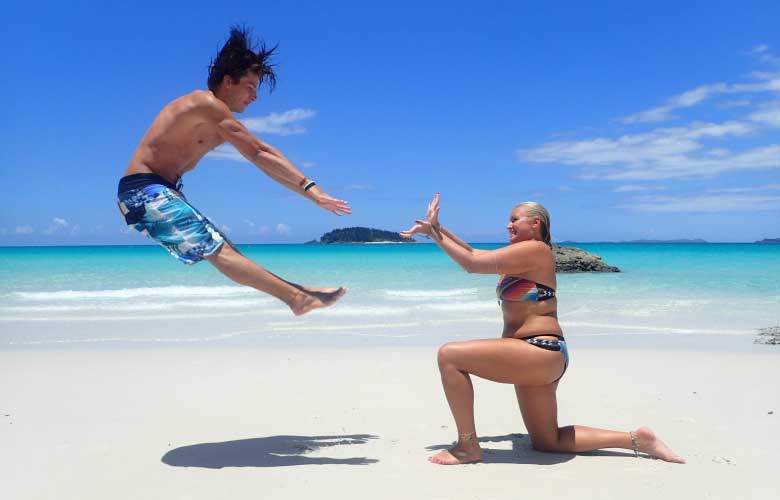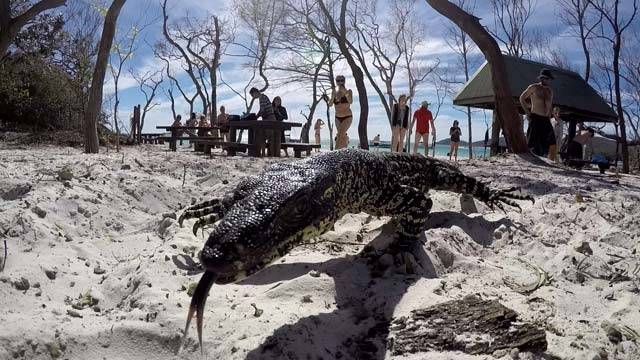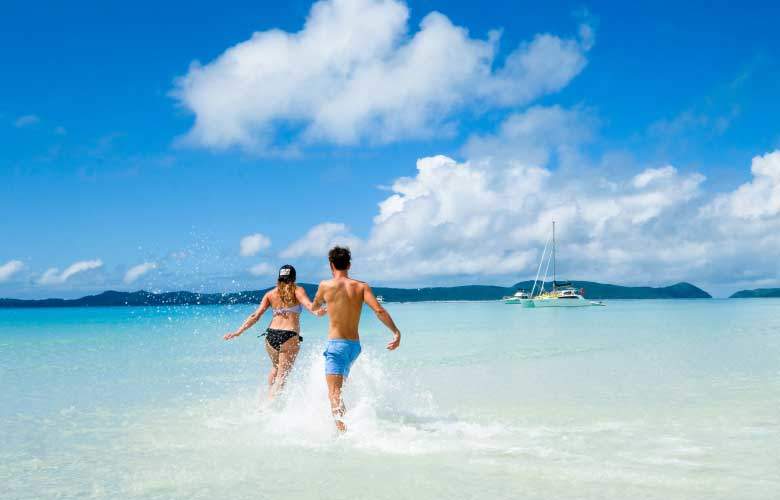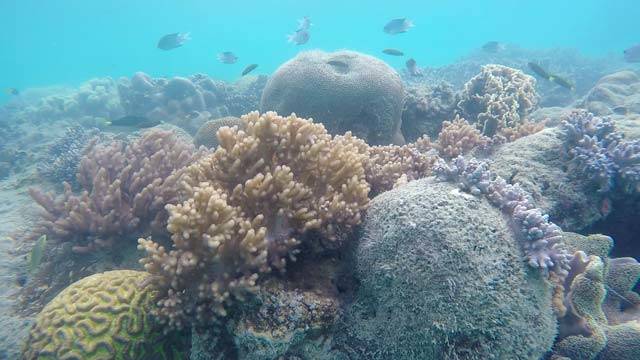 Pre-Departure Information For Thundercat Whitsundays Trip
Free pickups will be at various locations in and around Airlie Beach. The default pickup is Base Backpackers in Airlie Beach at 8.30am.  If you'd prefer an alternate pickup please call  1300 653 100 or 07 4940 2000.
If Passengers are not at the above pickup at the exact time they will miss the courtesy bus and have to make their own way to the marina. The boat leaves at 9am sharp and will not wait for passengers that miss the bus.
What To Bring
Sunscreen, sunglasses, towel and a hat
Practical clothing and footwear (warmer items during winter)
Underwater camera
BYO alcohol (no glass or red wine)
A sense of fun and adventure
TRAVEL SICKNESS:
If you are not quite sure whether or not, you may suffer from Travel Sickness please make sure that you are prepared. As
the trained crew will assist as much as possible in making you comfortable but they are not allowed to provide you with any
medication to help with the problem.
PLEASE NOTE: Thundecat does not cater to dietary requirements.  If the above menu does not satisfy the customer they are welcome to bring their own snacks and place them in our eski.
SNORKELLING GEAR:
Masks and snorkels are all included in the price of your trip and will be distributed on board.
LYCRA SUITS & WETSUITS:
Wearing a Lycra stinger suit will prevent UV exposure and significantly reduce your risk to marine stingers.
You will be fitted for your Suit onboard the boat.
All prices are per person in AUD and include GST, National Park, Great Barrier Reef Marine Park entry fees, professional skipper and host, live aboard, all meals, fresh linen and use of snorkel suits and snorkelling equipment. Cancellations made less than 24 hours before departure will result in complete forfeiture of full price. We reserve the right to substitute vessels without notice at any time for any reason. We recommend you take out travel insurance covering illness, injury, loss of personal goods and the inability to travel due to weather. Clients should note that adventure travel involves risk. Whilst we make every effort to safeguard guests, we cannot be responsible for any damage, personal injury or loss due to the actions of passengers that are beyond our control. All cruises are subject to weather and the vessel operator's discretion. Please allow extra time to travel during the wet season (Dec-May) as we occasionally have road closures due to flooding.  At certain times of the year 'dangerous' jellyfish inhabit these waters and passengers should take care for their own safety. Passengers entering the water do so at their own risk and the owner of the vessel will not be liable for any personal injury, illness, death or any other consequences whatsoever of passengers being stung by jellyfish. To minimise this risk you will be provided with a full length protective 'Snorkel Suit' to wear whilst swimming and snorkelling during the cruise. Accordingly, Red Cat Adventures shall not be liable for any loss or damage whatsoever which is suffered (including but not limited to indirect or consequential loss) or for any injury to person or property which is suffered or sustained by any passenger as a result of participating in any of its sailing adventures, except for any liability which cannot be excluded by law. Red Cat Adventures ABN 56747506028
Other 1 Day Whitsundays Tours
Whitehaven Beach Half Day TourThis Whitehaven Beach Half Day Tour is perfect for people with not much time or have no interest in snorkelling. Departing from Port of Airlie, you will journey across the  Whitsunday Passage and into the Whitsunday Islands. The you...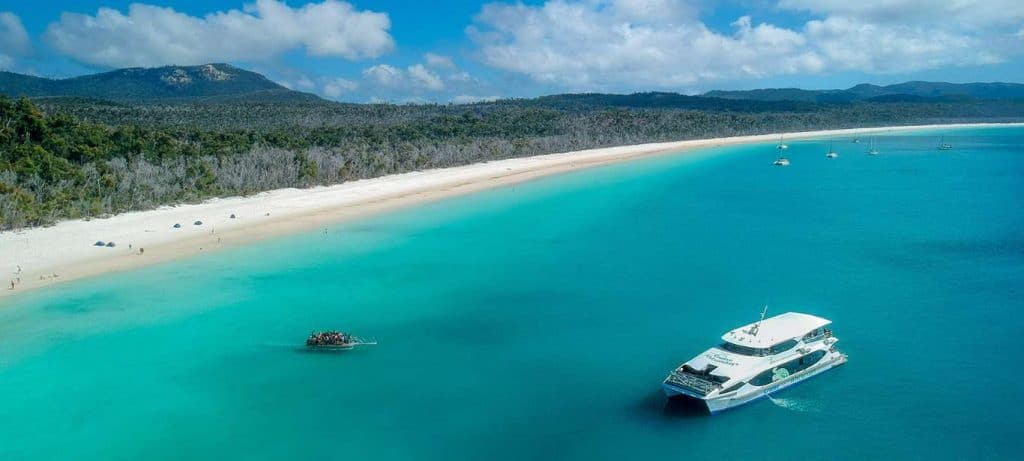 If you have any Questions about the Thundercat Whitsundays Tour please feel free to contact us between 8am to 7pm daily
Local Whitsundays Advice - We have the Answers You Need