Whitsundays Sea and Sky Combo
$399 Per person
This Combo Is Over Multiple Days (see below)
This is the best Package the Whitsundays has to offer! so let's learn what you will get
Whitsundays Day Tour on ZigZag Whitsundays
Whitsundays And Heart Reef Scenic Flight
There is no better way to discover the magic of these islands and the Outer Great Barrier Reef while on your Airlie Beach holiday
IMPORTANT -when booking a date on the Sea and Sky Combo you are booking a date for ZigZag Whitsundays Day Tour. The Flight is a open ticket and once you have booked the combo you will receive an email with Fly Australia details to book you scenic flight date and time.
PLEASE NOT THESE TOURS CAN NOT BE TAKEN ON THE SAME DAY
ZigZag Boat Tour Highlights
Most comfortable day boat in the Whitsundays
Visit Whitehaven beach
Visit The New South Whitehaven Beach Lookout
The Best Snorkel locations in coral-filled bays
Buffet lunch on Whitehaven Beach
Includes lunch, snacks snorkel equipment, wetsuit
Comfortable padded seats
30 guests, 3 crew – the ultimate Whitsundays day tour
Scenic Flight Highlights
Whitsunday Islands including Hamilton and Hayman Island,
Whitehaven Beach and Hill Inlet,
Outer Great Barrier Reef,
The world-famous scenic Heart Reef,
Airlie Beach and Conway National Park.
Pickups available from Airlie Beach to the Airport

Headset and in-flight commentary by your experienced pilot.

 Window seat for all passengers.

Unlimited photo opportunities.
Is This A Suitable Tour For You?
Due to aircraft weight and balance, maximum passenger weight is 130kg
Suitable for all ages over 5 years old 
Flight Departure Point
This Tour Departs Whitsundays Flametree Airport (5 minutes drive from Airlie Beach)
Departs:  – Everyday – please use the book now button to find available flights for the day
Boat Departure Point
Departs: 8:30am – Everyday
Returns: 4:00pm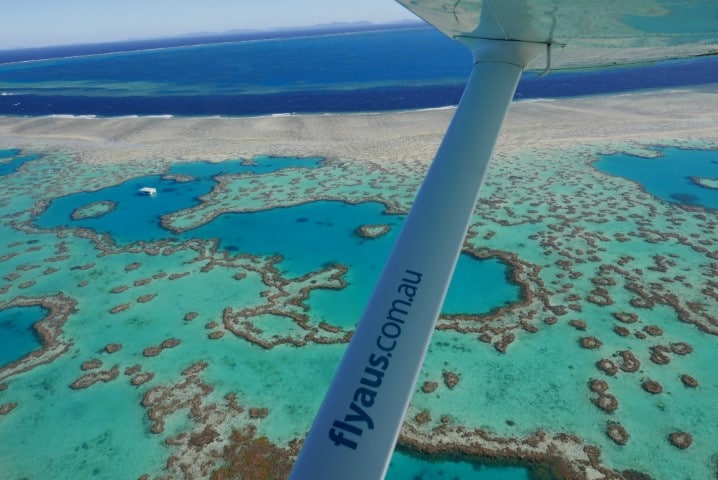 Information For This Whitsundays Sea And Sky Combo
Guest and Crew Numbers – 
The Scenic Flight takes 5 guests and 1 Pilot
ZigZag Whitsundays Day Tour Takes 30 Guests 3 Crew
Locations Visited
Scenic Flight
Outer Great Barrier Reef, Whitehaven Beach Whitsunday Islands
Boat Tour
South Whitehaven Beach and Lookout
Snorkel Locations
Optional Extras available 
Transfers to and From the airport
Experience the best the region has to offer with this superb Whitsundays Sea and Sky Combo. Seeing the Great barrier Reef from the air will leave you with a feeling of awe. The size of this living reef can only truly be understood from above! Watch the video below to see what I mean
The below conditions are for the Scenic Flight part of the Whitsundays Sea and Sky Combo 
Weather
If the weather is unsuitable on the day, the provider's staff will make an assessment and contact the participant directly. In this case, the flight will be rescheduled at a more appropriate time or day.
Restrictions
Pregnant women are encouraged to seek medical advice prior to any flight.
Guidelines
Due to aircraft weight and balance, maximum passenger weight is 130kg
Suitable for all ages
Participants must arrive 30 minutes prior to experience commencement
Participants are advised to make their own insurance provisions in case of unforeseen circumstances
The below conditions are for ZigZag Whitsundays Day Tour part of the Whitsundays Sea and Sky Combo
ZigZag Whitsundays Cancellation Policy
Refunds
You may request to cancel your ticket for a full refund, up to 24 hours before the departure of your tour. All requests must be emailed to bookings@zizagwhitsundays.com.au
Cancellation requests made within 24 hours of departure may not receive a refund nor a transfer.
If you are sick within the 24-hour time you will receive a full refund per our Covid Safe plan.
When you purchase a ticket you agree to these terms.
Transfer of Travel Date
You may request a transfer of a trip departure date up to 24 hours before the departure of your tour, this will incur no transfer fee.
No Transfers will be accepted under this 24 hour period.
We recommend you take out travel insurance.
Travel Terms And Conditions
These Terms and Conditions must be agreed to upon booking or the booking will not be able to complete, Upon check-in for the tour, every passenger will need to sign they have read and agreed to these Terms and Conditions.
Upon Check-in for your tour departure, every passenger will need to sign they have read and agreed to these Terms and Conditions. if you do not agree to sign these Terms and Conditions you will not be allowed to travel on the tour and will be given a full refund for the ticket(s) price you have paid
B&N Operations Pty Ltd ABN 14 617 437 751 t/as ZigZag Whitsundays operates the vessel known as ZigZag. The following terms and conditions apply to travel by you on ZigZag Whitsundays.
Whilst we make every effort to safeguard our passengers travelling on ZigZag Whitsundays, you acknowledge and agree that ZigZag Whitsundays is not liable to you for personal injury, aggravation of any existing injury or condition, mental injury, contraction of any disease, loss (direct, indirect or consequential) or death (including but not limited to from jellyfish stings, sharks, crocodiles) resulting from the recreational and transport services provided by ZigZag Whitsundays, ZigZag Whitsundays hereby excludes absolutely all such liability to you.
You agree to inform the crew of any existing or previous medical conditions such as: Asthma or other lung complaints, diabetes, high/low blood pressure, heart disease, heart conditions, heart surgery, epilepsy, fainting, seizures, fits, recent surgery, recent injuries, excessive alcohol consumption within the last 24 hours, anything that may impede the proper use of snorkeling equipment or ability to swim.
You agree to abide by all instructions given to you by ZigZag Whitsundays Staff at all times.
All prices are shown in Australian dollars and are inclusive of GST. Prices are valid from 1st March 2021.
All ZigZag Whitsundays departures and itineraries are subject to weather and may be changed or cancelled at ZigZag Whitsundays discretion. ZigZag Whitsundays reserves the right to substitute vessels without notice at any time and for any reason.
ZigZag Whitsundays reserves the right to cancel any trip, or reduce trip duration, in any circumstances, including those which pose a safety risk to you, the vessel or crew, such as severe weather, including cyclones.
If ZigZag Whitsundays is cancelled by the owner prior to or on the scheduled departure date, you will be refunded within 7 days.
If your trip duration is reduced during the trip due to Unforeseen Circumstances, you may be offered a future trip on ZigZag Whitsundays, at no cost to you, depending on the amount of time by which your original trip on ZigZag Whitsundays was reduced and, subject to availability. You acknowledge that "Unforseen Circumstances" includes but is not limited to the following; inclement weather, issues pertaining to ZigZag Whitsundays and any medical emergency, such as injury to guests or crew.
You acknowledge that travel with, and the recreational services provided by, ZigZag Whitsundays (such as all in water activities and bushwalking) involve risk, including in particular a risk of being stung or bitten by jellyfish and other marine creatures or native fauna. You are advised to wear a stinger suit at all times you are in the water.
Where the Competition and Consumer Act (CCA) consumer guarantees apply you also acknowledge and agree that the liability of ZigZag Whitsundays for any breach of those consumer guarantees is excluded to the maximum extent possible under section 64A of the Australian Consumer Law and 139A of the CCA, where you are killed, injured (physically or mentally) or contract a disease, or an existing disease is aggravated, arising from your trip on ZigZag Whitsundays.
Your agreement with ZigZag Whitsundays is subject to the laws of Queensland, Australia If any of these terms is unreasonable or unenforceable for any reason whatsoever, it shall be severed and the remaining terms will not be affected in any way.
By agreeing to these terms you acknowledge that all individuals on this booking have been given the opportunity to read and agree to these terms and conditions.
Updated August 2021
More Activities You May Like
Airlie Beach Scuba Diving Tour Duration - 6 HoursPrice From - $289 ppNew Prouct To The Region For full information, departure days and times...