Driftwood Tours Best Of Airlie Beach

Quick Information For This Tour
Awarded Whitsundays Best New Tourism Business Of 2023
Product –  Best Of Airlie 2 Hour Bus Tour
Price – From $65 per person
Price Includes – a 2-hour tour of Airlie Beach's best locations with a qualified Australian Savannah Guide.
Location –  Airlie Beach QLD 4802
Type Of  Bus – 11 seater
Departure Time – 9:30 am or 1:30pm
Maximum Guests – 11 per tour
Please note the booking button is using the tour operator's direct booking system. Once booked, you will get an email directly from the tour operator with contact details and everything you need to know. 
Embark on a captivating journey with Driftwood Tours and uncover the hidden gems of Airlie Beach. Our "Best Of Airlie" tour is your golden ticket to exploring the region's most picturesque spots, all packed into a convenient and thrilling 2-hour bus tour.
Why Choose the Best Of Airlie Tour?
Scenic 2-Hour Guided Tour: Traverse the stunning landscapes of Airlie Beach, from bustling harbours to serene beaches and breathtaking lookouts. This tour is perfectly designed to showcase the best of the region in a compact, 2-hour format.
Intimate Group Experience: With a small group size (maximum of 11 people), enjoy a more personal and engaging tour experience. It's the perfect setting for making new friends or enjoying a family outing.
Expert Local Knowledge: Be guided by Cherene Poidevin, a seasoned local guide and a qualified Savannah Guide. Cherene's deep knowledge and passion for the area bring the landscapes and history of the Whitsundays to life.
Comfortable Travel: Tour in style and comfort with our air-conditioned bus, ensuring a pleasant journey regardless of the weather.
Exclusive Locations: Visit the stunning Shute Harbour and Mandalay Bay, plus various lookout locations that offer breathtaking views. These spots are carefully selected to give you a unique perspective of Airlie Beach.
Cruise Ship Friendly: Arriving by cruise ship? Our tour is perfectly timed and designed for cruise ship guests looking to explore the best of Airlie Beach during their stopover.
Accommodation Pick up: Free pick up from your accommodation, cruiseship terminal or meet in the middle of Airlie Beach.
What to Expect:
Discover Airlie's Wonders: From the hidden coves to the panoramic vistas, every stop is a new discovery.
Learn Fascinating Stories: Cherene's storytelling brings the history and culture of the Whitsundays to life.
Capture Unforgettable Memories: Don't forget your camera! These picturesque spots are a photographer's dream.
Meet Like-Minded Adventurers: Our small group setting is perfect for making new friends who share your love for exploration.
Tour Tour Guide "Cherene"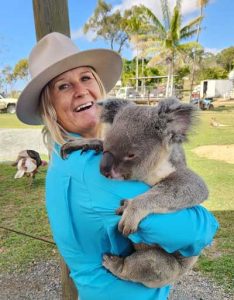 Let me introduce you to Cherene Poidevin, the vibrant and spirited founder of Driftwood Tours, right here in beautiful Airlie Beach. Since 2017, Cherene has been the guiding light in the Whitsundays, turning every tour into a magical experience.
Boasting an impressive 30-year career in outdoor recreation and tourism, Cherene is more than just a guide – she's a treasure trove of stories, a passionate lover of nature, and, if you ask around, many say she's the female Steve Irwin of our times!
Driftwood Tours is Cherene's brainchild, culminating in her endless curiosity, deep appreciation for the landscape, and knack for uncovering the most fascinating cultural tidbits and fun facts. She's not just about showing you the well-trodden paths; Cherene excels in guiding you to the hidden corners, revealing the secret spots that truly encapsulate the essence of the Whitsundays.
With Cherene, every tour is an adventure, a chapter from a vibrant book of nature and discovery. Whether it's a visitor's first or hundredth time in the area, she makes sure there's always something novel and exciting to explore. Her passion lies in delivering top-notch, exhilarating experiences that leave you with lasting memories and stories to share.
So, if you're ready for an adventure, Driftwood Tours is the place to be. Under Cherene's expert guidance, every day is a journey, every trail a new discovery, and every moment a chance to celebrate our wild, wonderful world. Come along and discover the wonders of Airlie Beach with Cherene – it's an experience you won't forget!
Ticket Terms And Conditions
Cancellation Policy:
Full Refund: If you cancel more than 24 hours before the scheduled departure, you are entitled to a 100% refund.
Partial Refund: Cancellations made between 12 to 24 hours before departure will receive a 50% refund.
No Refund: If you cancel less than 12 hours before departure or do not show up, you will not receive a refund.
Rescheduling: We offer the option to reschedule for an alternate day if you provide at least 24 hours' notice. We understand that weather and personal circumstances can change, and we will do our best to accommodate you.
Trip Operations:
Minimum Participants: Each trip requires a minimum of two participants to operate.
Itinerary Changes: The itinerary may be subject to change due to weather or road conditions.
Trip Cancellation by Driftwood Tours: We reserve the right to cancel a trip due to unforeseen circumstances. In such cases, we will provide a full refund to affected customers. We strive to maintain normal operations and will make every effort to avoid cancellations.
Safety and Liability:
Outdoor Conditions: Driftwood Tours operates in various outdoor locations where weather conditions can affect walkways, making them slippery or wet. Be prepared for uneven surfaces, exposure to wildlife, and varying weather conditions like heat and rain.
Swimming: Swimming areas are unsupervised. During summer months, be aware that jellyfish may be present.
Responsibility: While Driftwood Tours prioritizes guest safety and provides safety briefings, we cannot be held responsible for injuries or illnesses that occur beyond the scope of our safety measures.
Language Requirement:
Communication: All communications and tours are conducted in English. Please ensure you have a sufficient understanding of English to safely participate in our tours.
These revisions aim to make the terms more straightforward and easier to understand. Please review and ensure that these changes accurately reflect your policies and legal requirements.
Driftwwod Tours Best Of Airlie Reviews On Google