Have Questions ? Contact The Tour Company Directly On the Details Above
Want To Book This Tour? Use The Book Now Button Below.
All Bookings Are Made Directly With The Tour Operator.
This Website Takes No Commission On Products Sold. We Guarantee All Tour Operators On This Website Get 100% Of The Money You Pay.
Skydive Whitsundays Information
Skydiving in Airlie Beach is a special jump zone, there are not too many places over the world that can boast the view from a Skydive Whitsundays Package. The airport is just minutes from Airlie Beach and you will be provided free return transfers to your accommodation. Jump from the incredible altitude of up to 15,000 feet directly over the crystal clear waters and sparkling white sands of these stunning tropical islands. Feel the ultimate thrill of freefalling at over 220 km/hr for up to 60 seconds, you will then float under canopy for around 5 minutes gazing at the breath-taking views. A SkyDive Whitsundays activity from Airlie Beach just doesn't get any better.
Please Note there is a $35 levy extra to pay on arrival. Total price + levy
 Skydive Whitsundays from Airlie Beach Details
Departure and Return
FREE return transfers from local Airlie Beach accommodation providers.
Check-in shop address: 1/265 Shute Harbour Road, Airlie Beach (across the road from Base)
Pick up locations are:
Shute Harbour Ferry Terminal
Airlie Big4 The Cove Bus Stop
Jubilee Tavern Bus Stop
Abel Point Marina Ferry Terminal
Sea Breeze Tourist Park
Coles Bus Stop
Big 4 Cannonvale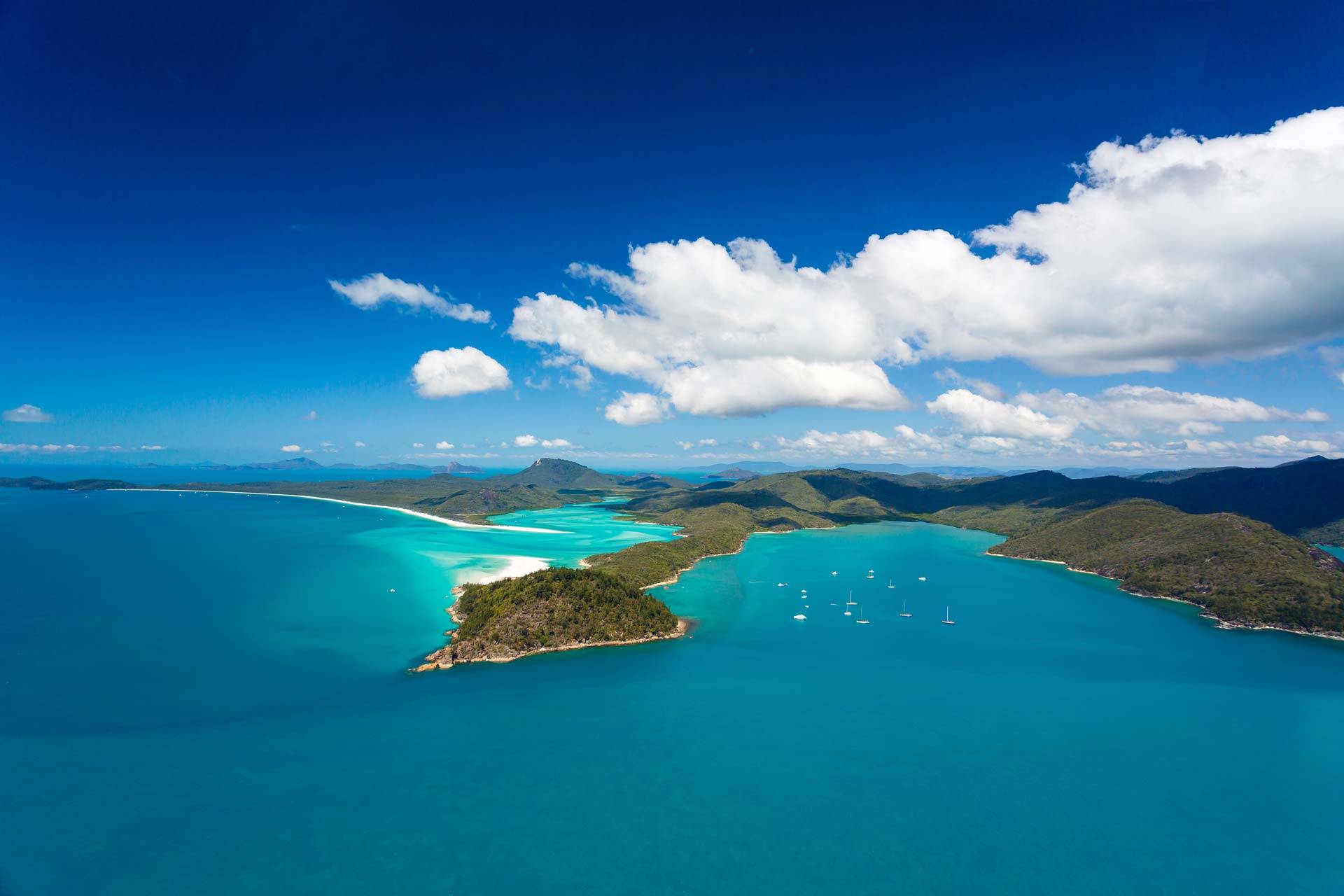 Activity Highlights
Scenic Flight over Airlie Beach and Skydive Whitsundays from up to 15,000 feet over the heart of Airlie Beach Experience the thrill of freefall for up to an insane 60 seconds Soak up the spectacular views of Airlie Beach, The Great Barrier Reef, Whitsunday Islands and the Ocean Skydive Certificate of achievement Experience of a lifetime!
Extra Costs
AU$35 APF levy must be paid at check-in.
If over 95kgs weight surcharges apply.
Video and Picture Packages optional extras
Jump Restrictions
Weight Restrictions and Charges: You MUST weigh less than 110kg in Airlie Beach. Any client weighing 95kg or more must be assessed by our Drop Zone Safety Officer on site to determine safety issues due to harness size restrictions and weather conditions. 95kg – 104.9kg: Surcharge of $50 applies 105kg-110kg = $75 110kg and above = $100 and requires on-site assessment. Min. age for skydiving is 12 years. If under 18 years a written parental consent is required.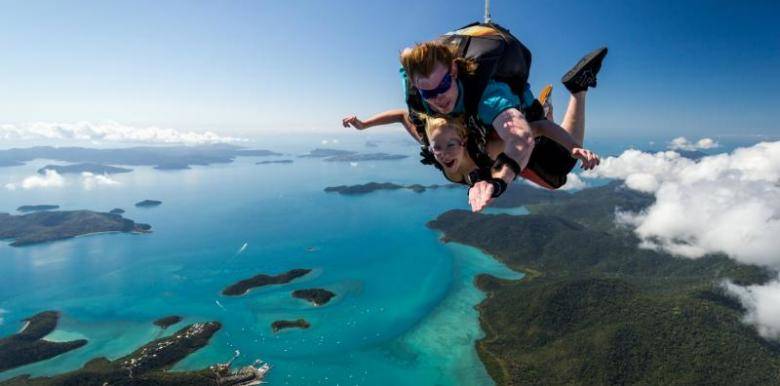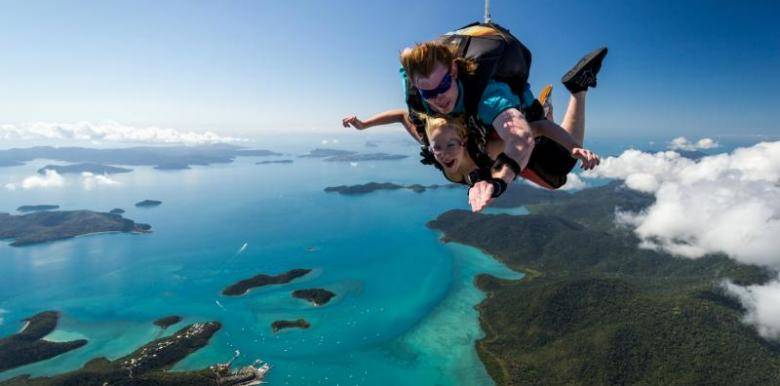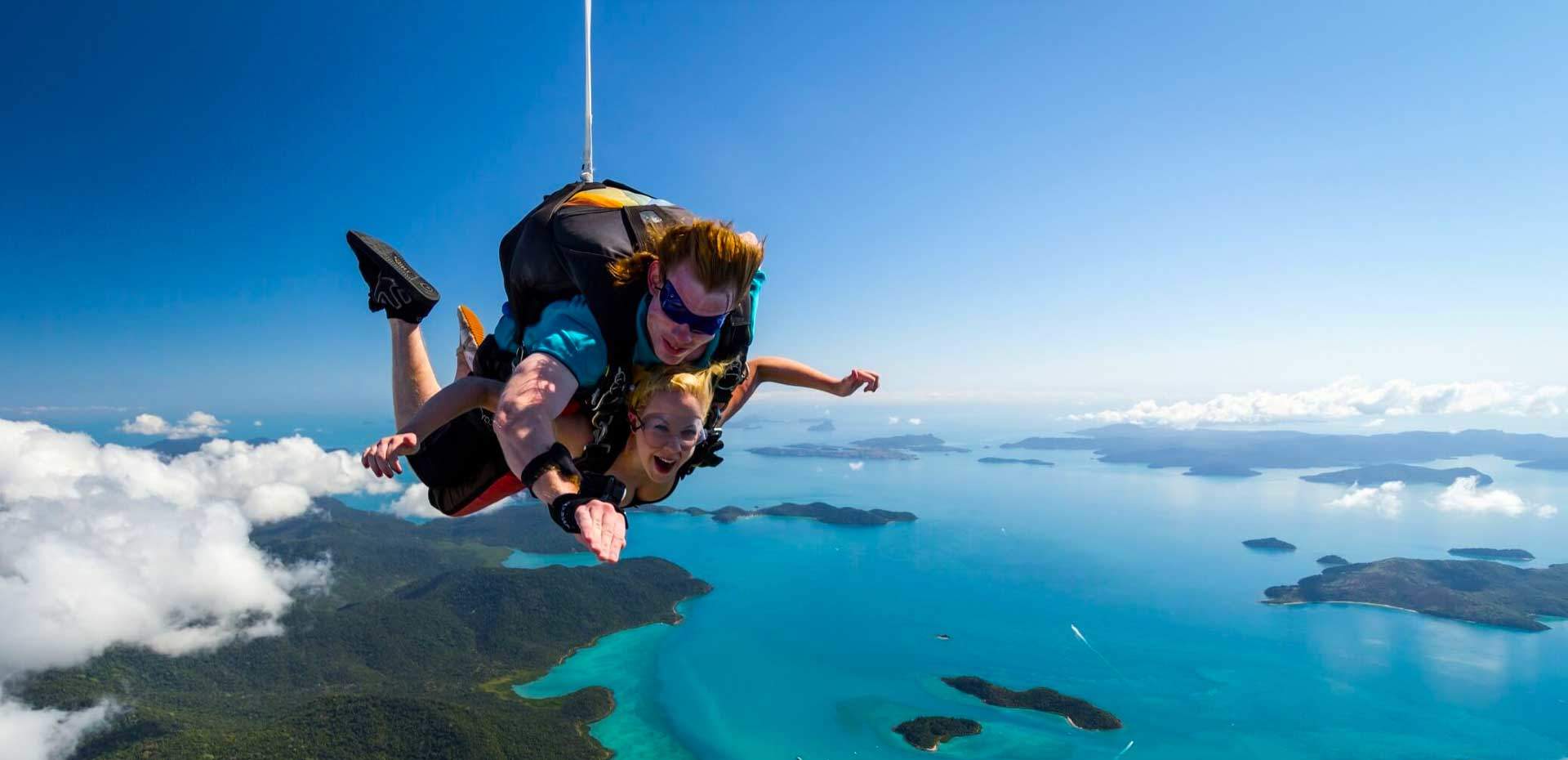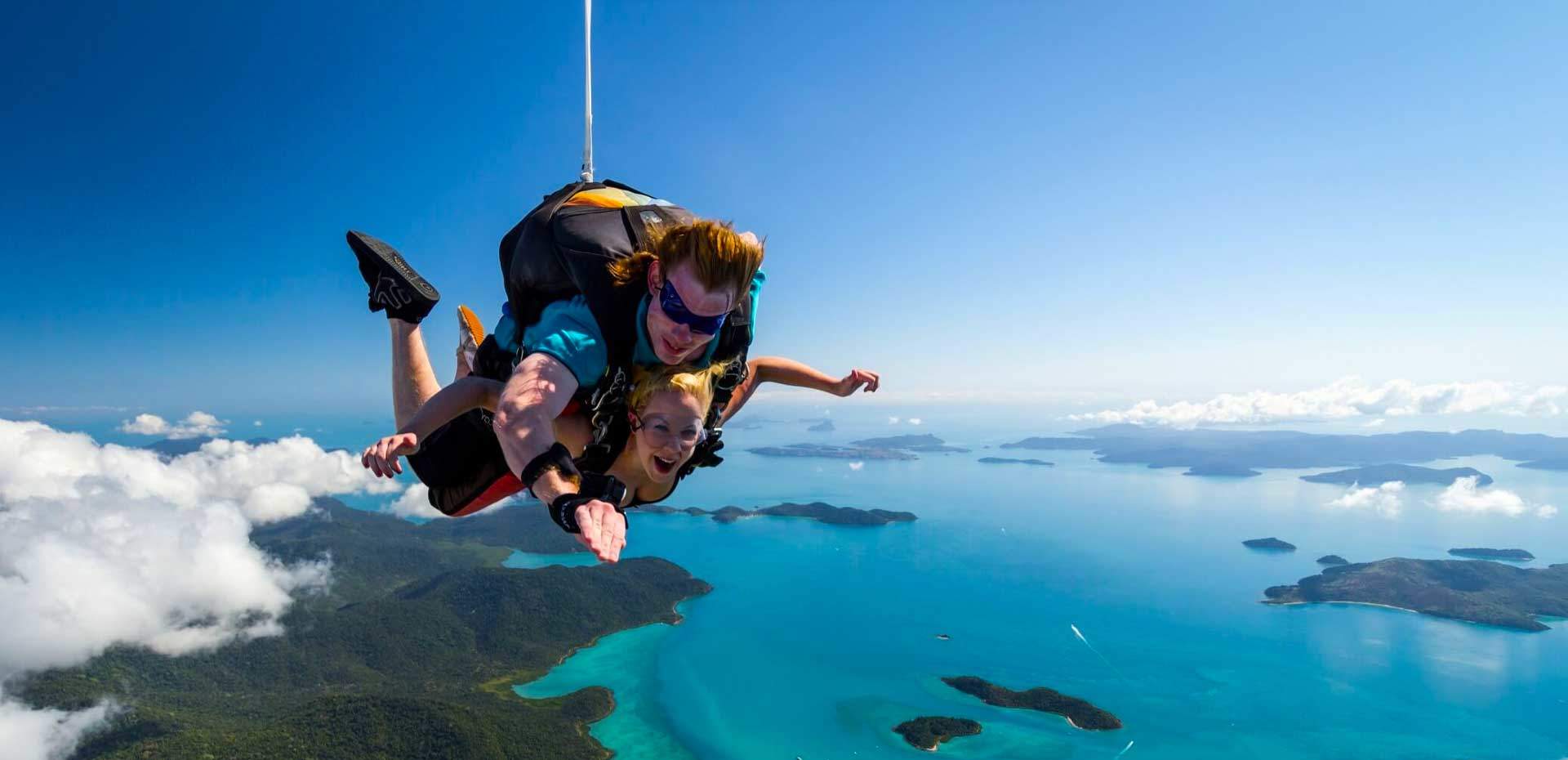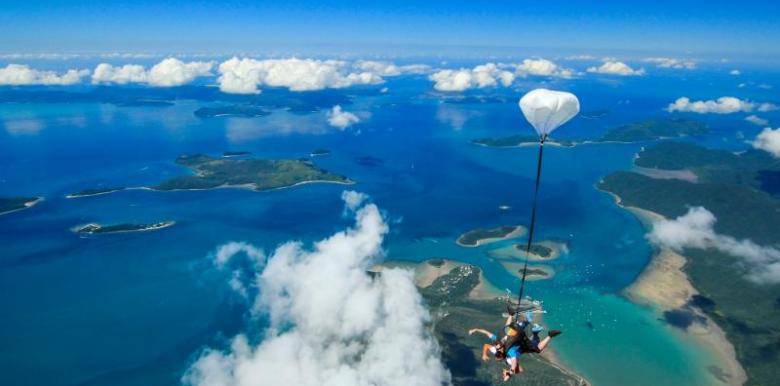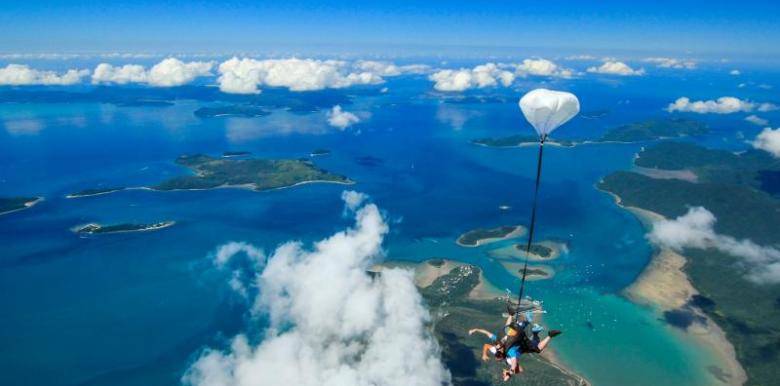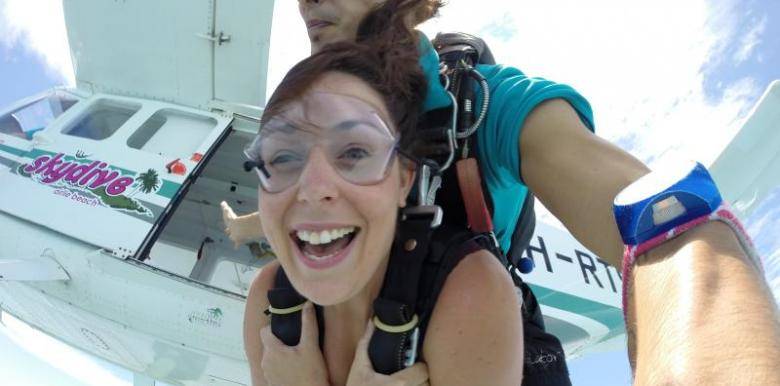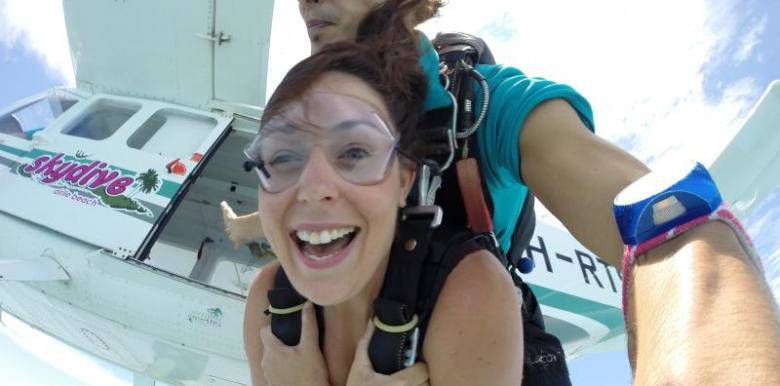 Pre-Departure Information For a Skydive Whitsundays Package
Booking payments are per person (individual). Booking payments are non-refundable but are transferrable. All skydives include a $110 administration fee which is non-refundable. To change your booking to a different date and time, SA requires 48 hours notice or your booking payment(s) will be void. Rebooking your skydive without 48 hours notice will incur a $110 rebooking fee. Failure to turn up at the 'check-in' time will result in a 100% cancellation fee. Failure to go through with your skydive will forfeit your jump, no refunds will be given. All bookings are final, no refunds are given for change of mind or change of experience to a lesser value. If your skydive is cancelled due to weather or other unforeseen circumstances, you will be required to book for another day, for the same experience. Upgrade fees for changing to weekend experiences or different locations must be paid in these circumstances. Skydives can be transferred to another Skydive Australia location, any price upgrades must be paid by the customer. Cash refunds will not be available when changing to an experience of lesser value.
All paperwork, safety briefing and gear-up must be completed. At the time of booking, validity of various package offers should be confirmed as SA reserve the right to change without notice. All bookings are given an 'Arrival/Check in' time only. Please note this is not a 'skydive' time. Whilst SA endeavour to complete an individual's tandem skydive within 4 hours of arrival, SA advise you to arrive with no time constraints – you should plan for this to be a whole day's activity. As safety is SA's main concern, factors such as wind, cloud, rain, thermal turbulence etc. and other factors such as air traffic can affect the time it takes to complete your skydive activity. Weather can change for better or worse in minutes, and you will be unable to skydive unless you are at SA's Drop Zone. Weather conditions and other unforeseen circumstances can also require SA to alter the altitude of the skydive. As aircraft are mechanical and periodically become unavailable, SA reserve the right to change aircraft type without notice. On occasion, these aircraft changes and Air Traffic Control (ATC) may require SA to change the required altitude and number of participants in a plane. Further, SA reserves the right to reschedule your skydive. Medical conditions which could affect your safety should be discussed with your doctor prior to your booking. No alcohol or "recreational" drugs are to be taken for at least 8 hours prior to arrival. Please advise SA if you are taking prescription medication. Minimum age is 12 years old and all minors must have a legal guardian present on the day of the tandem skydive. All persons are subject to Tandem Master assessment. Weight over 110kg is subject to DZSO/Tandem Master assessment and different weight cut-off limits may apply at each location. All persons 95kg and over will incur a surcharge of $50.00 AUD (inclusive of GST). Those 105kg and over, a surcharge of $75.00 AUD (inclusive of GST) applies. Those 115kg and over, a surcharge of $100.00 AUD (inclusive of GST) applies. Discount coupons are valid only for direct bookings with SA as specifically stated on advertisement. Booking agents are not obliged to accept discount coupons. All Public Holidays incur the regular tandem skydive weekend rate. All online bookings incur a $4.95 per transaction fee (inclusive of GST). All bookings are final, no refunds are given for change of mind or change of experience to a lesser value.
  British Defender Whitsundays 2 Day 2 Night Tour British Defender Whitsundays is built to race. This 2-day tour is for guests who want to be involved in sailing and learn the ropes. We are talking about an 83-foot Whitbread Around The World racing maxi; this boat...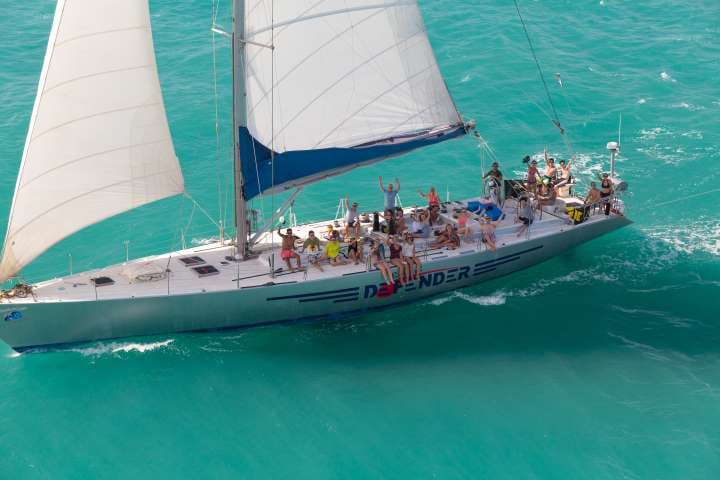 If you have any Questions about the Mandrake Whitsundays Tour please feel free to contact us between 8am to 7pm daily
Local Whitsundays Advice - We have the Answers You Need