New Horizon Whitsundays 2 Day 2 Night Tour
A Traditional 21-meter wooden sailing vessel called New Horizon Whitsundays is the perfect way to experience the Whitsunday Islands on a budget. Built in Tasmania from sturdy aged wood, this beautiful schooner is marketed at backpackers and students. This tour is the only boat in its price class that has air-conditioning and large comfortable beds. Also, this sailing tour is one of only a few that has an onboard diving board and a giant inflatable slide. If its two days of fun you are after with like-minded travellers, New Horizon is perfect for you.
Bookings And Live Availability Checker
Tour Information For New Horizon Whitsundays
Departure and Return
This Tour Departs Abell Point Marina, Airlie Beach, every Tuesday Monday, Thursday and Saturday at 2:00 pm. and returns 2 days later at 11.30am
Guest and Crew Numbers
New Horizon Whitsundays take 32 guests and 4 crew
Locations Visited
Whitehaven Beach including the famous Hill Inlet Lookout on the Northern End. Snorkel locations can include Luncheon Bay, Caves Cove, Blue Pearl Bay plus plenty of other Awesome destinations
Included in the price
All meals, Linen, Snorkel Equipment, Wetsuits. movie lounge, dive platform, 7metre inflatable waterslide
Optional Extra
Scuba Diving is available on the tour at $60 per dive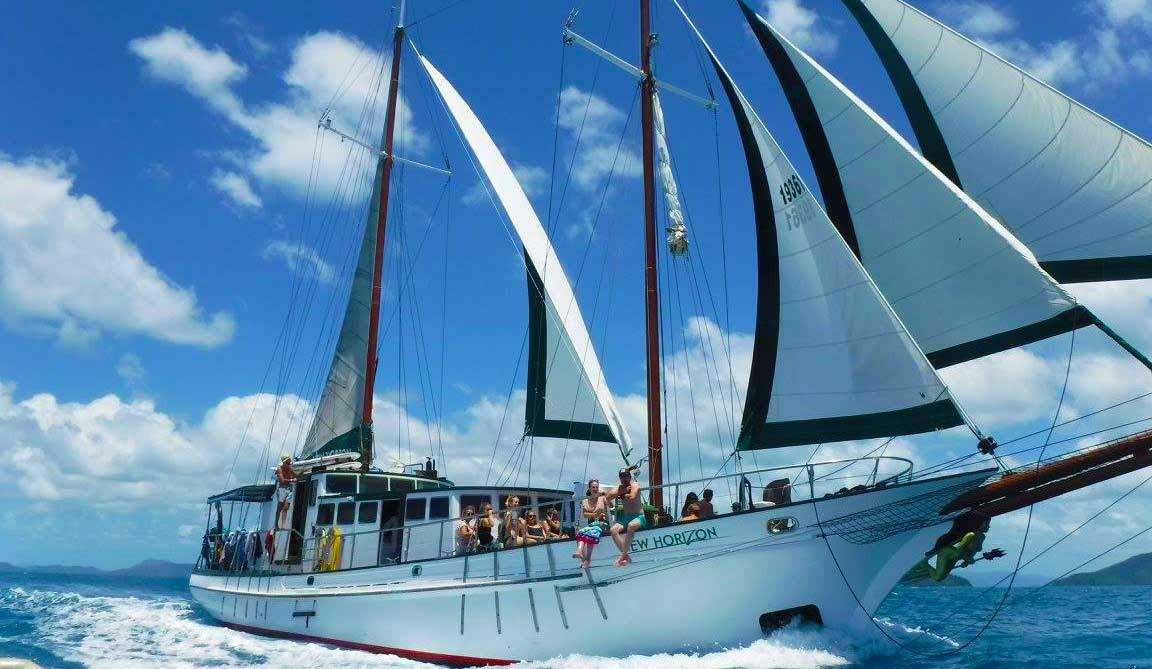 This Sailing Tour Features
Whitehaven Beach
New Horizon Whitsundays Tour visits Whitehaven Beach for around 2 hours. During this time you embark on a bush-walk from Tongue Point (northern end of Whitehaven), this walk takes approximately 15 minutes, once at the top you will experience Whitehaven Beach above on the viewing platform. This breathtaking view from here lets you see all 7 km of the beach as well as the world famous swirling sands that form the inlet
Snorkeling and Diving
During your two day tour, you will get at least three opportunities to snorkel the coral-filled bays on the coastal fringes of the islands. You also have the option to Scuba Dive for an extra cost. Here you can see turtles, Maori wrasse, batfish, parrot fish, clown fish (Nemo) plus plenty more! In most bays, the coral starts close to shore and is easily accessible by the small tender boats. For the nonconfident swimmers, there are noodles and flotation devices available for safety.
Sailing
The crew are more than happy to teach you the basics of sailing. Get involved in helping the crew hoist the mainsail and headsail. The qualified team on board will give you lessons, and if you're lucky, you may get to stand at the helm and steer the boat towards your next destination. This is optional if you do not wish to participate you can get just lye back and enjoy the ride. It's important to note, sailing participation depends on the weather.
New Horizon Picture Gallery
Day 1: Airlie Beach to Whitsundays
Depart Abell Point Marina around 2.00pm, sail to Nara Inlet and on the way relax and get to know your fellow passengers. On arrival to your first anchorage, whilst your dinner is being freshly prepared, play on the waterslide, dive board or paddleboards. After dinner, chill out with the friendly crew, play a few games or unwind under the stars.
Meals: Dinner
Day 2: Hill Inlet and Whitehaven Beach
While you enjoy breakfast we will sail to the breathtaking Hill Inlet. Here you'll take a short bush walk to the look-out over Whitehaven Beach for the scenic view. After, head to North or South Whitehaven Beach where you can enjoy sun, water and 7km of white silica sand. Enjoy lunch onboard before sailing to the North end of Hook Island where you can snorkel or scuba dive in some of the most pristine coral bays in the Whitsundays. Take advantage of all the boat and ocean can offer before drying off and having dinner and a social, fun evening.
Meals: Breakfast, Lunch, Dinner
Day 3: Snorkelling and return to Airlie Beach
Wake up and enjoy breakfast before you jump, slide or paddle one last time. Afterwards, scoff some hotdogs before embarking on the sail back to Abell Point Marina, arriving approximately 12.00pm. The itinerary is a guide and is subject to winds, tides and changes are at the Captain's discretion.
Meals: Breakfast
Confirm the trip
Please call 48 hours prior to departure (07 4946 5755) and have the name of your boat and your voucher number ready
Check-in Location and Times
ABC Travel – 344 Shute Harbour Rd, Opposite Hogs Breath Café. Check in anytime the day before departure between 12-4pm or alternatively before 11am on the day of departure
Dietary Requirments
Please just advise our staff at the time of booking or when you check in.

Luggage on the boat
No backpacks or suitcases are allowed. We ask that you bring along zip-less bags like the ones from the supermarket
Alcohol 
The trip is BYO. A limit of 30 cans or 4 litres of wine is permitted. Spirits are welcome if you transfer these to plastic bottles before you board
**Holiday surcharges do apply – Christmas /New Years Eve Trips will incur a $40 surcharge payable upon check in to ABC Travel manifesting office.
CANCELLATION POLICY & COSTS
Transfers and fixed bookings
Transfers to another date within 72 hours of departure are not allowed and the passenger will forfeit the full cost of their trip.
Transfers outside of 72 will incur a $30 transfer fee payable to ABC Travel at check in.
Passengers are unable to transfer back to an open dated ticket.
Once a transfer is in effect, the passenger is then unable to cancel.
If a passenger is unable to make their trip due to circumstances not of their own fault e.g. road blocks due to weather, late buses etc, True Blue Sailing will issue them a letter to claim back on their travel insurance. We recommend that all clients have travel insurance, especially during wet season.
Cancellations made less than 21 days prior to departure will result in complete forfeiture of the full price.
If a passenger on an open dated ticket has booked their date of travel, it will then become a fixed booking, subject to all cancellation charges. All the rules for fixed booking will therefore apply.
Terms & Conditions
True Blue Sailing reserves the right to change routes, itineraries or vessels at any time without notice. All itineraries, activities and departures are subject to weather and may be changed or cancelled at the discretion of True Blue Sailing. It should be noted that adventure sailing includes risks. While we make every effort to safeguard clients, we cannot be held responsible for personal injury or loss due to actions which are beyond our control. We recommend that all clients, we cannot be held responsible for personal injury or loss due to actions which are beyond our control. We recommend that all clients have travel insurance covering illness, injury, loss or damage to personal belongings. Clients cancellations made less than 21 days prior to departure will result in complete forfeiture of the full price paid and transfer fees to apply.
Video Made By Guests Of This Whitsundays Tour
Other Overnight Tours Like This One
Blizzard Whitsundays 2 Day 2 Night Tour Information One of the most modern yachts to the Airlie Beach fleet is Blizzard Whitsundays. This stunning yacht has been purpose-built for the Whitsunday market and visits Whitehaven Beach, Hill Inlet Look Out and...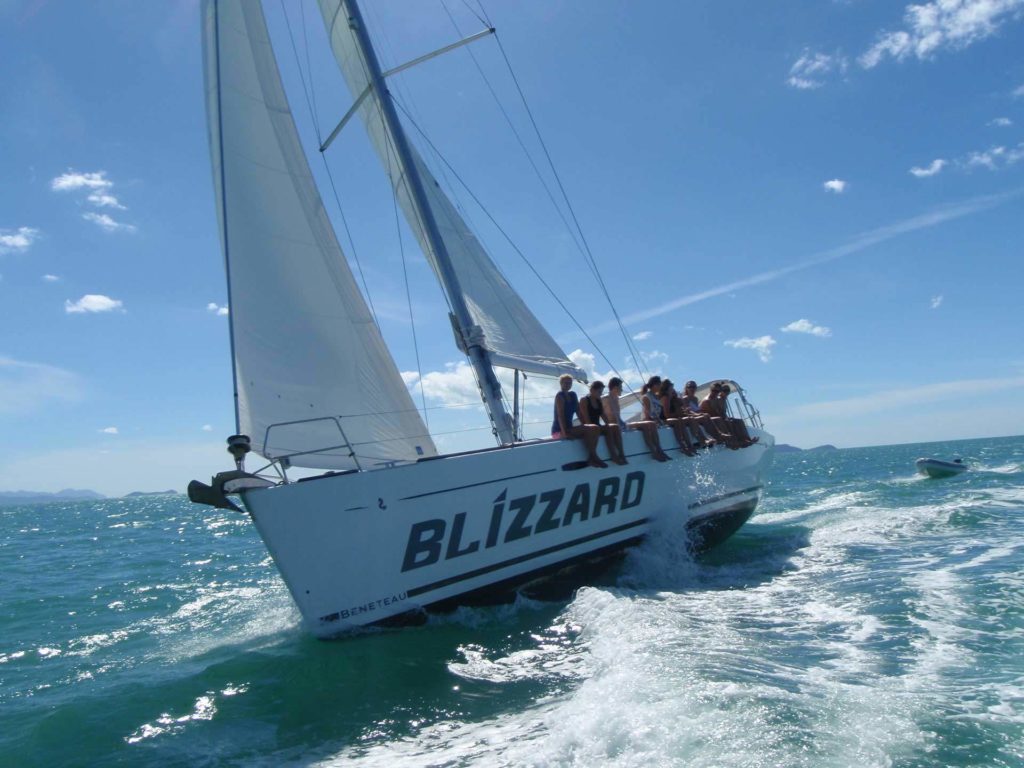 Location
Airlie Beach 
Whitsundays, QLD 4802 AUS
Email
info@whitsundays.tours
Open Hours
Mon:8am - 7pm
Tue: 8am - 7pm
Wed: 8am - 7pm
Thur: 8am - 7pm
Fri: 8am - 7pm
Sat: 8am - 7pm
Sun: 8am - 7pm