From $576
2 Days 2 Nights Whitsundays Tour 
Entice Whitsundays 2 Day 2 Night Tour Information
One of the best in the overnight sailing market is Entice Catamarans Whitsundays. These modern yachts take only 10 guests. This will ensure you will get a personalised sailing trip to the islands without feeling overcrowded. Visit Whitehaven Beach including the world famous lookout at Hill Inlet plus snorkel multiple snorkel locations around the islands in coral filed bays. Accommodation onboard the vessels varies from singles and share doubles (not private) to private double and twin rooms with own bathrooms. If you are looking for a sailing tour with low guest numbers, comfortable living arrangments and exhilarating sailing then this is the Whitsundays Tour for you.
Entice Catamarans Whitsundays Tour Details
Departure and Return
This Tour Departs Abell Point Marina, Airlie Beach, every Tuesday Monday, Wednesday and Saturday at 4:00 pm. and returns 2 days later at 2.00pm
Guest and Crew Numbers
Entice Whitsundays take 10 guests and 2 crew
Locations Visited
Whitehaven Beach including the famous Hill Inlet Lookout on the Northern End. Snorkel locations can include Luncheon Bay, Caves Cove, Blue Pearl Bay plus plenty of other Awesome destinations
Included in the price
All meals, Linen, Snorkel Equipment, Wetsuits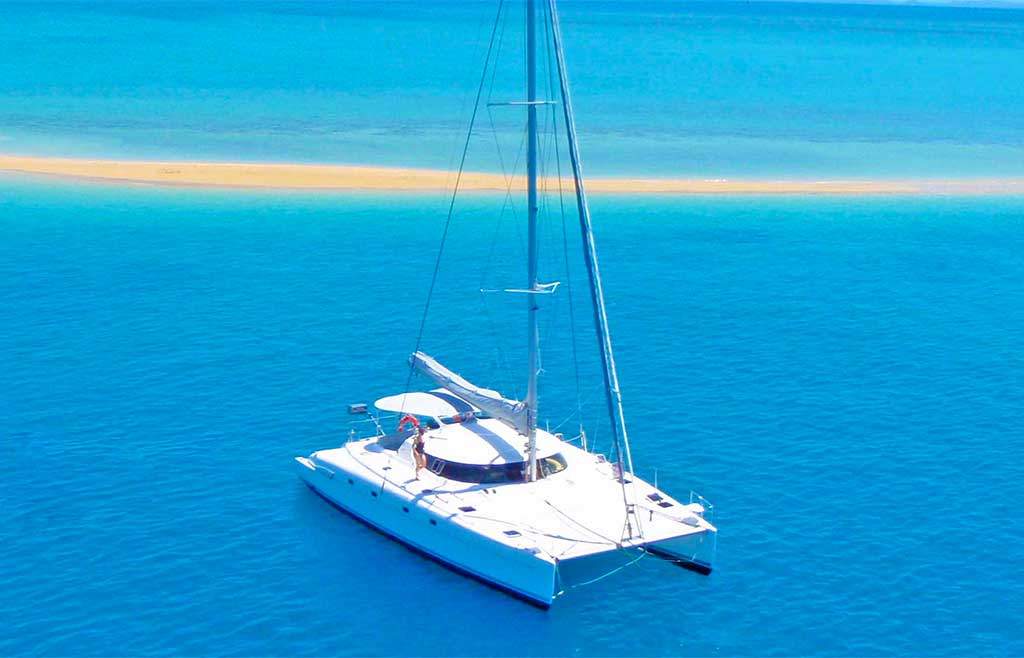 Whitehaven Beach
Entice Catamarans Whitsundays Tour visits Whitehaven Beach for around 2 hours. During this time you embark on a bush-walk from Tongue Point (northern end of Whitehaven), this walk takes around 15 minutes, once at the top you will experience Whitehaven Beach above on the viewing platform. This breathtaking view from here lets you see all 7 km of the beach as well as the world famous swirling sands that form the inlet
Snorkeling The Reef
During your 2 day tour, you will get at least 2 opportunities to snorkel the coral-filled bays on the coastal fringes of the islands. Here you can see turtles, Maori wrasse, batfish, parrot fish, clown fish (Nemo) plus plenty more! in most bays, the coral starts close to shore and is easily accessible by the small tender boats. For the nonconfident swimmers, there are flotation devices (sports life jackets) available for safety.
Accommodation
Entice Whitsundays has a range of accommodation to suit most budgets, this includes –
Private Doubles with ensuites
Private Double and Twin with shared bathroom
Shared Accommodation and bathroom (not private)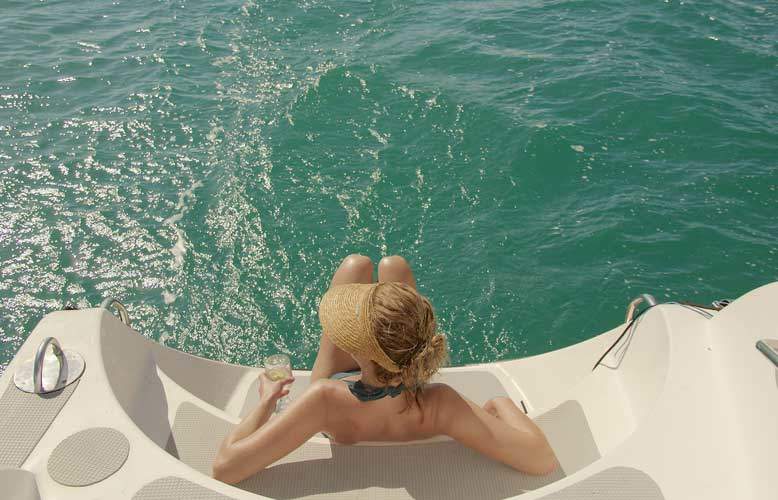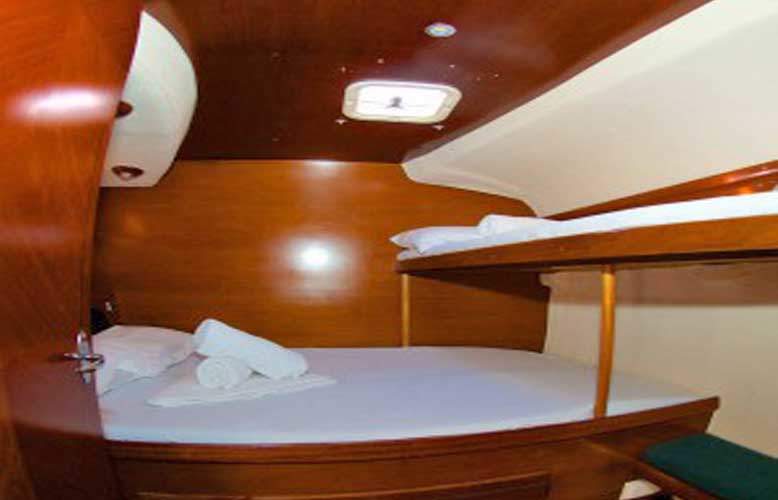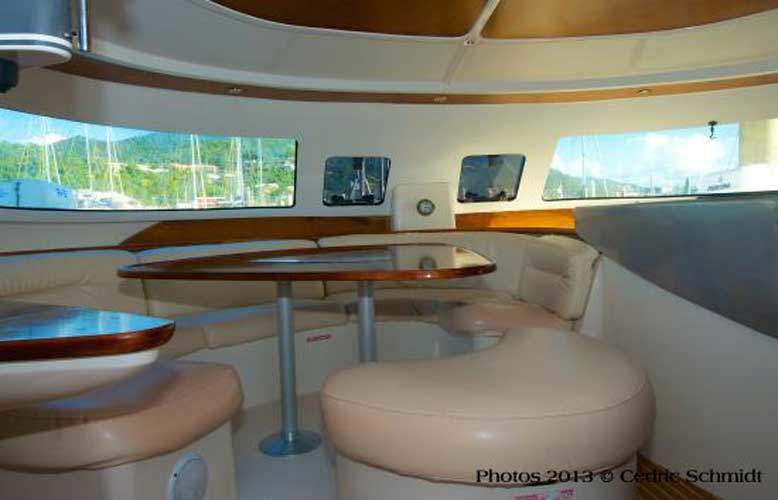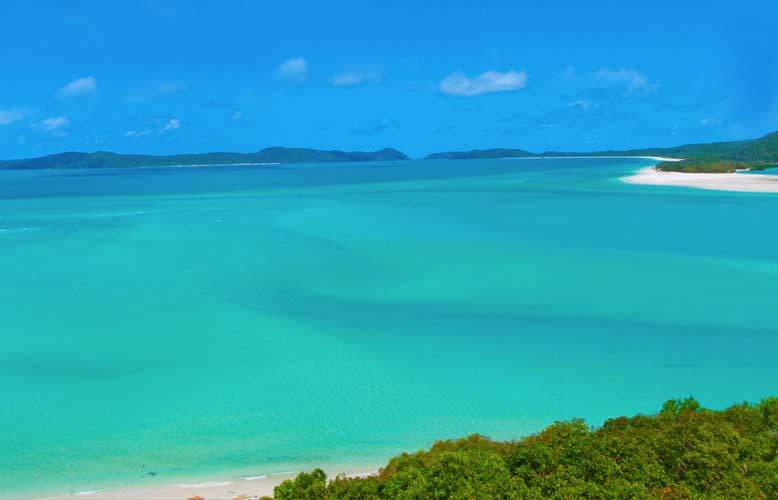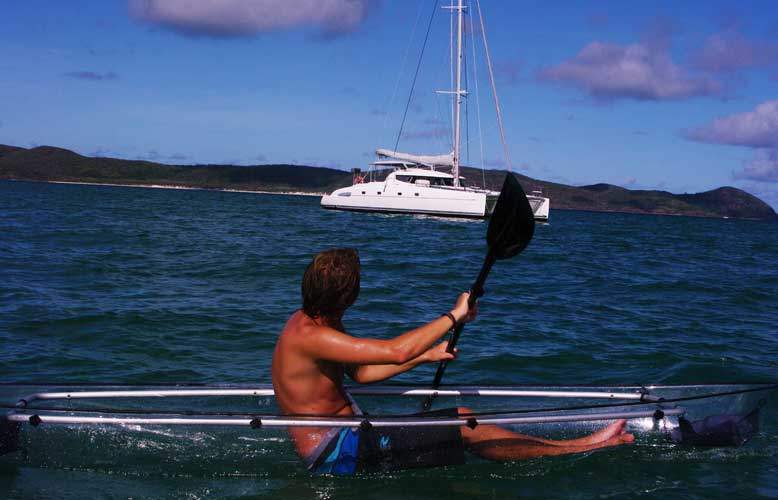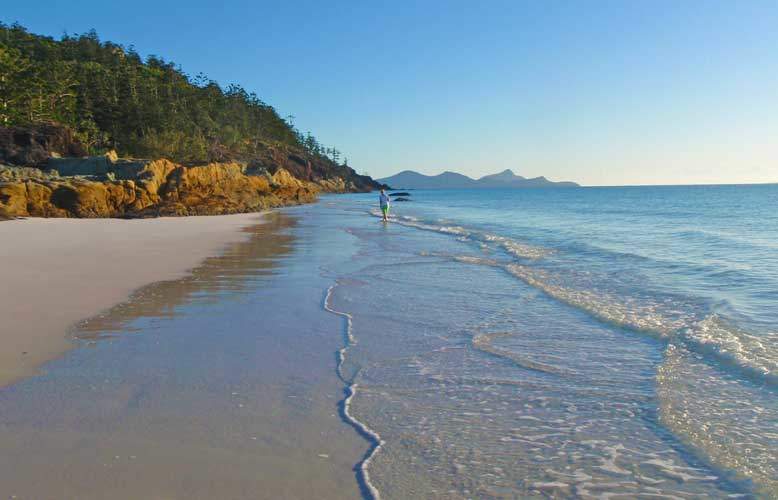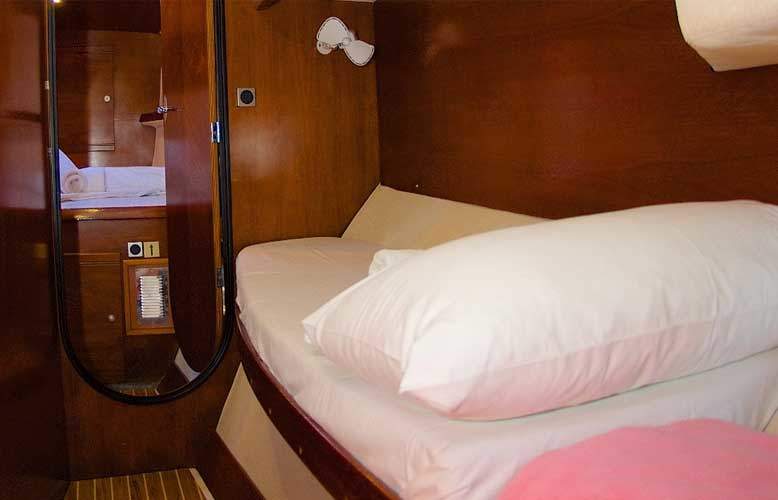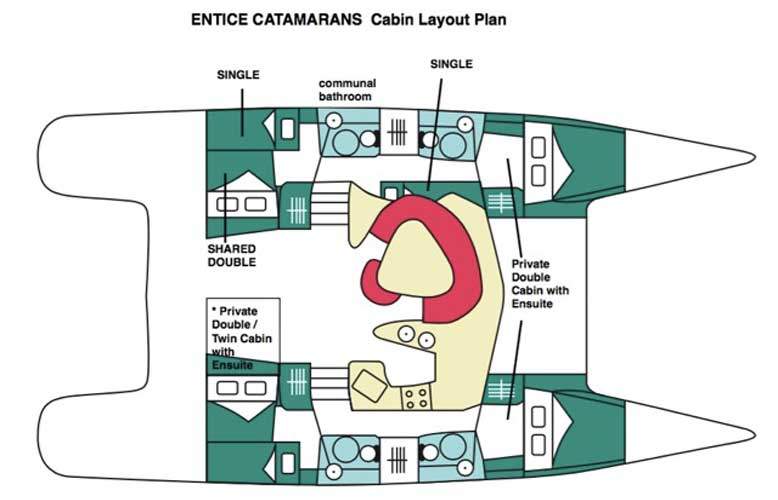 Pre-Departure Information For Entice Whitsundays Trip
2 NIGHTS SAILING IMPORTANT TOUR INFORMATION FOR ENTICE WHITSUNDAYS
Entice Whitsundays departs 1st Day 4 pm Returns 3rd day 2 pm
Please re-confirm your arrival 72-48 hours with our check-in office ABC Travel by calling 07 4946 5755 (or email manager@abctravel.net.au).
Check-In at ABC Travel, 344 Shute Harbour Rd, main street Airlie Beach between Down Under Bar and NAB Bank: 2 hours prior to departure or any time before. Please contact them or your travel agent, should you run late or decide to go directly to the meeting point in the northern precinct of Abell Point Marina Airlie Beach, Queensland, Australia.
Travel Advice:
ISail Whitsundays highly recommends travel insurance. This is important especially if you are on a tight schedule. Unstable weather can cause transport delays, particularly in our summer months. We do not refund or re-schedule tours for late arrivals. Your insurance should cover any costs of you not been able to make our departure. Medical travel insurance is also recommended.
.
What to Bring:
– You will not need much. Please bring all your things in a small soft bag (no roller suitcases or large backpacks, please). Luggage storage is available
for $5 p.p. at Check-In (ABC Travel).
– Footwear: You will only need flip flops or sandals
– Hat: The Tropical sun is very strong and a Hat, (with a cord so it does not blow off is highly recommended).
– 30+ sunscreen and sunglasses are tropical essentials
– Beach towel, we supply a bath towel and linen.
– Warm clothing: Whilst the Whitsundays are blessed with warm weather please remember this is a sailing adventure and you will be exposed to the elements for long periods of time – especially in winter (2 long layers recommended). A rain jacket, soft shell jacket or combination of a Polar fleece jacket and a waterproof shell is ideal (if you already travel with these items).
– Swim Wear, bathers
– Reusable water bottle (not essential, but nice for the environment)
– Snacks (not essential)
Snorkeling
SNORKEL SUITS: During the cooler months of the year we provide guests with 3/2mm neoprene wetsuits, these are to provide protection & warmth whilst in the water.
In Summer we provide lycra suits, these protect against jellyfish and sunburn. We also provide good quality mask and snorkels
Wear Glasses? You cannot wear glasses underneath a snorkel mask. If you don't wear contacts but need glasses to see we recommend you hire a
prescription mask from the Aqua Dive Shop at the marina (arrive a little early if you plan to do this).
Fins: We do not provide guests with fins (flippers), as inexperienced snorkellers damage our beautiful coral reef with them. Experienced snorkellers are welcome to bring their own fins or hire them from the Aqua Dive Shop at the marina (arrive a little early if you plan to do this).
Alcohol:
Bring your own alcohol. Bottles of beer/cider are not ok, please buy tin cans. This is because glass is dangerous aboard a moving boat. Wine bottles are OK as is red wine. Please buy alcohol in a bottle shop in town before departure (no bottle shop in the marina). Please buy cold beer, it is the same price.
Water:
The boat water supply is safe to drink. Bottled water is available for sale on board $2.50 for 500ml. As are soft drinks and chocolates ($3).
Food:
All meals are provided on board, on the first-day snacks will be served about 6 pm and dinner around 7-8pm so make sure you have had a good lunch. You may wish to bring your favorite snack food. A light lunch is provided on the journey back to Airlie Beach. Please make sure you let us know of any food allergies or if you are a vegetarian. This is an adventure tour aboard a small sailing boat and we are unable to cater to unnecessary requirements (i.e. low carbohydrates).
Seasickness:
Serious seasickness is pretty uncommon, occasionally people feel unwell for short periods but normally recover quickly. If you are dehydrated you are far more likely to suffer sickness. The best prevention against sea-sickness is to arrive well hydrated and fed. If you have not had a minimum of 1.5lt of water today you are already dehydrated. Stress is another big cause, stress produces histamines which will make you susceptible, so don't worry about getting sick and you probably won't.
Natural remedies like ginger tablets are helpful, However, If you are really prone to motion sickness see a doctor or a chemist and get some medication and advice.
Car Parking:
If you are leaving a car in Airlie Beach during your trip there is a car park at the Abell Point Marina, Shingly Drive, Airlie Beach (second turning on the right after roundabout). This is a pay and displays car park costing $8 for 12-24 hours at the release date of this information. Any free car parking needs to be sourced independently.
Tour Cancellations: We do not cancel tours because of rain or lack of sunshine. This is sailing adventure and we make no promises as to what the weather will be like. If we cancel because conditions are unsafe or any other reason you will receive a refund on your credit card (some travel agents keep a fee). Your travel agent's cancelation policy (the person you've booked the trip with) applies. Please consult your ticket.
Jellyfish Information:
Irukandji jellyfish are nearly invisible and stings are relatively rare. They are not unique to the Whitsundays and are found in the warm water throughout the Asia Pacific region. Irukandji is now the generic name given to a small species of cuboid jellyfish (with one tentacle in each corner) that cause the Irukandji syndrome. A tiny transparent jellyfish with a maximum bell diameter of just 12-70mm. All species of Irukandji are transparent and practically impossible to see in the water. Most Irukandji stings occur between October-May, with the average being 6-8 stings per year for the whole Whitsunday region. Stings have been recorded in the winter months but are rare. In many other parts of the world operators simply do not inform guests of risks such as this. In Australia, we are required to inform guests of the risks associated with adventure activities. Thousands of people snorkel Queensland reefs every week and the risks posed by marine creatures are small.
You will see jellyfish of various sizes and forms while snorkeling. Please keep in mind there are over 200 species of jellyfish in the Whitsundays area but only 1 rare type poses a risk to humans.
Full terms & conditions for Entice Whitsundays are on http://www.isailwhitsundays.com/terms-and-conditions, short form: Clients should be aware that adventure travel involves risk. Whilst we make every effort to safeguard guests we cannot be responsible for any damage, personal injury or loss due to the actions of passengers. We recommend to take out travel insurance. All departures and itineraries may be changed or canceled at the discretion of ISail Whitsundays. We reserve the right to substitute vessels. There is a 2.5% surcharge for credit card purchases. Passengers entering the water do so at their own risk and the owners or crew of the vessel will not be liable for any personal injury, medical evacuation, illness, death or any other consequence whatsoever of passengers.
ISail Whitsundays Terms & Conditions for Entice Whitsundays
TICKET INFO & CHECK-IN: "Open dated" tickets please give 14 days notice to book. All bookings due to availability. Please re-confirm your arrival 72-48 hours with our check-in office ABC Travel by calling 07 4946 5755 (or email info@abctravel.net.au). Check-In at ABC Travel, 344 Shute Harbour Rd, main street Airlie Beach between Down Under Bar and NAB Bank: 2 hours prior to departure or any time before. Please make contact should you run late or go directly to the meeting point in the northern precinct of Abell Point Marina Airlie Beach, Shingly Drive, Queensland. A surcharge of 2.5% applies for credit card purchases in the office.
CANCELLATION POLICY FOR REGULAR TOURS:
We RECOMMEND ALL GUESTS take Travel Insurance to cover for Cancellations. Cancelation Policy:
– 14 to 30 Days before departure, loss of 50% of ticket price.
– 14 days to departure will result in forfeit of full trip fees.
– A non-refundable deposit or booking fee may apply when booking with a third party travel agent. ISail
Whitsundays cannot guarantee a refund of the travel agent deposit component.
TRAVEL INSURANCE: ISail Whitsundays strongly recommends that guests have travel insurance to cover valuable items, eg. Cameras, Luggage; to protect against unforeseen flight or coach cancellations, road closures or late arrival into Airlie Beach for any reason which subsequently leads to missing the scheduled departure time; to cover medical conditions that may occur during carriage, and the associated extra costs of accessing medical care around the islands, including emergency air evacuation, to cover against an emergency where you need to return home urgently.
LIABILITY: Boat travel, sailing, snorkeling bushwalking and water sports involves hazards. Inherent risks include, but are not limited to: drowning, slipping, falling while on board, injuries occurring while getting on or off a boat, and other perils of the sea; all of which can result in serious injury or death. Whilst ISail Whitsundays and staff make every effort to safeguard guests we cannot be responsible for any damage, personal injury or loss due to the actions of passengers. Passengers entering the water do so at their own risk and the owners or crew of the vessel will not be liable for any personal injury, medical evacuation, illness, death or any other consequence whatsoever of passengers. Guests should be aware that dangerous jellyfish live in the Whitsunday waters. Life jackets and protective snorkel suits are provided free of charge for the duration of the tour. Guests will be required to complete a pre-departure questionnaire, and sign a travel agreement during the check-in process releasing ISail Whitsundays from any liability. ISail Whitsundays has the applicable Shipowners insurance to cover public liability. A Copy of the certificate will be forwarded if required.
ITINERARIES AND WEATHER: The Operator reserves the right to alter the tour or the itinerary of any of its tours if necessary. We reserve the right to substitute vessels. The Operator will always consider the safety of guests and staff first. We do not cancel tours due to clouds or strong winds. The Whitsundays is deemed partially smooth waters and tours will only be canceled if the Regional Harbour Master closes the area due to gale warnings (storms).
MINIMUM GUEST NUMBERS: Were we do not meet the minimum number of guests to operate a service, it may, therefore, be necessary to cancel a scheduled departure and to offer an alternative tour of similar or higher standard, or alternatively full refund for that tour.
GUEST BEHAVIOUR: It is a condition of travel that guests follow crew directions and treat others aboard with courtesy and respect at all times. The skipper has the right to refuse or offload guests who reduce the enjoyment of the tour for others or pose a risk to their own or others safety. All associated costs of removal will be borne by the guest and no refund of ticket monies will be provided.
ENGLISH LANGUAGE COMPREHENSION: Guests will spend time sailing, snorkeling, and swimming and it is critical for their safety that they follow the instructions from the crew. If customers cannot understand English, it is important that a companion travelling can speak English and translate for the non-English speaking guest.
ISAIL WHITSUNDAYS – CHILDREN AND AGE RANGE CONDITIONS: Generally ages 18 – 50ish, however children 10 years and over can travel with an adult at full adult fares. All travelers above 10 years of age are welcome as long as they are in a physical fit state (can easily climb a ladder up and down, swim 50m, etc.).
DISABILITIES, PREGNANCY AND SERIOUS MEDICAL CONDITIONS: Please consult with ISail Whitsundays prior to booking. ISail Whitsundays cancelation policy applies.
PRIVATE CHARTERS CANCELATIONS AND BOOKING TERMS:
Bookings will be confirmed upon payment of a non-refundable deposit of 20%. Balance payments to be made in full 30 days before charter commencement. Once balance payment has been made, and within 30 days of departure date, will result in forfeit of Full Charter Price. We highly recommend all charterers have travel insurance to protect against unexpected cancellations. Please consult with ISail Whitsundays in regards to inclusions, itinerary, and cabin/ bedding configuration prior to paying a deposit. Entice Whitsundays Private Charters the age limit is 6 years.
Is the tour BYO (Bring Your Own Alcohol)?
Yes! Please purchase your alcoholic beverages before the tour. There are several bottle shops in Airlie
Beach and a small bottle shop right at the meeting precinct where we pick you up at northern Abel Point Marina. Beers in cans, please. Wine in glass bottles is OK as is red wine. Iceberg has tumblers and wine glasses aboard.
What to bring?

Just the essentials and everything you cannot live without 😉
Luggage: Use a soft bag, hard plastic and roller cases can injure the boat interior or even humans. Large suitcases can be stored at check-in for a small fee. Sun Protection: Sunglasses, sunscreen, clothing, hat (ideally with string cord, so it does not blow away).
Footwear: It's barefoot sailing in the Whitsundays. Sandals or Flip Flops are all you will need to walk on the islands. Special boat deck footwear is OK.
Clothing: In windy conditions or in winter it can get quite cold out at sea. Please bring warm clothes. A soft-shell, fleece or windbreaker is ideal. Bring a technical outdoor gear rain jacket (and pants) should you have one.
Other Useful Items: Snacks, if you are always hungry or snacking, beach towel, camera.
What does the boat provide?
All meals, linen (beds made and dishes washed by the crew), bath towel, snorkel suit, snorkel mask, snorkel, water aboard is drinking water (potable).
Car Parking?
A safe pay car park (also suitable for vans and motorhomes, patrolled, but not gated) is located at Abel Point Marina. Prices at the release of this brochure were $8/24hours. Free car parking is available in residential areas of Airlie Beach and Cannonvale.
Children?
Iceberg takes children from 10 years onwards on regular tour. They are to stay in private cabins. Same rate as adults. Parents are to look after their children during the tour.
Jellyfish?
Jellyfish are natural inhabitants of all the worlds coral reefs. Irukandji jellyfish (often called stingers ) can be present around the islands all year. They are more prevalent from October to May. All year round you will be issued with comfortable lycra suits (or wetsuits in winter months) for water activities. These suits help prevent sunburn and stings. It is like wearing a seatbelt in a car.
Seasickness?
Serious seasickness is fairly uncommon, however, if you suffer from severe motion sickness in other vehicles, a longer boat trip is not recommended without proper medication. Doctors can prescribe medication (before a trip). The best prevention is to be well rested and hydrated. If you are prone to stress and anxiety, learn relaxation techniques (e.g. slow belly breathing).
What if I am a Non-Swimmer?
All ISail Whitsundays' boats carry sports life jackets. These personal floatation devices create a safe snorkel experience. Our crew watches snorkelers during snorkel sessions from the rescue boat (inflatable dinghy). Guests' are to follow the instructions of the crew.
  British Defender Whitsundays 2 Day 2 Night Tour British Defender Whitsundays is built to race. This 2-day tour is for guests who want to be involved in sailing and learn the ropes. We are talking about an 83-foot Whitbread Around The World racing maxi; this boat...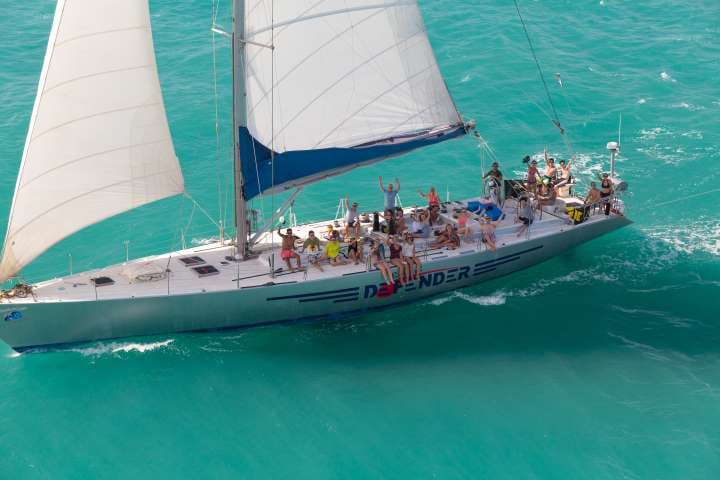 If you have any Questions about your Whitsundays Tour please feel free to contact us between 8am to 7pm daily
Local Whitsundays Advice - We have the Answers You Need