Have Questions ? Contact The Tour Company Directly On the Details Above
Want To Book This Tour? Use The Operators Website Link Above To Make Live Bookings
All Bookings Are Made Directly With The Tour Operator.
This Website Takes No Commission On Products Sold. We Guarantee All Tour Operators On This Website Get 100% Of The Money You Pay.
Wildcat Mackay Tours And Activities
Wildcat Mackay is now accepting bookings! Starting 1st December 2021 this stunning new boat blends technology and practicality, to give one of the most comfortable rides on the east coast. The island tour takes guests out to discover the southern Whitsunday islands including the stunning Cockermouth island. Thee is also time for snorkeling opportunities with all equipment provided. 
Tour Highlights
Swim in crystal clear waters
Snorkel fringing reefs
Discover secluded beaches on one of the many islands
Indulge in a tasty lunch and morning/afternoon snacks
Enjoy a cold beer or drink onboard Wildcat with our fully licenced bar
A day of adventure with creature comforts
Beautiful natural surroundings
Explore the island waters via paddleboard
Feel peace of mind that you are travelling on a Climate Action Leading tour
Suitable Tour For You?
This Tour is suitable for guests between the age of 4-70 with a low level of fitness required. 
Tour Departure
Departs: 9:30 am
Returns: 4.00 pm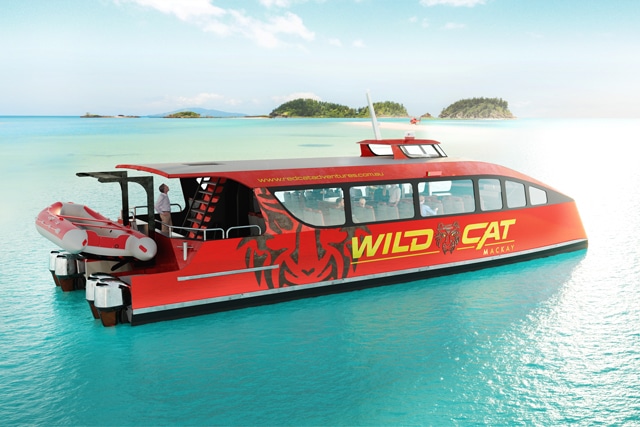 Tour Information For Wildcat Mackay
Guest and Crew Numbers – 
Wildcat Mackay take 40 guests and 3 crew
Locations Visited
No two days aboard Wildcat will be identical, as we shape each tour to make the very most of what this spectacular region has to offer.
Included in the price
A multi-national award-winning tour operator.
A longer day, More time to spend at iconic locations
Includes Lunch plus morning and afternoon snacks
Custom-built vessel for the Mackay conditions
On-board licensed bar, bathroom and comfortable seats
Stable catamaran alleviates concerns regarding seasickness
Includes stinger suit/wetsuit, snorkeling equipment
Experienced and knowledgeable crew members
Thank you for booking with Red Cat Adventures on the Wildcat Mackay Tour. Please can you read the important information below
Due to COVID safety regulations, we require the full names of all passengers travelling before the departure of your tour.
Red Cat Adventures/Wildcat Mackay follows all COVID Safe requirements as approved by QLD Government.
MEETING TIME/PLACE ON DAY OF DEPARTURE
Making your own way to the vessel, please be at Mackay Marina Village, Wildcat Office (Next to George's Thai – shown on map) at 8.45am.
Google Maps link for the meeting point is: Google Maps Link To Wildcat Mackay
YOUR ITINERARY
Wildcat has no fixed itineraries for our scheduled departures. The guests' desires are considered on the day but we need to factor weather and tidal conditions to ensure that everyone onboard enjoys their tour. Upon boarding, the crew will inform you of the day's schedule.
WHAT'S INCLUDED
– Morning snack/ lunch/ afternoon snack
– Mask/Snorkel and Fins, including a stinger suit (prescription masks not included)
– Use of Paddleboards (4 only)
– Park fees and fuel levy
– Fully trained staff
WHAT TO BRING
– Sunscreen, sunglasses, towel, and a hat
– Practical clothing and footwear (warmer clothing for in winter)
– Wind or waterproof jacket
– Camera (underwater one if you wish)
– Money for drinks
Morning/afternoon snacks plus lunch are provided. We do sell additional snacks on the boat for purchase.
Red Cat Adventures are not responsible for any property you take on board the vessel. We advise you to take a waterproof camera rather than expensive DSLR's.
WHAT NOT TO BRING
– Large bags or suitcases
– Plastic bags (can kill our marine life)
– High heels
EXTRAS AVAILABLE
– A fully licensed bar opens at 10am and closes at 4pm
WEATHER
– Welcome to the tropics!
– Our winter months run from May – September and are usually unbeatable in terms of weather. We recommend a warm coat to shield you from the wind after a snorkel during this time.
– Our summer months, which run from November – March, can be hot and humid with passing thunderstorms. Our vessels are custom built for the Mackay conditions. If the weather becomes dangerous, our local harbour master will close the marina, and tours will be cancelled.
WATER, TEA AND COFFEE
– Bottled water is sold onboard. Please feel free to bring along your own bottle and reduce our environmental footprint with plastic waste. Tea & Coffee is available from the bar at selected times during the day.
DIETARY REQUIREMENTS
– We do our best to provide gluten-free, dairy-free and vegetarian options on board; however, we take no responsibility for food contamination (traces of gluten touching non-gluten, meat handling, vegetarian etc). We do not cater for Vegans.
– Passengers with anaphylactic allergies/reactions must carry an epi-pen or appropriate medication.
CAR PARKING
– Mackay Marina Village has plenty of parking available.
SEASICKNESS
– Our vessels are custom built for the Mackay/Whitsunday conditions. We boast wave-piercing technology for a smoother ride. If you do suffer from travel sickness, please come prepared with your own travel sickness medication. Our trained crew will assist as much as possible in making you comfortable, but they are legally not allowed to provide you with medication to alleviate the problem.
SNORKELING EQUIPMENT
– Masks/ snorkel and fin hire are inclusive within the price with an exception to prescription masks.
– Due to our permits, the snorkelling locations are in calm bays throughout the islands around the Mackay area. Snorkelling life jackets and floating noodles are provided as snorkelling aids if required.
STINGER SUITS
– Stinger suits are provided free of charge year-round to all guests. The full-length stinger suits will prevent UV exposure and significantly reduce your risk to marine stingers. These will be provided before boarding and are compulsory to wear during certain months of the year. In the cooler months we have short 2mm wetsuits for buoyancy and warmth
TRAVEL INSURANCE
We strongly encourage all guests to travel with travel insurance that includes the following coverage for the following situations: Damaged property, medical emergencies including ambulance cover, travel cancellation, and interruption.
CANCELLATION and T&C's
https://wildcatmackay.com.au/faqs/
Tours Terms and Conditions
Terms and conditions: All prices are per person in AUD and include GST, National Park, Great Barrier Reef Marine Park entry fees, professional skipper and host, live aboard, all meals, and use of snorkel suits and snorkelling equipment. We reserve the right to substitute vessels without notice at any time for any reason. We recommend you take out travel insurance covering illness, injury, loss of personal goods and the inability to travel due to weather. Clients should note that adventure travel involves risk. Whilst we make every effort to safeguard guests, we cannot be responsible for any damage, personal injury or loss due to the actions of passengers that are beyond our control. All cruises are subject to weather and the vessel operator's
discretion. Please allow extra time to travel during the wet season (Dec-May). At certain times of the year 'dangerous' jellyfish inhabit these waters. Passengers entering the water do so at their own risk. Accordingly, Red Cat Adventures shall not be liable for any loss or damage whatsoever which is suffered (including but not limited to indirect or consequential loss) or for any injury to person or property which is suffered or sustained by any passenger as a result of participating in any of its sailing adventures, except for any liability which cannot be excluded by law.
Ocean Rafting Tours [modula_gallery gallery_select="53036" _builder_version="4.21.2" _module_preset="default"...